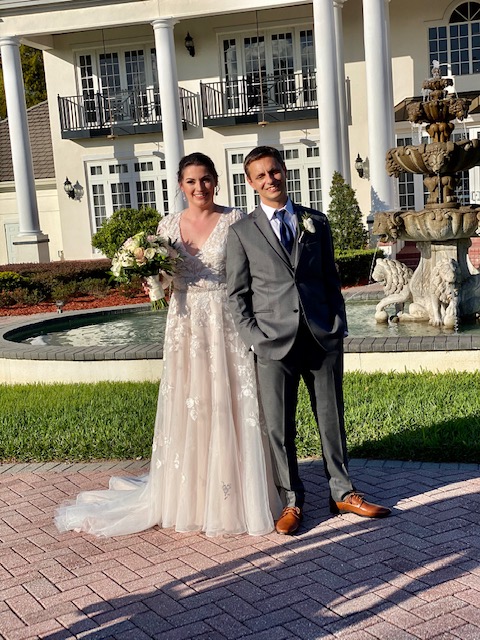 Casual Glam
Their Story
Elliot and Erin met at work and really didn't hit it off at first, but their friendship didn't turn into romance until much later.  Their relationship started as coworkers, moved to friends and confidants, and finally they fell in love.  Their vision for their wedding could only be described as casual glam.
The Team
Erin and Elliot knew that in order for them to have that casual glam feel to their wedding, that they were going to have to bring together a team of vendors to make it all come to life.  Their first choice was to hire Caitlin with Plan It Events.  Caitlin worked with them to not only put together the perfect team for them, but also find a venue where that casual glam feeling could come to life.
Luxmore Grande Estate was the perfect location for the two of them.  With it's southern charm, beautiful lawn, crystal chandeliers, and massive columned front porch, it was just what they were looking for.Another thing the couple really wanted was great food for their guests.  That is where Big City Catering stepped in.  As the house caterer for Luxmore, they knew exactly how to handle feel a large crowd in a short period of time.  And make it all delicious!
Rhodes Studios was also a perfect fit to capture that casual galm feeling Elliot and Erin were looking for.Edmund Rhodes and his team captured every moment, from the couple getting ready, formal portraits, the ceremony, cocktail hour, and through the reception into the late evening.
White Rose Entertainment did a great job with the music for the ceremony, cocktail hour, and on in to the reception.  The DJ with White Rose keep the guests dancing well into the night.Capturing the couples casual glam feeling 
Flowers by Lesley did an outstanding job of making sure the flowers for the event were both beautiful and comfortable.  The couple didn't want anything frail or that would be easily crushed when someone hugged them and Flowers by Lesley delivered.  Also, the decorated arch the couple stood under, was stunningly decorated with beautiful florals.
Their Ceremony
For their ceremony the couple asked Rev. Glynn Ferguson owner of Sensational Ceremonies and an Orlando Wedding Officiant to work with them to create a custom ceremony that fit their causal glam feel, but also very personal at its heart.  The couple chose a contemporary ceremony and wrote why they loved each other, upon a request by Rev. Glynn.  
Erin wrote:
Elliott – We started off as acquaintances, but very quickly you became my confidant and best friend. I couldn't imagine my life without you or where I would be if I didn't give that "new guy" at work a chance. Most people only get to see your direct, sarcastic and no-nonsense side, but you are truly one of the kindest, thoughtful and most generous people I have ever met. When I am sick, you buy me 12 different types of medicine just in case I need them, when I tell you I am hungry you immediately bring me food – even if I am in a staff meeting at work, when I need to run an errand, but don't have time, you gladly add it to your list of things to do. We have been very fortunate in life to be able to go on countless ventures together. Between our goal to hit every MLB stadium, our love for cruising and the trips we plan just to get away, you have truly made me look at life differently. Now I can't wait to start our Greatest Adventure as husband and wife. I love you. I love the life we have already built together and the life we will continue to build starting today.
Elliot wrote:
Erin is smart, kind, honest, beautiful and truly my best friend.  She is the most caring person I know.  Her kindness for others is unmatched and if I am certain of one thing, it is that being around her makes me an even better person.  I love that Erin and I share a love for animals.  She is a great "mother" to our "baby" animals, Jax, Rosie and Grayson–I have absolutely no doubt there is nothing she wouldn't do for them….or any other animals in need.  I love that Erin makes sure even the neighborhood [outdoor] cats get a good meal each day.  I am also very lucky to have found someone who shares my appreciation for the game of baseball.  It means everything to me that Erin is also a devout Mets fan–which means she completely understands my suffering most every baseball season.  When I am not with Erin, I find myself missing her.  We have traveled to many places together and there is nobody I would have rather have at my side.  I look forward to many more adventures together.Their ceremony certainly was fun and fit the two of them perfectly!