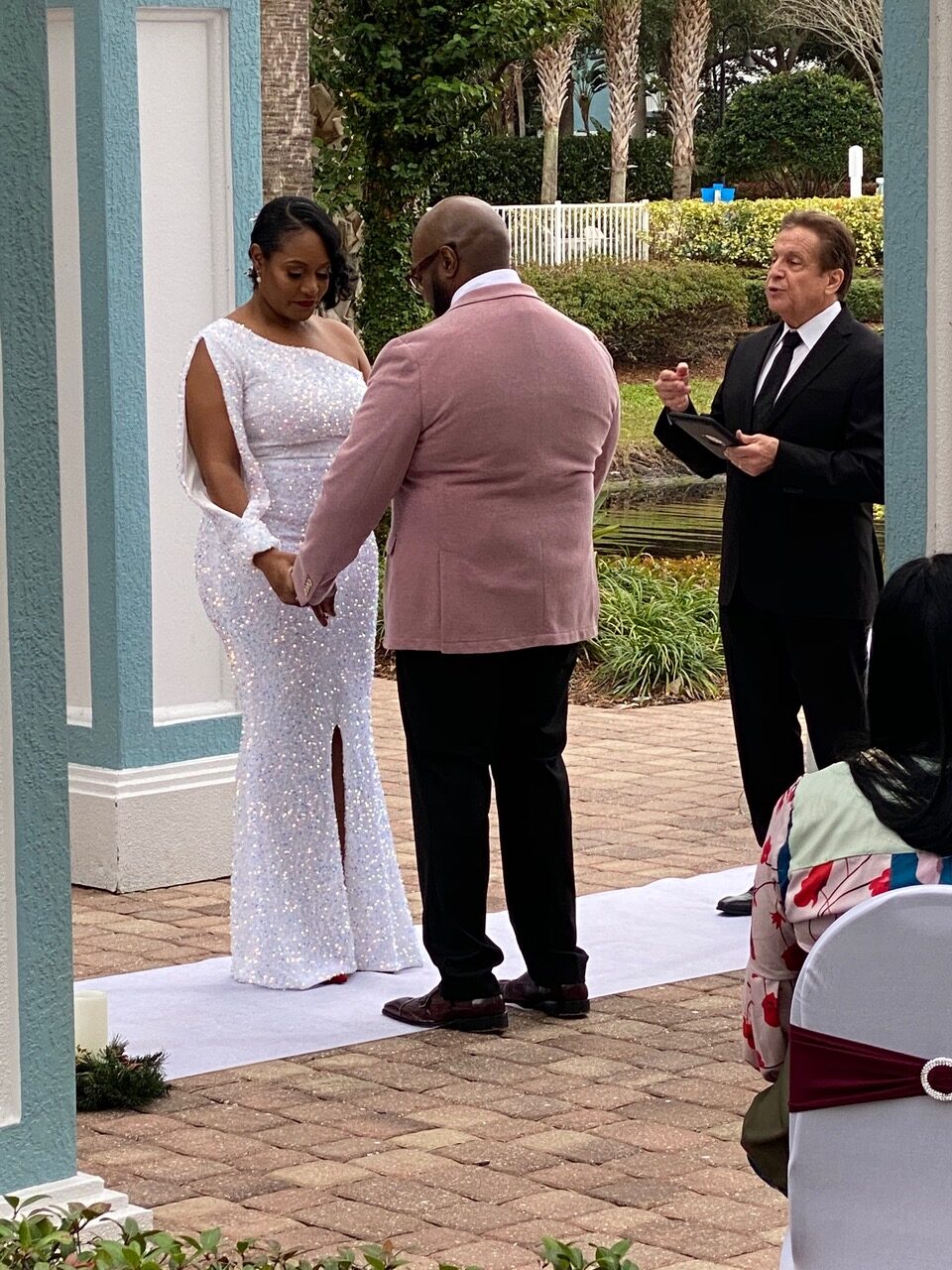 A Colorful Wedding
The Venue
Bluegreen Vacations Fountains, Ascend Resort Collection®, is a family resort on International Drive in Orlando. The 54 lush acres at The Fountains are filled with vacation villas that make you feel at home on your Florida vacation. The heart of our resort is Wakoola Springs, a tropical water wonderland with palm trees, water slides, zero-entry pool, 2 hot tubs and Wakoola Grill. The resort features an indoor-outdoor pool area with 2 more hot tubs, pool bar and playground. There's a large clubhouse with a gift shop, lounge, fitness center and kids' activity center. James and Nicole chose this wonderful venue to bring their small families together to celebrate their coming together as husband and wife. The resort provided a gorgeous colorful wedding backdrop.
The Ceremony
Lon Tosi from the Sensational Ceremonies Orlando team of wedding officiants worked with James and Nicole to create a wonderful colorful wedding ceremony, that fit them perfectly. It contained much prayer reflecting their deep belief in the Lord. They had their hands blessed for the gift that they are and the role that they play in their lives. In part it said, "These are the hands of your best friend, strong and full of love for you. They are being held on your wedding day as you two promise to love each other for the rest of your lives." They wrote words of love to one another, which they read during the ceremony. He said in part: I love you for your heart desire to hear God's voice….God has fixed my love and affedtion towards you….You make me a better man. I love you so much!". She said in part: James you love me passionately, purely and unconditionally similar to Christ's love for his church. I love you because you make me feel like the most beautiful and desirable woman in the world."
The Vendors
It all started with Married By Mail. Dianne their president worked with the couple to secure their Florida Marriage License. She also attended the ceremony to view the event in person. Lon Tosi from Sensational Ceremonies delivered a heartfelt ceremony for the couple. Jonathan Andujar Photography was on site to capture the intimate moments. Of course, the professional staff at Bluegreen Vacations Fountains provided an outstanding site under a gazebo on a lakefront for the ceremony itself. It was perfect! Nicole and Allen we wish you much luck and happiness with your marriage. You are off on a great adventure! You indeed had a colorful wedding!
And it all happened on a sunny afternoon in Orlando Florida in the heart of The Disney World Resort, Universal Studios, Orlando, and SeaWorld Orlando.
If you are interested in an elopement package similar to this click here.