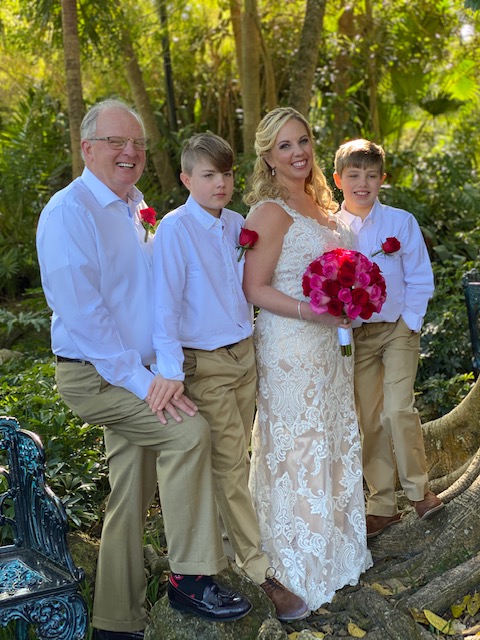 Disney Fan
Sara and Robert met while working in a hospital.  Sara an emergency room nurse and huge Disney fan, met Robert a thoracic surgeon and their lives were intertwined from the very beginning.  As they interacted with each other their casual friendship became more than that and they fell magically in love.Sara's love for all things Disney rubbed off, not only on her boys, but also on the love of her life.  So, as a Disney fan it was only appropriate that the couple get married at Walt Disney World in Orlando, Florida.  
Hannah with Disney Fairytale weddings made sure every detail was taken care of for this Disney fan.  She was in contact with every team member that would work to make Sara and Robert's intimate wedding come to life. 
From the beautiful bouquet and boutonnieres provided by the Disney Florist to the incredible violin music by Sascha with Disney Entertainment, nothing was left out. There under the Banyan Tree at Luau Pointe behind Disney's Polynesian Resort the couple exchanged vows in a beautiful custom ceremony, crafted for them by Rev. Glynn Ferguson a Walt Disney World Wedding officiant and owner of Sensational Ceremonies.  Rev. Ferguson gave Robert and Sara an assignment to write and tell him why they love each other.

Sara wrote: There are a million things I don't know, but one that I surely know is that I love you.  I truly believe you were meant to meet me at that exact time in our lives…..we found each other and it's been an incredible journey ever sense. Since then, you have loved me unconditionally, opened my eyes to new adventures, and made me a better person. You have not only loved and supported me, but also my two sons. Life is better with you and I can't possibly express how much you mean to me or the boys.I love you because you're a man of your word. Through our ups and downs, you have always stood by me and made me feel safe, protected and loved. I love you for the man you are……your compassion, your strength, your love for God and family, your thoughtfulness and generosity. These are qualities that come so easily to you, but means so much to me.I love you for working so hard every day to support us. You don't have to, but you do. I love you for not only loving me unconditionally, but for also accepting the boys as your own and for loving them.
Robert wrote :I know I am in love with you because my reality is finally better than my dreams._ _______ I love Sara for so many reasons. I've been reflecting on this for some time. I can't separate my love for her without the boys. I have known them for 3 years and have watched their growth. I know I am marrying Sara but feel a deep love and responsibility for Jaden and Brady. Sara stood beside me when I was very run down spiritually. Her kindness and initial friendship gave me an opportunity to see her character. Our relationship continued to develop. We continued our relationship and she was growing more unhappy at work not being able to see her children routinely due to her job requirements. I was in a position to directly change her circumstances and allow her to be a stay at home Mom. We have a 20 year age difference which has not fazed Sara at all. Her family was fine with this allowing me to fly them on various vacations until I asked her to marry me. The DRAMA was unbelievable to the point that our initial wedding plans had to be cancelled. I am not a farmer, been divorced and had children from a previous marriage. Definitely a sinner by any definition. I mentioned all of this to say the following, she told everyone that she loved me and they didn't know me or had taken a chance to get to know me. We were going to be married despite their objections. Her devotion and love for me has touched me so deeply that I have difficulty expressing.

What a magical day for this beautiful couple who are magically in love!