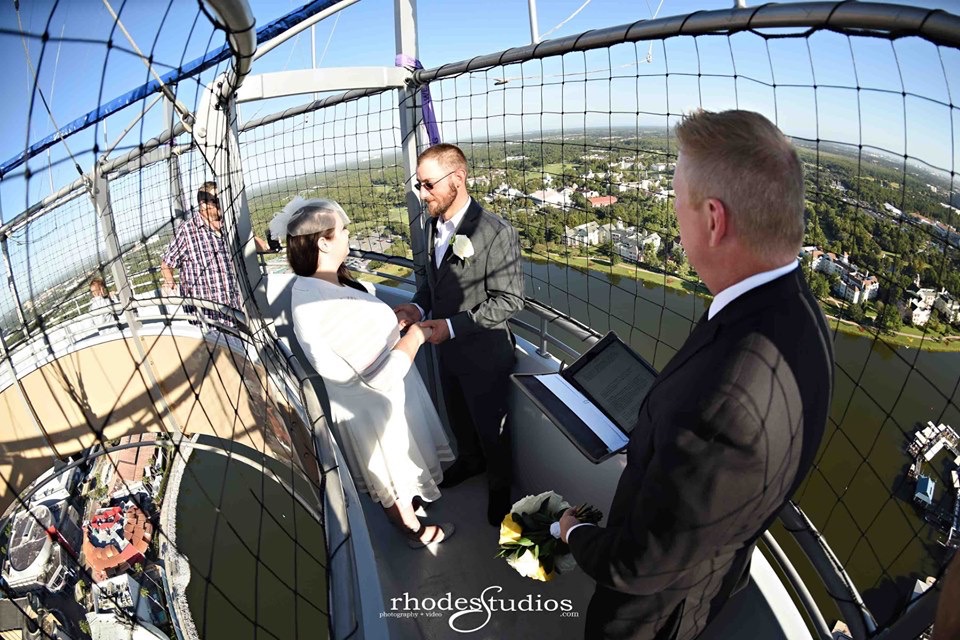 Married in Aerophile
Their Story
Katie and Adam traveled from Utah to enjoy the incredible experience of getting married in Aerophile Characters in Flight at Disney Springs in Orlando. This helium balloon is a unique icon and at a soaring height of about 400 feet you can see all four parks at Walt Disney World.
Katie wore a beautiful white dress, with a match cover and a blusher veil, while Adam sported a classic grey suit from Macys.  With their children and family all in for the ride, Adam and Katie boarded the balloon with their officiant, photographer, and the pilot to fly tethered into the , to get married in Aerophile. .Once the balloon reached three hundred feet off the ground the ceremony began.
Their Team
Rev. Glynn Ferguson, an Orlando officiant, official Walt Disney World Wedding Officiant, and owner of Sensational Ceremonies worked with the couple to create a beautiful custom ceremony, just for the two of them.  With a ceremony that spoke of love, friendship, loyalty, and trust, it was personal and absolutely beautiful. Rev. Ferguson has officiated weddings in Aerophile more than 120 times.
Edmund with Rhodes Studios was the couple's photographer. From the moment they arrived at Disney Springs he was busy capturing everything, from Katie receiving her bouquet and Adam being pinned with his boutonniere to their walk down the bridge to the balloon, and of course their ceremony in the sky.
Speaking of bouquet and boutonnieres, Flowers by Lesley crafted some of the most beautiful florals for this intimate destination wedding. With creamy yellow and white roses surrounded by greenery everything thing was perfect.
All of the planning for the event was handled through Intimate Weddings of Orlando. They made sure to take care of every detail. From time lines, booking vendors, and confirming the day before, they really were wonderful to work with.
We wish Adam and Katie their own Happily Ever After!