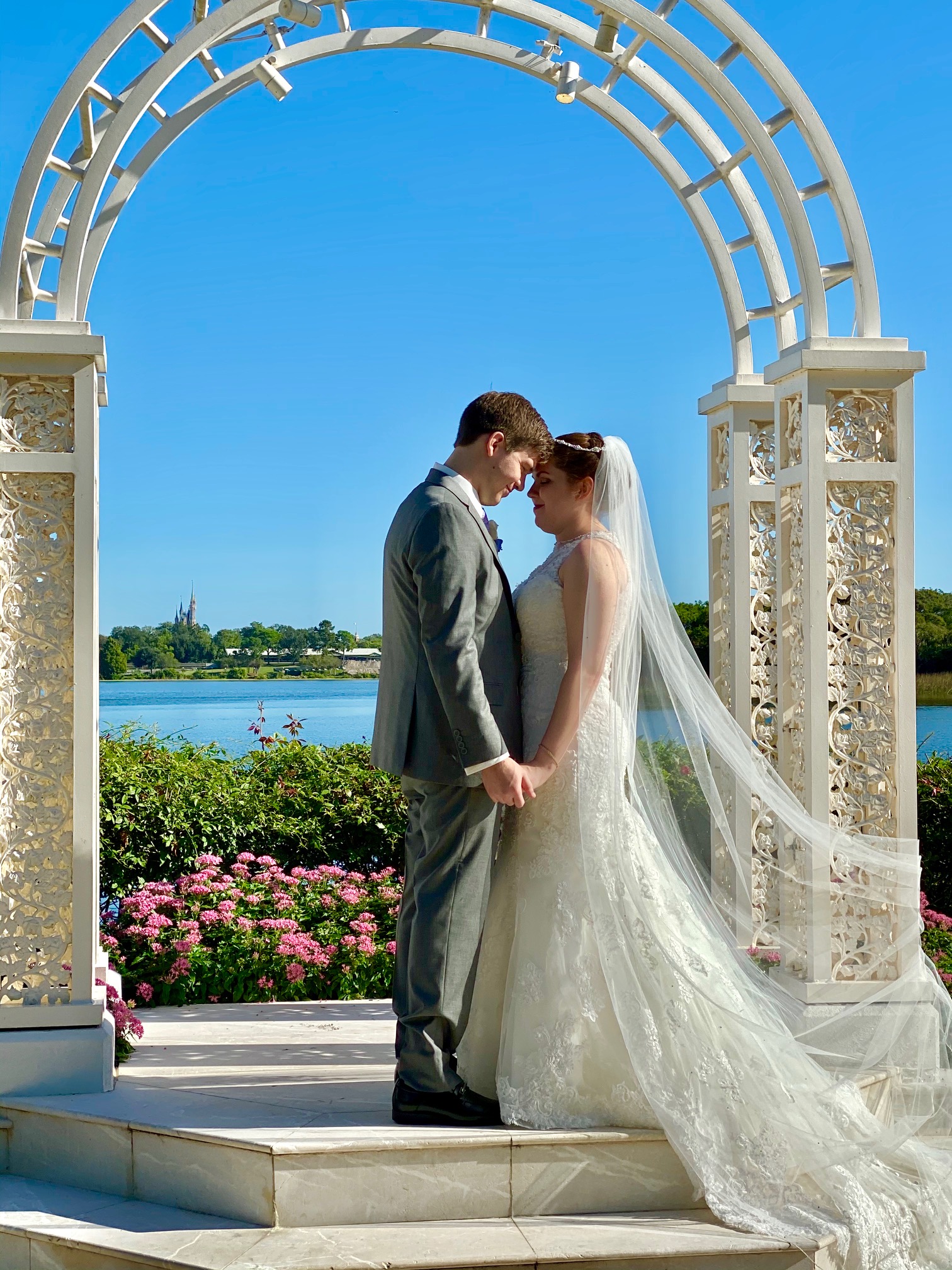 Disney Fans
Their Story
Jeffrey and Kayleigh traveled from Massachusetts to get married at Walt Disney World in Orlando, Florida.  Since both of them were Disney fans and they loved the idea of a destination wedding, it seemed only appropriate that they get married at the Disney Wedding Pavilion.   With both of them finishing college, some of the planning had to take a back seat to their studies.  
Their Team
Carol with Disney Fairytale Weddings was such a joy to work with.  She made sure every detail was taken into account.  She told the wedding party that as long as they got on their transportation at the right time, everything would go smoothly…and she was right. 
 Disney Fine Art Photography met the bridal party in the lobby of the Grand Floridian Resort, starting with the gentlemen, and made sure to get those formal portraits.  Then as the gentlemen exited the building for the Wedding Pavilion, the ladies arrived for portraits on the grand staircase.
Inside the Wedding Pavilion the Disney Florist had set floral pieces that just made the room pop with magic.  Kayleigh's bouquet of roses, ronculus, and sea peas made for a beautiful bouquet for these Disney Fans.
Before they arrived in Orlando, they knew they needed to get a Florida Marriage license and they were referred to Married by Mail to help to acquire their license.  With very little work Married by Mail had obtained the license and had it to their officiant before the wedding day. 
Kayleigh and Jeffrey asked Rev. Glynn Ferguson, an Orlando wedding officiant and owner or Sensational Ceremonies to work with them to create a beautiful custom ceremony.  The couple, big Disney fans, chose to have a Christian style ceremony with passages from the book of Ruth and a Blessing of the Hands.  That reading went: These are the hands of your best friend, young and strong and full of love for you. They are being held by yours on your wedding day as you two promise to love each other for the rest of your lives. These are also the hands that will work alongside yours as together you build your future and share your inner most dreams and secrets together. These are the very hands that will passionately love you and cherish you through the years, and with the slightest touch will comfort you like no other. These are the hands that will hold you when fear or grief threatens to overwhelm you. The hands that you hold are the same hands that will countless times wipe the tears from your eyes; tears of sorrow and tears of joy. These too are the hands that will tenderly hold your children and help you to hold your family as one. And lastly, these are the hands that even when wrinkled and aged will still be reaching for yours, still giving you the same unspoken tenderness with just a touch.We wish them happiness for a lifetime!