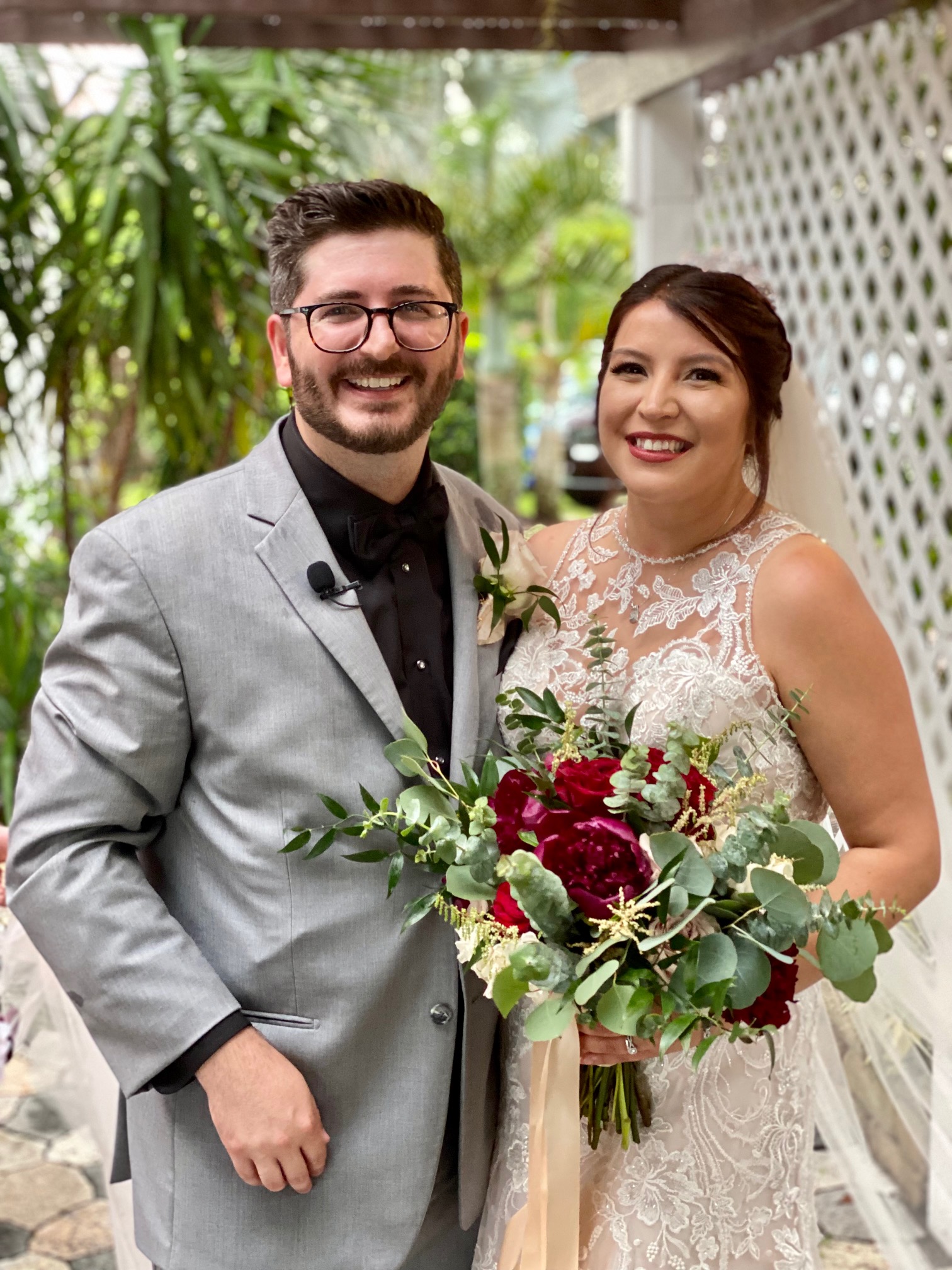 Dreams Come True
Michael and Ashley planned a beautiful wedding, but then the pandemic hit and they were left cancelling and rescheduling for over a year.  The couple finally was able to pull all of their talented vendors and venue together to make their dreams come true. Even a brief rain storm could not keep them from tying the knot.

The couple chose Paradise Cove in Orlando to make their dreams come true.  With a beautiful beach location in the heart of Orlando, it was the perfect spot for them to get married.  Towering bald cypress and palm trees swayed in the breeze as they exchanged their vows before family and friends.

Asher with A List DJ Entertainment worked with the couple to create a unique and personal playlist for their ceremony that captured the cultures of their two families.  From the beautiful ceremony music to the chest thumping beats of the reception, he made their dreams come true.

Castaldo Studios Photo and Cinema really went above and beyond to make sure to capture every moment of Ashley and Michael's wedding day.  From photos of the two of them and their wedding party getting ready, through the groom's boat entrance, and their walk down the aisle as husband and wife they really did capture these moments for a lifetime.  Every little girl wants their dreams come true and Castaldo make sure that they can relive it for a lifetime.  

Rev. Glynn Ferguson, an official Walt Disney World Wedding Officiant and owner of Sensational Ceremonies, worked with Ashley and Michael to make sure their dreams come true in their ceremony as well.  Michael comes a Irish background and Ashley from Mexican heritage.  Their unique and personal custom ceremony really fit the two of them.  From The Lasso ceremony to the Irish Blessing, it had everything they wanted.
Rev Ferguson also asked the two of them to write and tell him why they love each other.

Michael wrote:  Why I love Ashley.? It's easy to. We've been stuck together for over a year in quarantine and still when she's not around I miss her. Not in a clingy way but because I have a better time when she is there. Everyone does. She's patient with me or even excited about the quirks I have that others find annoying. She is independent and knows what she likes without seeking approval from anyone. She's smart, funny and easy to like. We are similar enough to have a list of interests but different enough that we have our own lives. She's strong where I am weak and weak where I am strong. We compliment each other well. She pulls me out of my comfort zone constantly and I often reel her back in which has made us both grow together in the last 5 years. Couldn't get someone better because there isn't anyone better. She makes my dreams come true.
Ashley wrote:  I love Michael because he is kind, generous, intelligent, handsome and can make me laugh. He is my rock and will go out of his way to help me whenever I need him. His personality is the thing I love most about him, he lights up my day like no one else can. He's always in a good mood even when he's not feeling well, and has the most amazing smile. It's impossible not to be happy around him. But best of all he can quote Spongebob with me like nobody's business. He loves all the weird and strange things with me, and our interests mesh so well together. He is the future goal planner to my in the now spontaneity, the routine to my ever changing days, the humor to my laugh, the weird general knowledge of everything to my aloofness, together we make an incredible team and we can take on the world together. When I'm with him I know that there is no one in this world I would ever want to be with but him. I feel so loved and beautiful around him and he brings out the best in me everyday. Dreams come true. I feel so incredibly lucky to have him in my life and I can't wait for him to be my forever.

We are so happy that we couple help make their dreams come true.