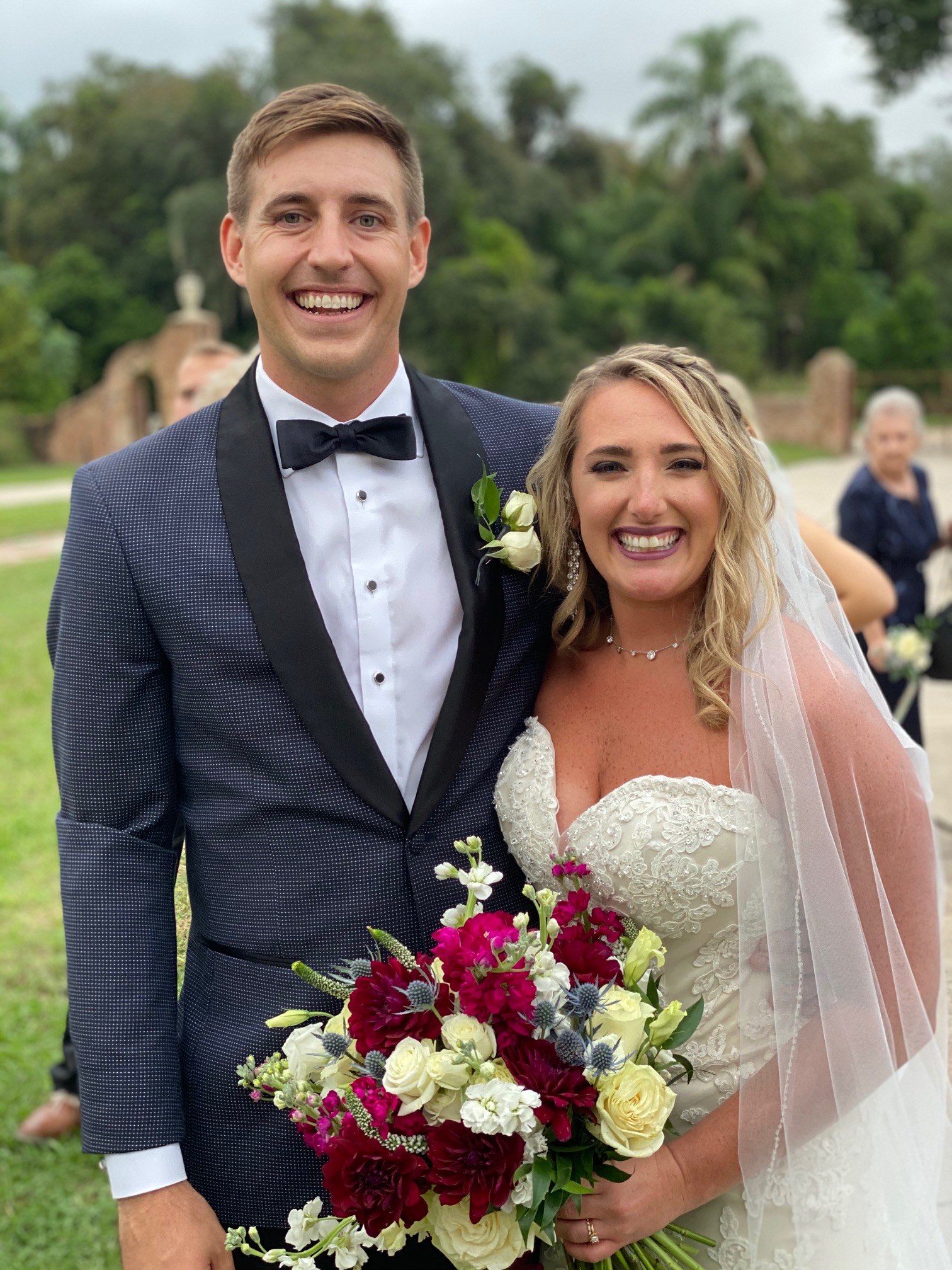 Elegant and Historic
Their Story
Brooke and Josh met while attending school in the panhandle of Florida.  Their mutual love for all things nature brought them together and the rest is history.  With an outdoor ceremony at the elegant and historic Howey Mansion, just outside of Orlando, they gathered with family and friends as they became husband and wife.  

Their Vendors
The picture perfect location for their ceremony was in front of the carved stone facade and floor-to-ceiling windows of the Howey Mansion.  It felt as if they were inviting nature into this elegant and historic wedding venue.
Andrea Pavone, from Pavone Events was the coordinator for the beautiful occasion.  With her eye for detail and her creative mind she worked with Brooke and Josh to not only make their wedding dream come to life, but also helped them find the vendors that would help them do just that.
Erin Dillon with Dillion Photo did an outstanding job of capturing every moment of the couple's wedding day.  From photos of them getting ready, formal portraits of the couple, their family, and friends, on into the reception and their exit at the end of the evening.  Erin captured it all.  The richness of this wedding can not be understated. 
Lana Faulkner with Fairbanks Florist, really went above and beyond on the beautiful floral decorations for this elegant and historic wedding location. With dark red, white, and green as her color palette she made this venue look rich again.
Jennie with Our DJ Rocks took care of making sure the couple was set for all of their music needs.  From playing the perfect songs through the ceremony, providing the hands-free microphone for the officiant, to keeping the party on the dance floor through the evening; she did it all
.Arthur's Catering worked their magic as well.  With the backdrop of this elegant and historic venue, the couple chose some wonderful culinary delites to savor with their family and friends.  The food was scrumptious and not a soul left hungry at the end of the evening.
Josh and Brooke wanted that feeling of this elegant and historic them to flow through every aspect of the evening.  They contacted Rev. Glynn Ferguson, the owner of Sensational Ceremonies and an Orlando wedding officiant to help them craft a beautiful ceremony that fit the two of them.  After going through an extensive ceremony planning kit, Rev. Ferguson asked them to write him and tell him why they love each other.  Just before their vows, he read what they wrote.

Brooke wrote:  Josh is my other half. I love him because he challenges me; he has goals in life and works hard every day to achieve those goals; he is super nerdy and knows the answers to almost every random question I have; he is the best cook; he is athletic and always down to play sports with me; he is funny…sometimes; and most of all — he is genuinely a loving, caring person. I can't wait to call him my husband. 

Josh wrote:   "Brooke is smart, pretty, funny, and kind. Her drive and desire to do more has challenged me to be the best person I can be, and I'm grateful for it. We have grown much together and I am happy to call her my wife. I look forward to many more years together. "
Congratulations to the two of you.  May your married life bring you all the joy in life!