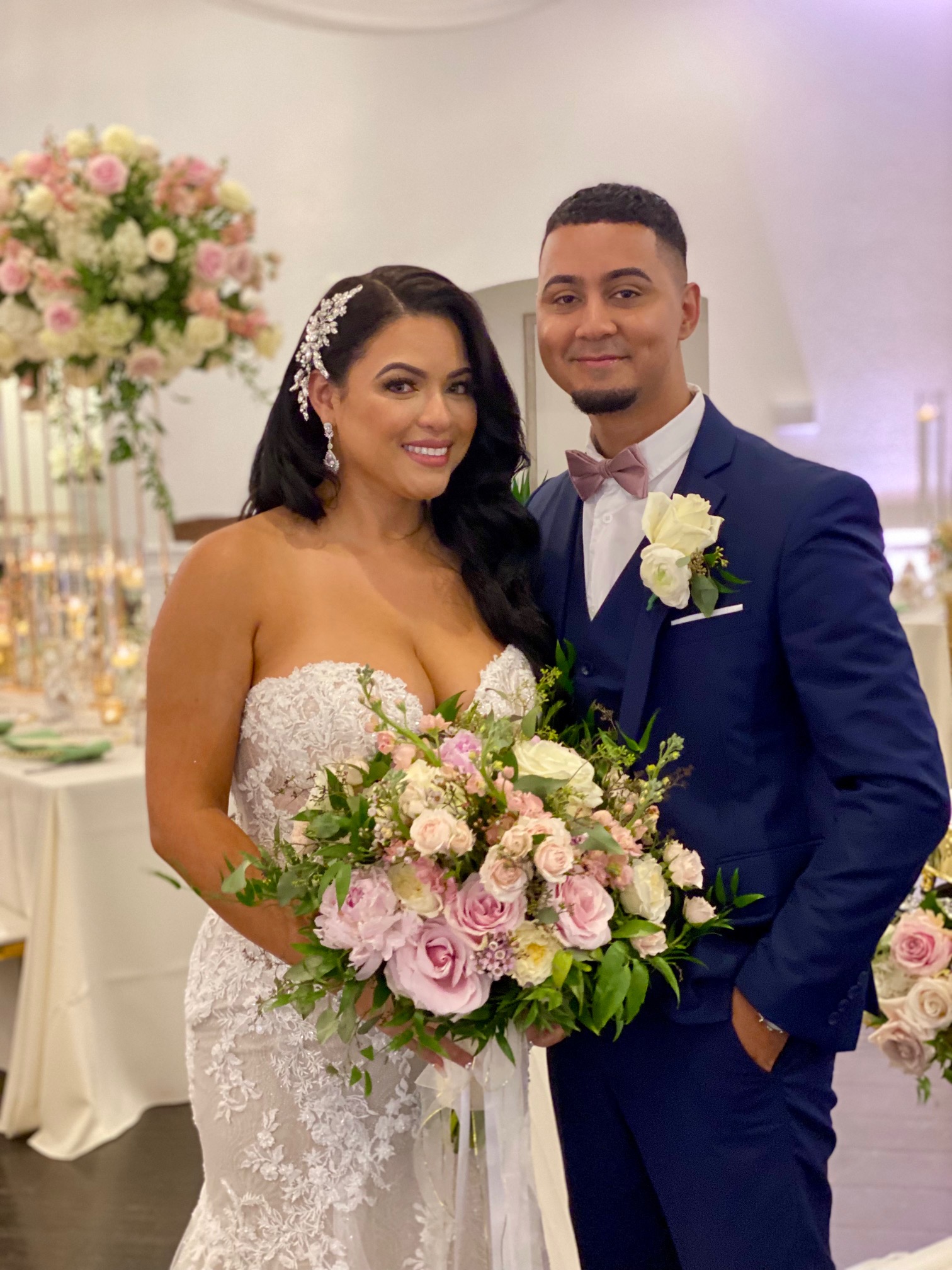 Fairytale Glam
The Venue
Manny and Carol wanted a fairytale glam wedding in a location that was close to their family and friends.  The couple found the beautiful Royal Crest Room in St. Cloud, Florida as the venue that was perfect for them.  With tall ceilings, a beautiful outdoor ceremony option, and rain backup inside, it had everything they wanted.
The Royal Crest Room is located at the Royal St.Cloud Golf Links.  With 27 holes of fair golf this hidden gem, with it's British theming was great for their fairytale glam wedding.

The Vendors
Carol and Manny chose an incredible team of vendors to work on their fairytale glam wedding.  First on the list was certainly Al Dee Productions.  Al and his team brought sparkle with their lighting, photography, and DJ services.  Their team brought the magic and made sure every moment of Manny and Carol's wedding was captured for years to come.

RJ Glam really went over the top for this couple.  From the gold round-backed chairs to the Incredible floral arrangements they really made this fairytale glam wedding come to life.  

Bakers Cottage made the most gorgeous three tiered cake (the second tier was almost 18 inches.) The beauty and deliciousness of the cake was astounding and fit perfectly with their fairytale glam theme.

For Carol and Manny's fairytale glam wedding why not hire an official Walt Disney World Fairytale Wedding Officiant?  Rev. Glynn Ferguson the owner of Sensational Ceremonies worked with them to make sure their ceremony was filled with the fairytale glam style.  Rev. Ferguson gave the couple a homework assignment for their fairytale glam ceremony.  He asked them to write and tell him why they love each other.

Carol wrote for their fairytale glam ceremony:   I love Manny for the way he makes me feel when I am with him, he makes me feel like the most special and beautiful woman in the world!!!! As a woman we tend to naturally question ourselves when looking for love and through living life we can encounter unfortunate events at times that can make us wonder am I pretty enough, sweet enough, or even good enough? Manny came into my life at the moment when I needed him the most and I always say this was God's plan and gift for me all along!!! Manny's love completely eliminates any doubt, fear, worry, or sadness that I had ever felt in my heart!!! Manny helped heal my heart and spirit, he lifts me up and makes me feel invincible!!! When I am with him I feel that anything is possible and that together we can conquer it all!!! I always joke with him that he is my knight and shining armor because he rescued me from living a life without true love!!!! I love Manny for his mind, heart, and soul!!! Manny has such contagious humor and such an AMAZINGLY sweet heart!!!! Manny's charming and sincere romantic nature makes me fall deeper in love with him everyday!!! It is so crazy to say this, but shortly after I met Manny years ago I knew he would be the one I would walk down the aisle for and the one that would steal my heart away forever!!! Manny always demonstrates so much compassion and love with every gesture, every stare, and every word that I feel like the luckiest woman in the world to have found my Prince Charming!!! I feel so blessed to have him in my life and I am extremely overjoyed to soon be able call him my husband!!! (Although we joke that we have been married unofficially for years!!!) Manny never lets me forget how much he loves me and till this day even with the 9 years that we have been together as a couple he often surprises me with sweet gestures whether its flowers just because or sweet messages about why he loves me so much!!! When I'm with Manny nothing else matters because we bring so much joy and love to each other's lives!!! I truly feel that Manny and I are soul mates, and for all of these reasons listed above and sooooo many more is why I love Manny and always will!! 🙂

Manny wrote for their fairytale glam ceremony:  There are no words that have been created to describe the love that I have for Carol. She has been my best friend, my shoulder to cry on, and most of all my breath of fresh air. My life hasn't always been the easiest but the day I met her I always knew that my life would change forever. I honestly feel that she shaped and changed my life for the better. She also saved me from myself and the pain I had inside of me for years. There is no way I could ever repay her for all she has done so I know in my heart marrying her is my way of showing my devotion to her. I always told her that one day I would show her that I love her more than life itself. By marrying her I feel that I get  as close as possible to showing her the love that has always been in my heart.
Congratulations on your fairytale glam wedding.  We wish you all the happiness in the world.