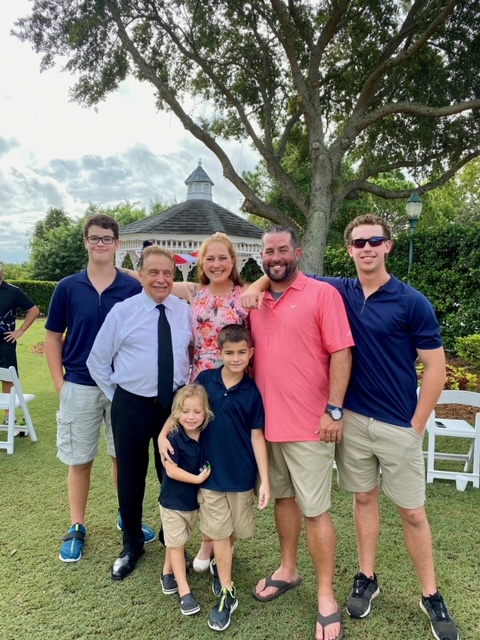 A Fun and Happy Wedding
The Venue
Picture a gorgeous gazebo, with a majestic green lawn stretching in front of it. Now also picture a great Oak Tree with streaming Spanish Moss. It has a rolling lawn below it. The slope to the lawn is large. Both sites can accommodate large and small groups. Against it all, is a renowned golf course unequalled in the surrounding area.
You have just pictured Celebration Golf Club; located in the Disney built town of Celebration, Florida! It was founded in 1996. Celebration Golf, provides these two great venue options! Vanessa Wolf, the catering manager is great to work with, and the staff is excellent. And, the food is amazing! No wonder Josh and Alyson brought their intimate group of family and friends to this spot next to The Walt Disney World Resort, Orlando, Florida.  They wanted to hold their fun and happy wedding in this beautiful location. They selected the gazebo location for their event.
The Ceremony
Alyson indicated to Lon Tosi, their Sensational Ceremonies officiant, that she did not want a "mushy" ceremony; just straight down the center, with no frills. And, for the most part, she had what she wanted, with just a few slight changes. This couple had a Jager-Bomb unity ceremony. It is unique, and involves the mixing of alcohol and Bolt into one glass. The symbolism being that when the two liquids mix they can never be divided – just as the love between Josh and Alyson will never be divided! Needless to say, that portion of the ceremony was a "big hit"! (Literally a BIG HIT"
Lon did a wonderful job of guiding the couple into a happy ceremony. However, there were emotional moments. Those came when Lon read their special words which were written to one another. There were tears! But overall it was a light-hearted fun and happy wedding!
Alyson wrote: "I love how you protect and provide for our family. You are the best dad to these guys and I know you have all of their love and respect. I love your dedication to anything you set your mind to. I don't know where I would be without you but I do know that I'm never going to find out."
Josh wrote: "I love the way you changed my world, the way you made me feel, and the way you stuck around. I love the journey, the Girl you were to the Woman who stands here today. All the steps along the way, I love the show, watching you deal with life and become the mother you are.
The Vendors
The amazing venue of Celebration Golf Club led the way with that gorgeous gazebo! Lon Tosi of the officiating team of Sensational Ceremonies worked with the couple to create their special custom wedding ceremony.
The event was casual, and emotional! It was indeed a fun and happy wedding! We can't wait to see the photos! And it all happened on a sunny morning in August in the town that Disney built!