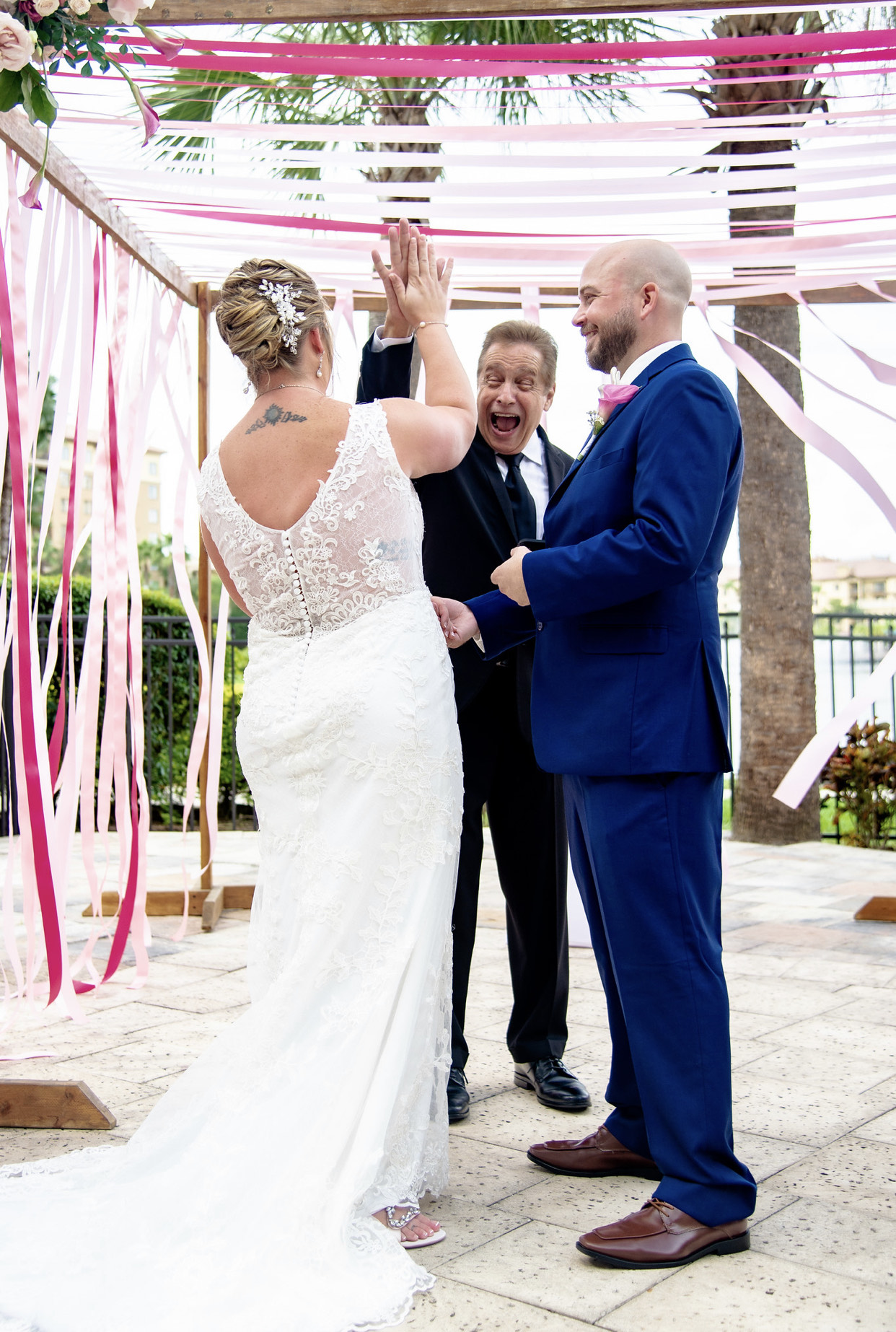 Filled with Fun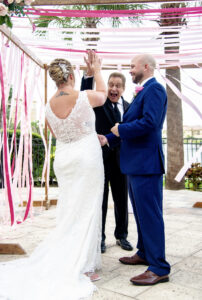 The Wyndham Grand Orlando Resort Bonnet Creek is an amazing venue with all the amenities that a Disney World hotel should have. The food is delicious. The ballrooms are wonderful, and they have a fantastic site on the pool deck for weddings which is large enough to hold small to mid-sized groups. Additionally, the pool site has a fantastic lake background for those important photographs. It was into this elegant, and beautiful atmosphere that Jennifer and Brent brought their small group of friends and family members to celebrate their special wedding day. It is a perfect spot for a fun filled wedding!
Jennifer and Brent chose to have a simple and sweet ceremony. It was non-religious in nature, and had all the necessary ingredients including vows of intent, marriage vows, and ring vows. Lon Tosi of the Sensational Ceremonies team of Orlando wedding officiants, guided them in putting their custom wedding ceremony together. He worked with them as they chose items from a fantastic planning kit that would fit their special needs. They chose to thank their parents for all the love and guidance that had been provided to them. Notably, they wrote special words to one another that Lon read during the ceremony. Brent wrote in part: "I love how you care for my son. You love whole heartedly and are the backbone to the beautiful family we have built". Jennifer wrote in part: "You roll with my spontaneous attitude and always seem to be so grateful for whatever it is we did. If we disagree on something, you don't yell, you take the time to think it through and communicate. It's something I appreciate more than words can tell". Everyone laughed and cried. Many of the audience members held hands as the vows were read. This truly was a fun filled wedding!
The stunning photo accompanying this review was taken by Rodrigo Méndez
Creative Director – The Love Portfolio. Here is that story: Both Jennifer and Brent were having tongue-tied moments during their vows. They laughed and Lon laughed. What could have been tough moments became lighthearted and memorable. It was all so much fun! Rodrigo, caught one of these moments with his keen eye! The result was an extraordinary photograph. Christine McPhail Orlando Wedding Harpist created special moments with her amazing harp renditions. She is so good at what she does. Francesca Fistner Senior Conference Service Manager, at the Wyndham, made certain that everything was perfectly timed. Perfect!! Married By Mail and Dianne their president, provided the Florida Marriage License for the couple and actually hand-delivered it to Lon for the wedding. Married By Mail's amazing service has contributed to their over 400-5-star reviews on the Knot! Thanks to Dianne for that wonderful service.
The fun filled wedding happened on a sunny October day in Orlando, Florida, in the heart of the exciting Disney World Resort and Theme Parks.