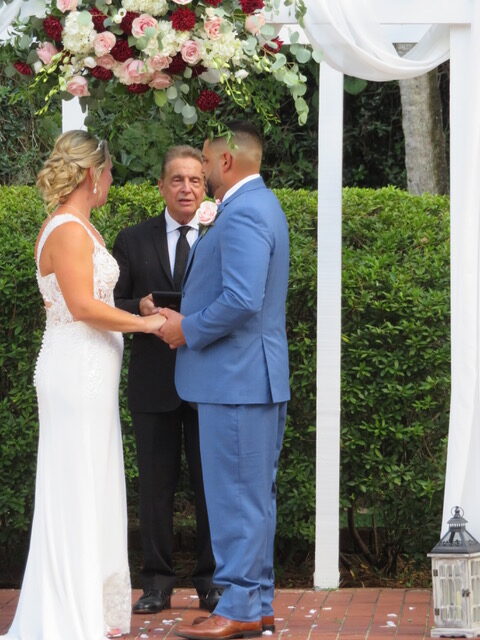 Garden Wedding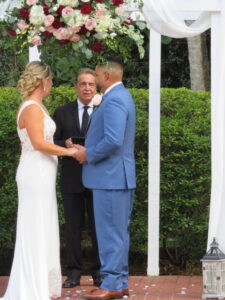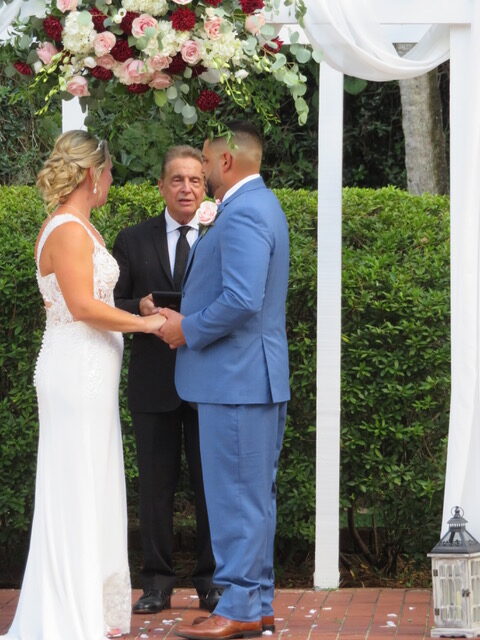 Garden weddings are always fun. There are the flowers and brides and butterflies. And in Central Florida, there are usually all sorts of wonderful trees including Oak, Palm, and Cypress, and of course there is the Spanish Moss. The settings are always beautiful and if everyone is lucky the whole scene is sundrenched. All the above captures the essence of the Garden Villa located in Winter Park, Florida. It is just captivating and gorgeous! Into this wonderful setting Manny and Amber brought their family and friends to celebrate their glorious marriage. They have two daughters as well, Jayelah and Abryana. Their daughters acted as ring bearer and flower girl all wrapped into one. The scene was incredible – as the event was getting ready to begin. One moment, there were no audience members, and in the next, a bus arrived with fifty-guests and all was well. It was perfectly – a garden wedding.
Manny and Amber are very laid-back people. They wanted a simple wedding ceremony – one that spoke to their deep love and commitment to one another. Lon Tosi from the Orlando group of officiants of Sensational Ceremonies worked with them to create a simple, sweet ceremony that had all the very important ingredients. It included traditional vows of intent, marriage vows and ring vows. A great moment in the ceremony occurred when Manny replied I Do during his Vows of Intent. He said I Do very softly. Lon asked him to repeat them a bit louder so that everyone could hear them. Still, it was too low. Lon asked one more time, and then Manny screamed I DOOOOO! That was the moment; the very special moment when it all came together.  The audience laughed, and the bride cried. It was perfect. There was a reading in the ceremony entitled All I Want. It ends with the following statement. All I want is to love you forever. As Lon spoke those words, one could hear a pin drop. It was a garden wedding to remember for certain.
It was an A-List of vendors that made the whole event look effortless. All vendors were lead by the amazing team from Bella Sposa Events. Everything was organized and in order. Cocktails Catering provided the beverages and food. Johnso Raymond was the photographer. We cannot wait to see those amazing photos! Joe Marolis owner of Elegant Entertainment provided the sound, lighting and entertainment for the event. The couple had cupcakes for their guests as provided by The Naked Cupcake. Apollo's Chariots made certain that all arrived on time for the big event. And of course, Lon Tosi of Sensational Ceremonies performed the wedding ceremony. Finally, it all could not have happened without a marriage license. Married BY Mail – Dianne hand delivered the license to Lon for the wedding. It all could not have been a more successful and beautiful garden wedding.
And it all took place on a sunny warm fall day in the beautiful city of Winter Park, Florida.