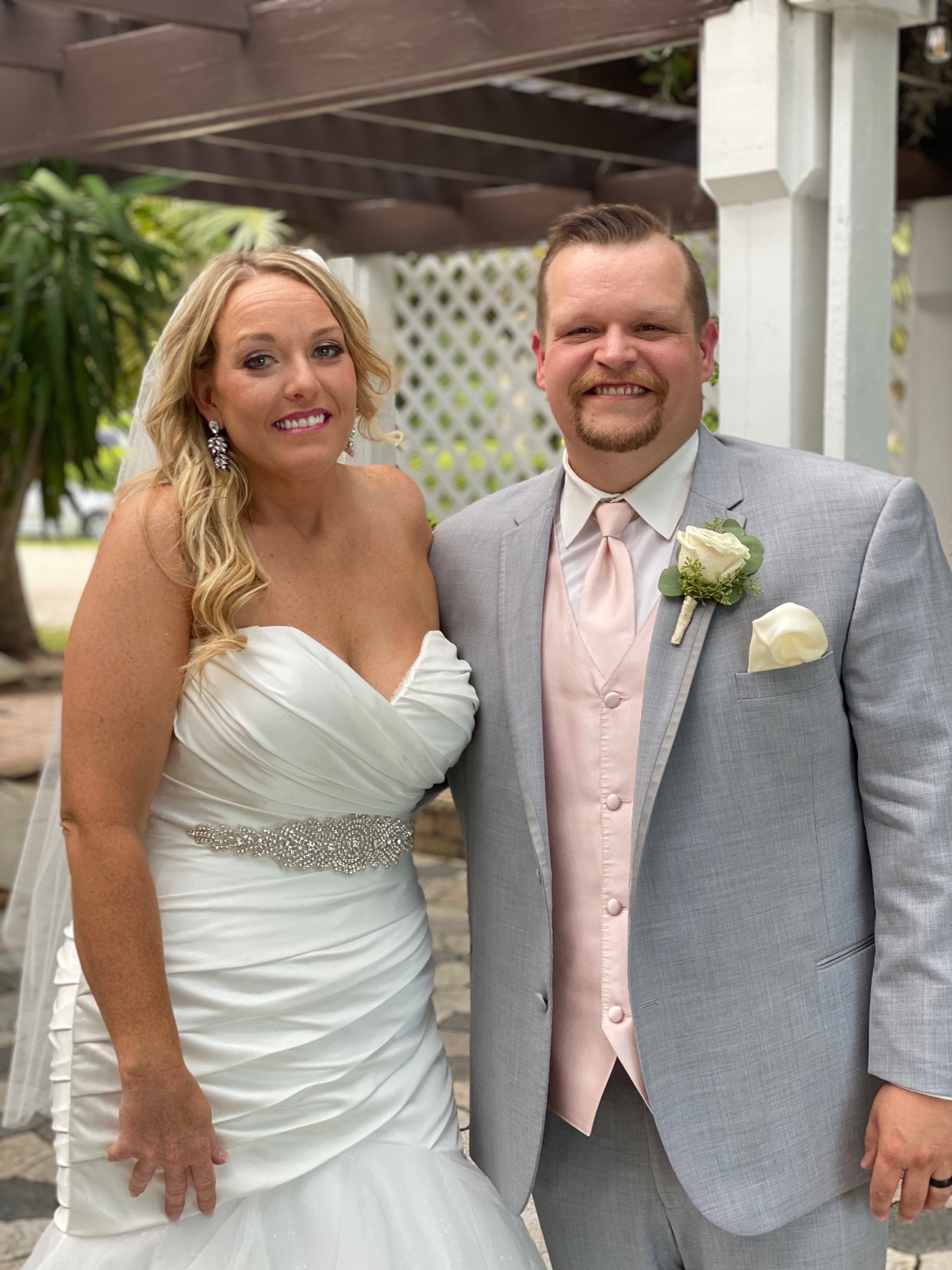 Perfect Oasis
Kelsey and Brandon traveled from Amarillo, Texas to get married at the tropical Paradise Cove in Orlando, Florida. With palm trees and towering bald cypress reaching for the sky the venue is the perfect oasis in the heart of Orlando.
Jasmine, with Paradise Cove, made sure that every detail was taken into consideration for this wedding in the perfect oasis on lake Bryan.
Dominico Castaldo, the famously talented photographer, made sure to capture every moment of the couple's wedding day. Even though he has photographed hundreds of weddings in this perfect oasis, every picture felt fresh and new.
Debra with Atmospheres Floral and Decor worked with the couple to make sure that their perfect oasis was beautiful and eye-catching for every one there. With white roses and seeded eucalyptus filling the bouquets and boutonnieres, everything was perfect.
Rev. Glynn Ferguson, the owner of Sensational Ceremonies, and an official Walt Disney World wedding officiant, worked hand in hand with Kelsey and Brandon to make sure their ceremony fit hand in glove with their perfect oasis. The couple chose a beautiful christian ceremony and Rev. Ferguson asked them to write and tell him why the love each other.
Kelsey wrote: I knew when I first met you god sent someone in my life to calm my crazy! It was that first cup of my favorite Starbucks coffee that you brought me to know that you were the one. We had only had a couple dates and you could remember every detail I told you. Since the beginning you have been there to listen to my absolutely boring stories, loved me to the fullest and put up with my so-called mean side (Colby my brother in law says I have!) I love you because you are kind to me even when I don't deserve it. I love you because you make me feel like I am the only person in the room and I love you because I know I can count on you to be the best man and father to our son. For whatever reason you choose to stay with me after you met my entirely way too crazy family, I'm grateful you did!
Brandon wrote: I can't even begin to describe the joy I have knowing that I get to marry my best friend. I still remember when I brought you that Cinnamon Dolce Latte at work. We have really been inseparable ever since. I still remember when we told each other "I love you" for the very first time! You are truly amazing and treat me like a king even when I don't deserve it. You make me better every day. I couldn't imagine a life without you. Nolan coming along just added to our joy! You are such an amazing mother and it makes me fall for you all over again when I see our boy. You are truly the most amazing person and I am so glad that you came into my life. I promise to treasure you forever!