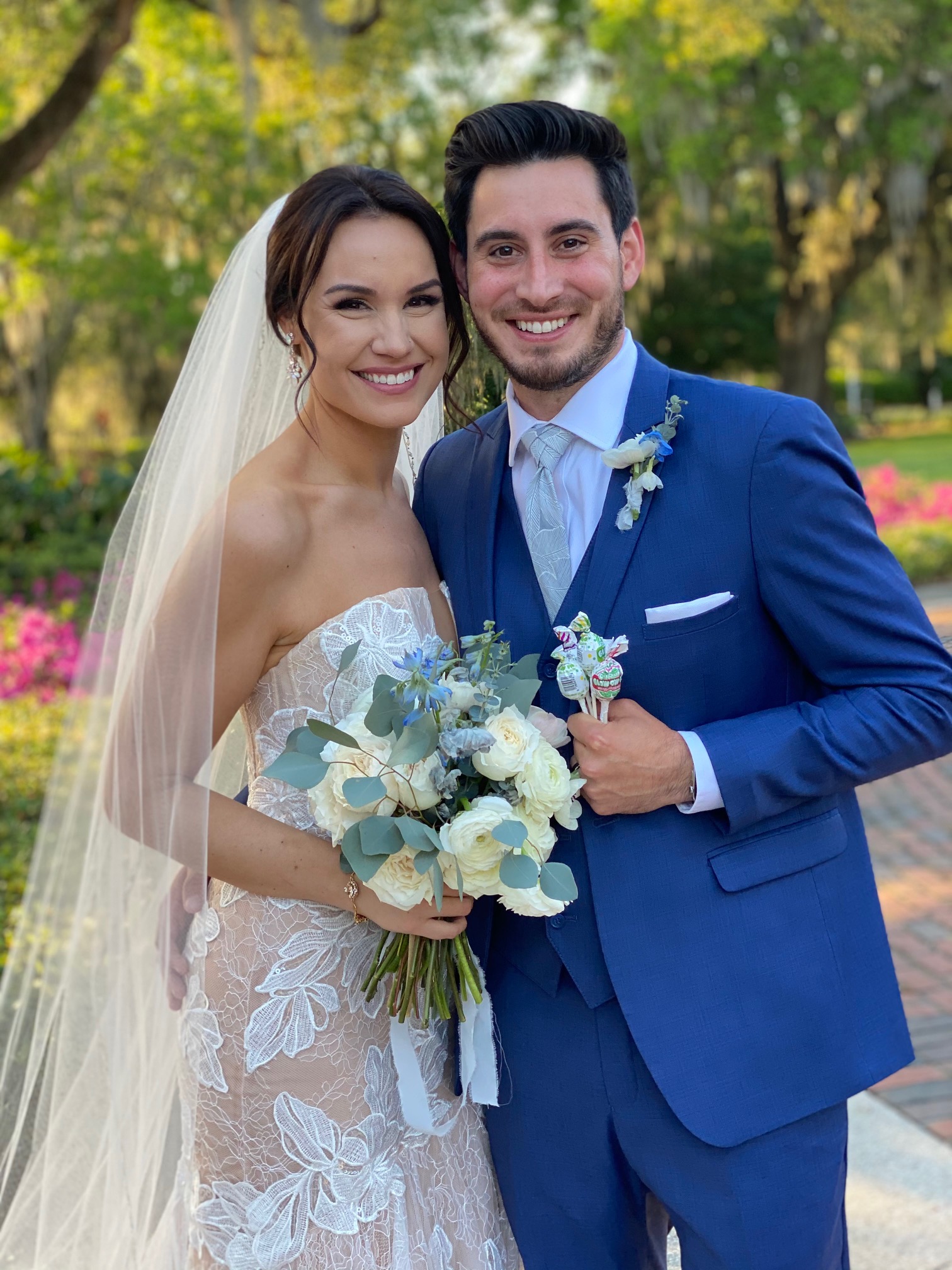 Goal
Nikki and Aaron had one goal for their wedding and that was to have fun!  With the help of Melanie Paige Events that is exactly what they got.Melanie worked with Aaron and Nikki to make sure that she helped them line up a fun group of vendors that would make their Cypress Grove wedding goal come to life.  

Sara Ozim Photography really got that the goal of this wedding was to have fun.  She kept the couple laughing and in a playful mood throughout their time in front of the camera.  
You often don't think of flowers as fun or playful, but it is what the couple does with those florals that make the goal of a fun wedding come to life.  
Bloom by Lindsay did just that.  Not only did the flowers look amazing, when asked to take a picture by the officiant, Aaron grabbed a handful of blow pops and made a bouquet for himself.

If your goal is to have fun and you have some of these best foodies working on your wedding, of course you are going to have Big City Catering and Sweet Miss V's.  Not only was the food delicious, but it was beautiful as well.

Nikki and Aaron called Rev. Glynn Ferguson, the owner of Sensational Ceremonies and an Orlando wedding officiant, to make sure their wedding goal of a fun wedding was realized in their personalized custom ceremony.Rev. Glynn gave the two of them a homework assignment to make their ceremony really personal and fun.

Nikki wrote:  Aaron is my happy place. He is kind, supportive, and loyal.  He doesn't have a mean bone in his body and has the biggest heart out of anyone I know. He can find the positive in any negative situation and helps me see the glass half full in life. He is the goofiest person I know and he can make me laugh when I'm having a bad day and all I want to do is cry.  He has taught me to try to let problems and stressors go and have fun in life. He believes in me and helps me accomplish the goals and dreams I have, no matter how crazy they are. I love that he lets me win fights even when he (and I) knows I'm wrong. Aaron is selfless and will do anything and everything to make me happy. He puts my needs even before his own. He is the best dad to our fur babies and I already know that he is going to be the best father in the world to our future children.  I love that he loves me unconditionally and accepts me for who I am.  He simply makes me better and I just know there is no other person I would want by my side to experience and adventure life with.
Oh. And his booty. He has a great booty.

Aaron wrote:   Nikkie, she's crazy and I'm crazy for her. She can have me loving her to the moon and back one second and driving me up a tree the next. She's beautiful inside and out. She loves with her full heart and not just me but her family her friends and even her coworkers.
Nikkie has got the biggest heart! She is immensely selfless and will do anything for anytime.
I love the way she smiles when she gets embarrassed I love her goofy voices when she's trying to be "cute."
To be corny Nikkie completes me, she is everything I'm not and pushes me to be more than I already am. She's the same and yet totally opposite of me. I love her feisty Colombiana blood and I love her sensitivity. I love being her rock and someone she can come to.Nikkie is ultimately my best friend and someone I love seeing each and everyday and just want to spend and share the rest of my life with

Their other Amazing vendors were VIP Wedding Transportation, White Rose Entertainment, Rentaland Tent Rentals, and RW Style.