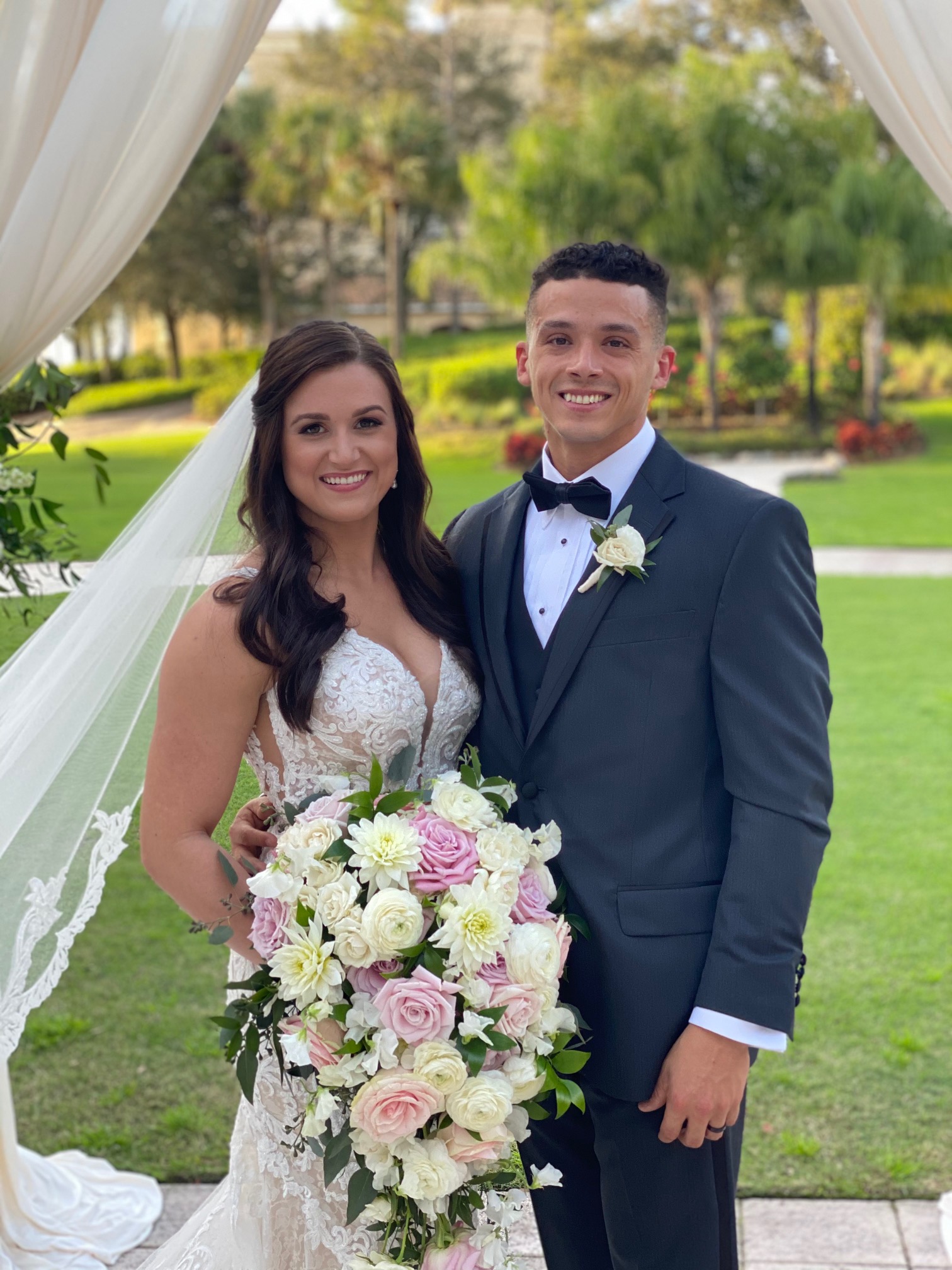 High School Sweethearts
Zahjyee and Lindsay dated as highschool sweethearts and now it was their time to become husband and wife. The couple chose the beautiful Omni Orlando Resort at ChampionsGate as their location for their fairytale wedding. With help from their planners at Just Marry, Lindsay and Zahjyee pulled together the most magical team of vendors to help these highschool sweethearts celebrate their love for each other.
Raining Roses worked with the couple to make sure their love was displayed through florals and decor to remind everyone that these highschool sweethearts were celebrating their ever after love now.
When you have a couple that have been highschool sweethearts and now getting married there is sometimes a challenge to make sure everything is fresh and beautiful for them. The photography team at Ledia Tashi Photography and the videography team at KEJ Productions did just that. They captured the love that had evolved over the years to become what it is today.
Harpist Christine MacPhail performed the music for the highschool sweetheart's ceremony and cocktail hour, while Soundwave Entertainment rocked the night away in the reception.
Sugar Sugar Cake Boutique provided the most amazing cake for the highschool sweethearts and there was not a morsel left at the end of the evening. It was delicious!
Our highschool sweethearts asked Rev. Glynn Ferguson, the owner of Sensational Ceremonies and an Orlando wedding officiant to help them put together a custom ceremony that would fit the two of them and speak to a love that had already lasted almost half of their lives. Rev. Glynn gave them a homework assignment to write and tell him why they love each other.
Lindsay wrote: I have known Zahjyee for 12 years, since I was 14 years old. We know each other better than we know ourselves. We know how to bring out the best in each other and finish each other's sentences. We both know when to have a lazy weekend doing nothing or a weekend filled of adventure doing what we love most, travel. We share a love of our favorite kind of food (Asian) and binge watch our favorite shows on Netflix. Most importantly what I love about Zahjyee is that I know I can always count on him for anything. I can count on him to give me his best and honest advice. I love his unique personality and the way he challenges me to be a better person every day.
Zahjyee wrote: First and foremost, I love Lindsay because she is patient with me. I am not the easiest person to deal with or be around and she has proven to love me through my quirks. I love her because we can laugh together until our stomachs hurt and we are tearing up, sometimes over the dumbest/smallest things. She listens to my problems, knowing when to reason with me or to just let me vent. She makes a conscious effort to complement our partnership within the household, i.e cleaning, dishes, etc. while I handle most of the cooking and any handy work that's needed. I love her because she actually cares if I am happy, not just when she is happy. I love her because she makes me want to be a better person.
Congratulations to our highschool sweethearts!