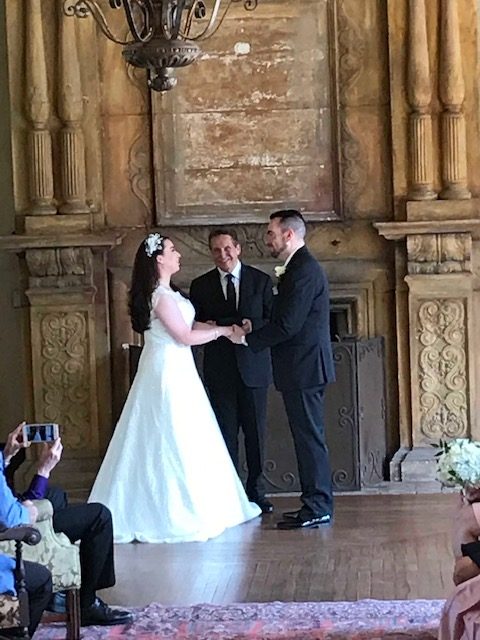 Howey Mansion Wedding
The Howey Mansion is nestled in the Central Florida Hills of Florida. It is a gorgeous historic home that features both outdoor and indoor facilities that are perfect for unique events. Couples from across the country are discovering this amazing home with its class and elegance. It is perfect for wedding ceremonies!
Lon Tosi of Celebration, Florida and a Vice President of Sensational Ceremonies recently conducted a wedding at the venue. While he has conducted many at the location, he had never done one indoors in the great hall in front of the ancient fireplace. He reported that the acoustics in that specific room was among the best in Orlando, and that the the bride even commented on how beautiful the "sound" was. And, that was without a microphone being used.
It is wonderful that Francheska and Edgar had such a great experience for their wedding. Lon had worked with them for several months to make certain that they had a custom wedding ceremony that exactly told their story. It all came to life on their special day. The team from Elegant Weddings Orlando by blush delivered an elegant setting for the wedding ceremony. It was an intimate affair, and the audience had an opportunity to sit on historic sofas and chairs that lined the runway. Francheska walked between them to her husband to be. The audience was up close and personal to the ceremony itself, and heard every word spoken. It was a beautiful and heartfelt ceremony. The bride cried. The groom cried, and the audience cried. All were tears of happiness.
The entire party retired to the amazing dinning room for a feast and celebration of the coming together of two amazing people. Edmund Rhodes from Rhodes Studios photography and video was on hand to capture the event. Those photos are certain to be amazing! Pam Hummell of Frosting on The Cake provide the stupendous cake! The Cheryl's Distinctive Creations Inc. Floral bouquet design was gorgeous. And the flowers for the reception were just beautiful! The always present Cocktails Catering was on hand for the liquid entertainment, and of course, there would not have been a wedding without the Florida Marriage License that was provided by Married By Mail. Dianne their president did an amazing job in hand delivering the license to the officiant for the wedding. She also traveled to the mansion to see the wedding first-hand.
And it all happened on a sunny day in the rolling hills of Central Florida.