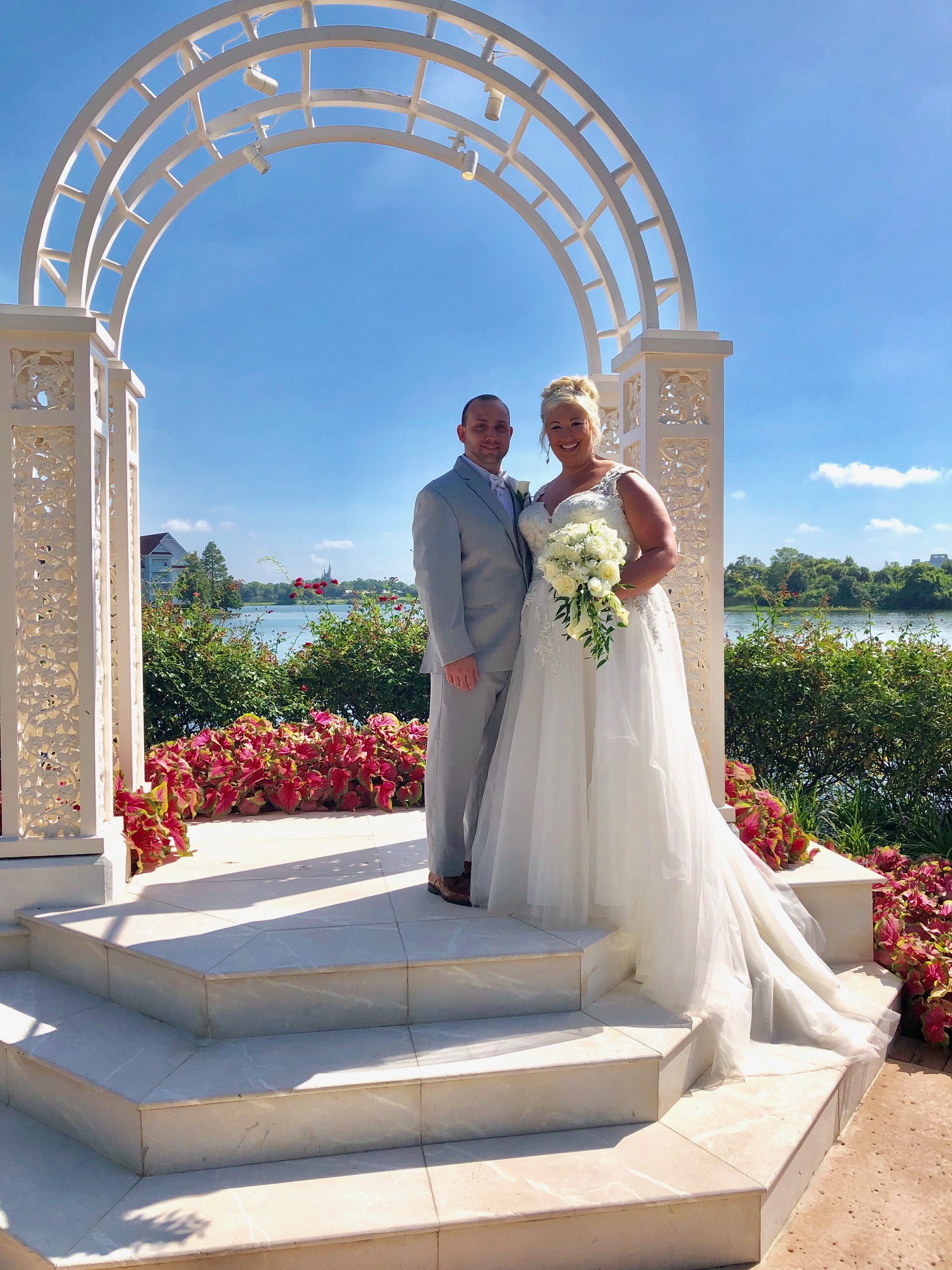 A Wedding at Walt Disney World
Magical is an understatement! A year ago Ashley and her mother came to Orlando to check into possibly having a wedding at Walt Disney World. While they were waiting for their appointment, they met Rev.Glynn Ferguson, who was leaving a wedding in the Disney Wedding Pavilion. He told them what to expect, talked to them briefly about the weddings there and then headed to his car. That very afternoon when they had finished booking their Disney Fairytale Wedding, they gave him a call and asked him to officiate their most precious day.
Ashley and

Joseph

had a lot of fun with their wedding ceremony.

Joseph

walked down the aisle to "I Just Can't Wait to be King" from the Lion King and played on the organ by the incredibly talented Bill.
Ashley chose a white color palette for her bridal bouquet. The bouquets and boutonnieres were crafted by the incredible team at the Walt Disney Floral department. Ashley's bouquet was filled with white garden roses, orchids, and calla lilies, and a hidden Mickey too! The small Cinderella carriages that stood on either side of the alter table were a nod to the way that Ashley would arrive to meet her Prince Charming.
Carol with Disney's Fairytale Weddings did a superb job of pulling together all of the details for the happy couple. She kept everything running smoothly and on time for their big day. Per her conversation with the bridal party, she told them she wanted them to be "guests at their own wedding." What a great philosophy!
Stephanie and Jacob with
Disney Fine Art Photography
took great care to capture every aspect of their wedding day. From the formal portraits in the lobby of the
Grand Floridian
through to Ashley stepping out of Cinderella's carriage at the Wedding Pavilion, they their beautiful ceremony, and on to the reception. Those photographs will be treasured for a lifetime.
Rev.Glynn Ferguson a minister and officiant with Sensational Ceremonies worked with the couple to make sure their ceremony was beautiful and personal.

Joseph

wanted Colossians 3:12-14 read in the ceremony "

12

Therefore, as God's chosen people, holy and dearly loved, clothe yourselves with compassion, kindness, humility, gentleness and patience.

13

Bear with each other and forgive one another if any of you has a grievance against someone. Forgive as the Lord forgave you.

14

And over all these virtues put on love, which binds them all together in perfect unity."
Rev.Glynn also gave them a homework assignment to write and tell him why they love each other.
Ashley wrote:

I love Joe because he saved me, he gave me back happiness and was the piece of me I had been missing. The best part is there was no extra work on Joe's part to do all of this, just him being himself. I had a horrific accident when I was 15. It left me with a brain injury and a broken body. Yes I healed but my emotional state was damaged. I dealt with years of depression and ptsd.. constantly up and down. Then I met Joe – I smiled more and started believing in myself again. I knew I did deserve happiness after I had met him. He filled me with a lost joy. He was the last piece on my journey to completing my lost self.
Joseph

wrote:I love Ashley because she showed me that life can be full of joy once again. She pushes me to do things I normally wouldn't and I cannot wait to wake up each day knowing I get to spend it with her. When you are with the right person you just know. But, when it comes to Ashley looking into her eyes and seeing her smile is like gazing upon a piece of Heaven itself and the beat of her heart completes the beat of mine.
We wish both Ashley and

Joseph

happiness for a lifetime and God's blessings over them.