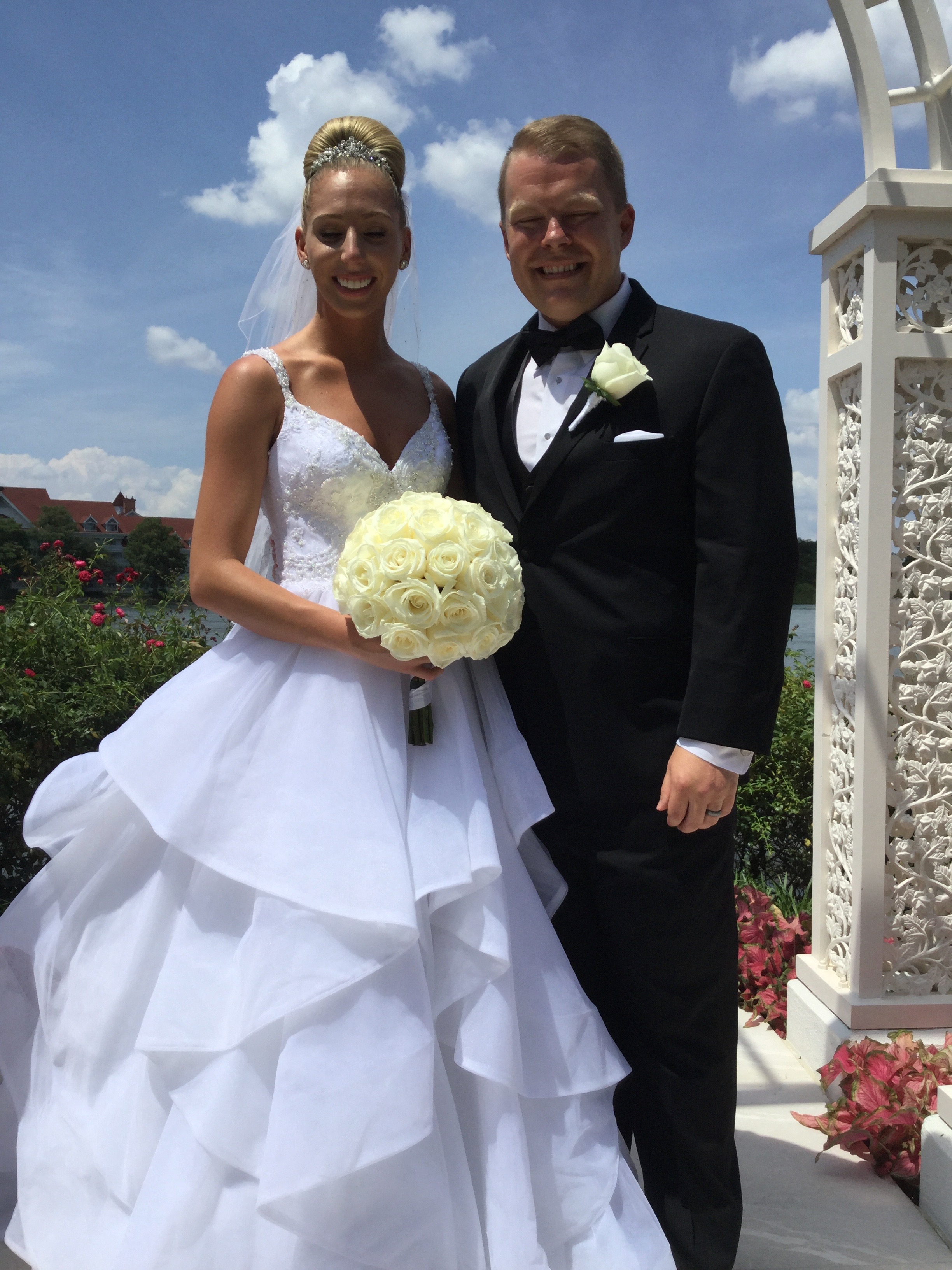 Magical Disney Wedding Pavilion Ceremony
Disney Wedding Pavilion Beauty
Walt Disney World Resort Orlando presents world class facilities for their guests. Among them is the Disney's Wedding Pavilion located adjacent to Disney's Grand Floridian Resort & Spa. Nothing else in the Orlando Florida wedding market can compare. It is majestic and offers a picturesque view of Cinderella Castle through it's huge picture window. Couples from throughout the world have been married with that wonderful view over their shoulders in their very own fairy tale wedding.
Jena and Alec have brought their vision of a fairy tale wedding to this magnificent location along with their family and friends. They actually used Disney's Fairy Tale Weddings to make it their reality. Disney made certain that it was perfect!
The couple worked alongside Lon Tosi of Sensational Ceremonies to create a custom ceremony that best fit their love story.
He worked with them to bring their dream ceremony a reality! It featured a wonderful sand ceremony. As the couple poured their sand into the center vase, the amazing view of the castle loomed over their shoulders.
The big surprise happened during the ring ceremony. Lon requested the rings from the best man. He only received the box. He once more, requested the rings, which promoted the entrance doors to open and there appeared Majordomo with the rings in a glass slipper. The amazing organ played as the rings were presented to Lon. It was dramatic and awe inspiring.
Jena and Alec's ceremony featured a love theme with several readings focused on that topic. There were readings entitled What is Love, Falling in Love, and the fantastic Love. That particular prose features the following sentences. "It was love that brought you together to this moment, to unite your destinies. Always remember how important your loving relationship is. Cherish your love forever".
Jena and Alec will certainly cherish their lover forever! We are so happy for them and wish them much luck with their marriage. They are off on a great adventure. The couple planned to spend their honeymoon visiting the Walt Disney World Resort Orlando.
Married By Mail worked with the couple to secure their Florida Marriage License. Dianne hand delivered the license to their officiant for the wedding. Just perfect!
To top it all off, it all happened on a sunny day in the magical Orlando, Florida!