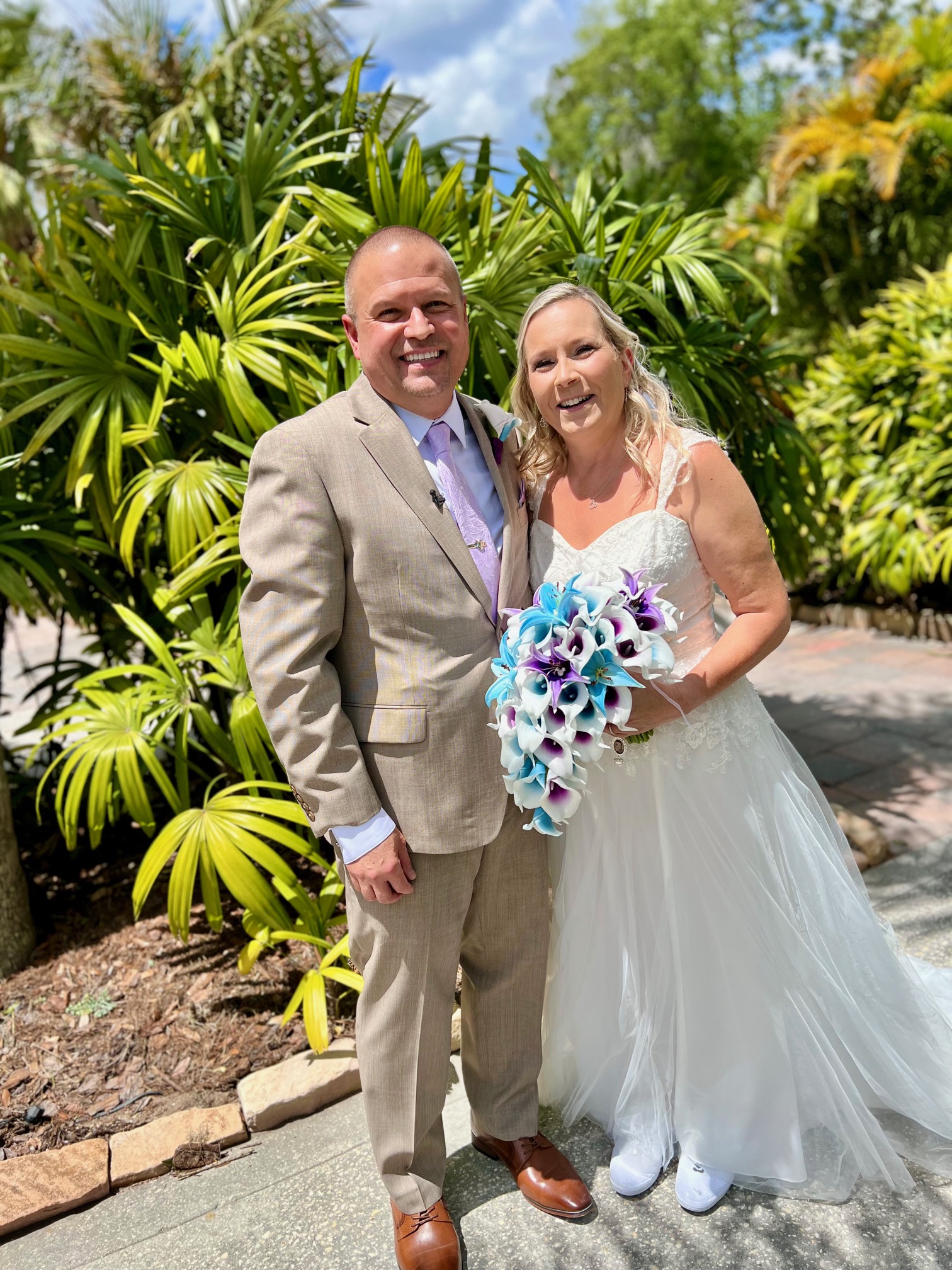 Jennifer and Brian
What a beautiful wedding for Jennifer and Brian. The couple met while working together and things didn't go quite so well at first, but after months of getting to know each other, early morning coffee, and talks of Disney, they fell in love. AND moved to Florida!
Jennifer's love of all things Disney brought Brians around full circle and now their date night are forever filled with trips to the theme parks.
The two of them knew they wanted to add some Disney touches to their wedding so what better way to do that than to hire a few Disney regulars. First, they hired the Holligans. After hearing them perform at several venues around Epcot Jennifer and Brian knew they would be perfect fit tor their ceremony and cocktail music.
If you love the idea of a Disney wedding, but the price tag is a little too steep for your walet, then why not take a trip across I4 to the practically perfect Paradise Cove. From scenic views of Lake Bryan, boat entrance for the groom, to the tiki hut bar and the colorful beach chairs, Paradise Cove has it all.
KMD Photo and Film was their next choice. Todd and Kristin have been photographing weddings at Disney World for years and they really had the vibe Jennifer and Brian wanted for their wedding day.
Atmospheres Floral and Decor has been providing florals for weddings around Disney property for years. From intimate affairs in the balloon to lavish wedding receptions at the hotels, Atmospheres Floral has seen it all.
For their ceremony Jennifer and Brian asked Rev. Glynn Ferguson, an official Walt Disney World Wedding Officiant, and owner of Sensational Ceremonies, to help them create a once in a lifetime custom ceremony. Rev. Glynn gave the two of them a homework assignment; to write and tell him why they love each other.
Jennifer wrote: Brian is my rock, my soul mate and my best friend! I can't believe I get to marry this man and call him my husband. (He has been there for me from the beginning, especially when my dad passed away just over 10 years ago.) There's isn't a day that goes by that he doesn't make me laugh and smile, even when I get upset with him, which isn't very often.
Most people know Brian developed blood clots (DVT'S) in both legs, just over 4 years ago, for almost 2 weeks he wasn't able to walk and had been admitted to the hospital twice, due to being misdiagnosed the first time. While in the hospital the doctors and nurses couldn't understand why he couldn't walk, but the pain he was dealing with was unimaginable.
On April 4, 2019 while I was at lunch during work, Brian called to tell me he walked that day, with the help of a walker (I immediately began to cry), it had been the first time in almost 2 weeks he had taken more than a step or two. When I arrived at the hospital later that afternoon, with the help of a walker, we walked the halls together. He was so proud, as was I, the smile on his face said it all.
That night after I had gotten home I sat down and cried. I was so afraid I was going to lose him, and after seeing him walk that day and the smile on his face I knew he was going to be okay. I knew we had a long road ahead of us, more doctors appointments, finding out what caused the blood clots, and different meds to see what would work. It was a long time before I told him how worried I had been that entire time, not knowing if our time together was going to be cut short and I wasn't ready to let him go. You see, Brian is the strong one, always has been, but during this time I needed to be strong for both of us and with everything he was going through, I couldn't let him know how I had felt. He needed to concentrate on getting better, not only for himself, but for me and our pup Jackson and I know he wouldn't have wanted it any other way.
I'm so looking forward to spending the rest of my life with this man and growing old together. He is the best dog dad, partner and true love I could ever ask for. He was there for me and my family when my dad passed away, when we went through something personal together and when everyday life can be difficult. He "puts up" with my obsession, I call it love for Disney, which is why we moved to Florida in January 2022. I couldn't ask for a better partner to spend the rest of my life with.
Brian wrote: From the moment I met Jennifer over 10 years ago at work, I knew there was something different and something very special about her. It was her dedication to everything – her job, her family, her friends and especially Disney. We had difficulties at first because I was new, and she was established, and I presented challenges to the status quo (which Jen liked). We didn't see eye to eye and in fact, didn't talk for months. But I think we both realized our strengths and weaknesses and formed a powerful team (at work only for the time being). I will never forget our after-work talks, sitting on the counter in a dark production area in Tyvek suits and hair nets. That memory will always hold a special place in my heart since that was the beginning of the special life we now have and will always have! We talked about the past, present, and eventually the future. I started coming to work early when everything was quite so I could spend more time with my now soon to be future wife.
I love Jen because to know her is to love her. I will always be amazed by her beauty, her openness, and the way she makes people around her feel comfortable. I'm the Beast to Her Beauty. If you ever have the chance to ride Slinkey Dog with her, you will walk away with a smile! I cannot ever recreate the joy, but it is magical! We live 10 minutes from Disney and she will still take 750 photos in a day and her enthusiasm is to behold. I love that! So much better than what I like to call "death marches" when we were only seldom visitors.
I love Jen because of her steadfast dedication to me, even when times were not so rosy.
She is small in stature, but she has a mama bear in her! I suffered blood clots in both legs and she was by my side the entire journey. I was in extreme pain and could not walk to get the ice packs that provided relief, but she came home on her lunch break and put up with me. I am so thankful she did! While in the hospital for my second stay, I could not walk because of the pain.
My only driving force was to make things better for Jen and got up and walked. Probably the happiest time in my life until today. I was meant to walk to become her husband. I cannot ever repay her for her love, dedication, selflessness!
I love our special, stupid handshakes, her smile that radiates in my heart, her caring touch. Not to mention cruising on Disney – I've traveled the world not cruising and she keeps me on a ship and I'm so happy she does.
I love Jen because she is who she is and I want the guests attending to know that! Life is full of things we take for granted – a kiss goodnight and good morning (it is required), making her breakfast and coffee and Jen packing my lunch every morning. It's our thing and we love it!
Look out world, we are now a formidable team!
Congratulations Jennifer and Brian. We wish you your own Happily Ever After!!!
Sensational Ceremonies
Average rating:
0 reviews