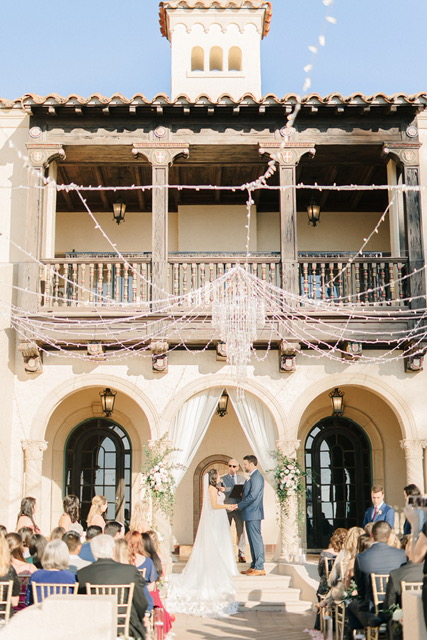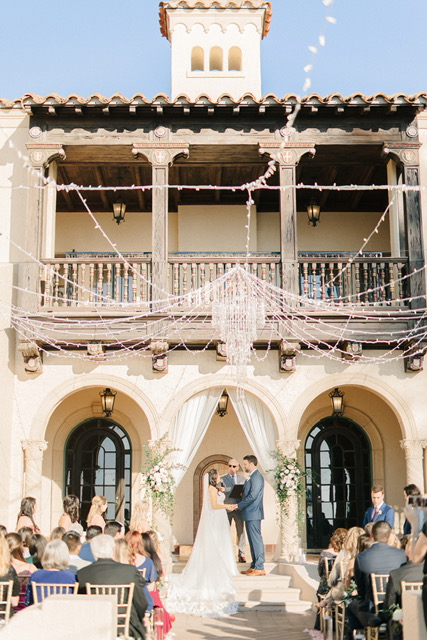 Kaitlyn and Adam
Kaitlyn and Adam chose the beautiful Powel Crosley Estate as the venue for their wedding ceremony in early February.
Powel Crosley built the Florida winter home for his wife, Gwendolyn, in 1929. The two-and-a-half-story Mediterranean mansion was built in the southwest corner of Bradenton on a 60-acre parcel of land on Sarasota Bay adjacent to the John Ringling Estate.  The 11,000-square-foot home has 21 rooms and 10 baths, and an adjacent carriage house has room for three cars and servants' quarters on the second floor. Originally the mansion had a swimming pool, a seaplane dock and yacht basin. The home featured many innovations for its time, including a steel frame encased in cast stone, embedded pipes and wiring, and a 135-day construction schedule. It was the perfect spot for Kaitlyn and Adam to tie the knot.
Placed on the National Register of Historic Places in 1982, Seagate was saved from commercial development and purchased for renovation by Manatee County, which operates it now as a meeting, conference and event venue. Today, brides and grooms can have their ceremony and reception with a storybook backdrop straight from the pages of history.
Kaitlyn looked amazing as she made her way down the outside staircase and was escorted down the aisle to join Adam at the bottom of the stairs.  The couples' custom designed wedding ceremony included the Blessing of the Hands, a scripture reading from 1 Corinthians 13, What Is Love, The Future and The Irish Wedding Blessing.  Then, in front of their family and friends, and amazing backdrop of Sarasota Bay, Kaitlyn and Adam shared their wedding vows, exchanged rings and were pronounced husband and wife by Rev Rick Lackore of Sensational Ceremonies. 
DJ Services provided by Adam, with Grant Hemond and Associates, Videography by storybook Films, and Venue and Event Coordination by Laura with the Sarasota Wedding Gallery. Special thanks to Emma Ann Photo for providing this beautiful picture during their ceremony.
Congratulations to Kaitlyn and Adam!