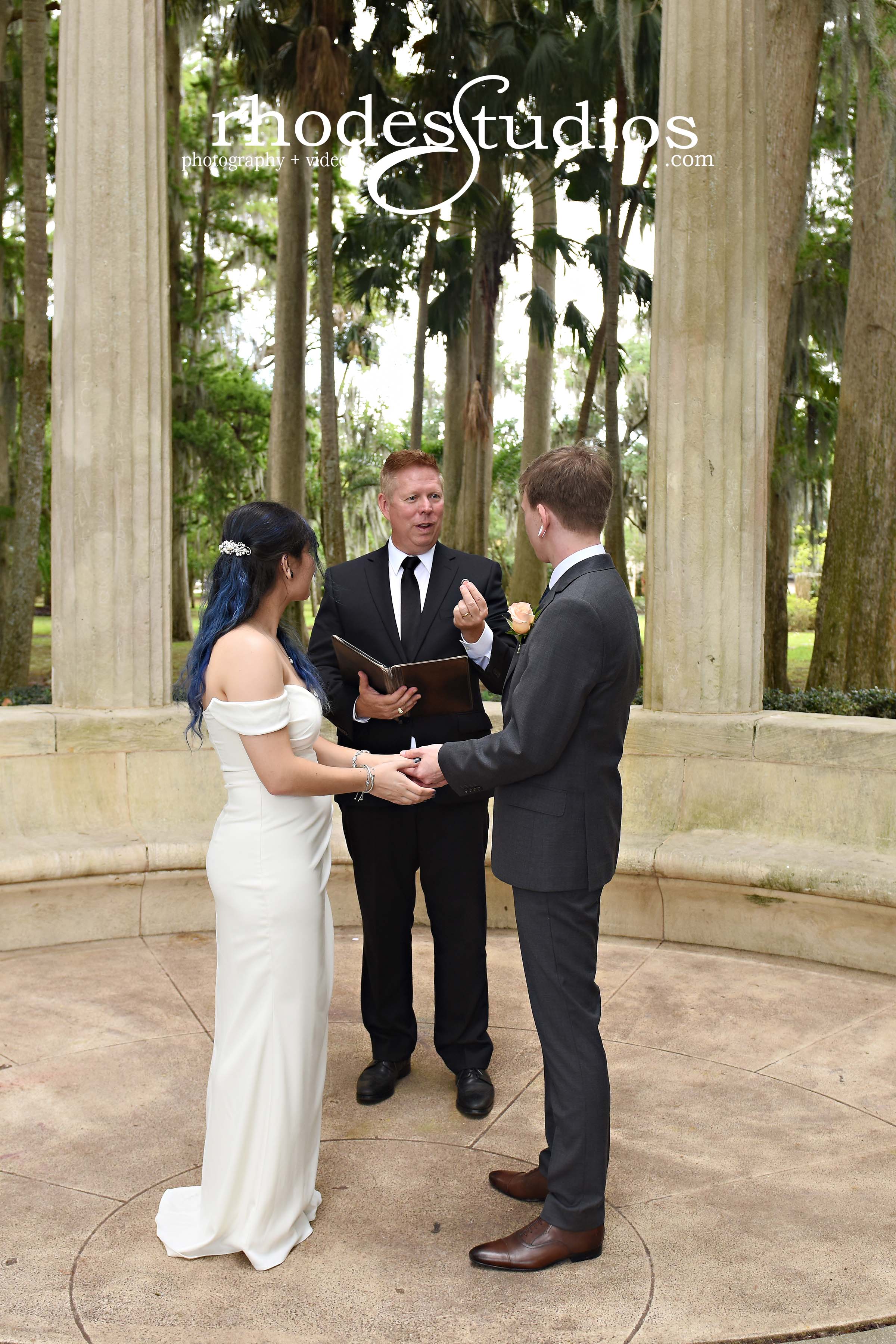 Kraft Azalea Wedding
Who would have ever thought that being dropped off at an ice rink to occupy your time while your parents shopped, would turn into a love story. While James was on holiday with his family, from England, they came by Kissimmee to let him do a little ice skating, while they shopped. It was there at the front desk that he met Elena. Fast forward seven years and here they are falling in love and getting married in a Kraft Azalea wedding.
The Location
When Elena and James decided to tie the knot they knew that they wanted something simple, beautiful, and with very little fuss. They contacted
Intimate Weddings of Orlando
after looking through the various wedding packages and decided that
Kraft Azalea Garden
, in
Winter Park
would be a perfect fit for the two of them.
James waited at The Exedra by Lake Maitland for his bride to join him. When Elena was ready she walked the meandering path to the tune of Pacabells Cannon in D, to join James by The Exedra. There they joined hands, exchanged vows and rings and became husband and wife.
The Flowers
Flowers by Lesley
created a beautiful coral colored bouquet and boutonniere just for the two of them. The wrapped stem of the bouquet matched Elena's dress perfectly and the coral boutonniere for James was striking against his blue vested suit.
The Photography
Edmund Rhodes with
Rhodes Studios
captured every aspect of the ceremony. From the couple stepping out of their car, the bride walking in, their ceremony, and their first kiss as husband and wife.
The Ceremony
Rev.Glynn Ferguson
an officiant with
Sensational Ceremonies
took time to work with the couple to create a custom ceremony. They wanted something simple and civil, but with a blessing of the hands and the Apache Wedding Blessing.
Though oceans apart their love now has a start. We wish them happiness for a lifetime.