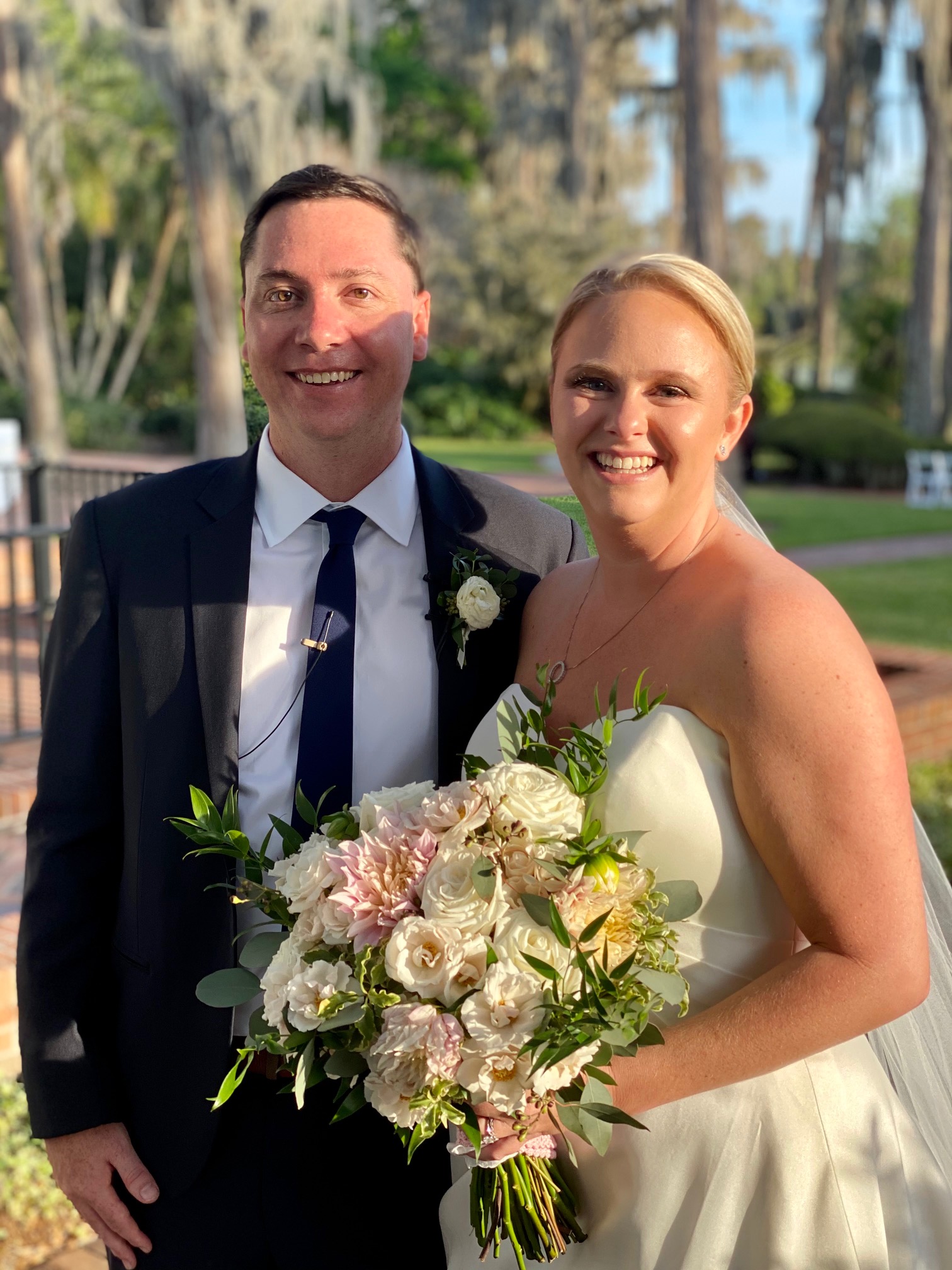 Beautiful Lakeside
Erin and Brian had such a beautiful lakeside wedding at the Estate House at Cypress Grove in Orlando, Florida. There with their family and friends they walked the aisle, took each other by the hand, said their vows, and became husband and wife.

Michele Butler Events coordinated the entire day for the couple. She made sure their beautiful lakeside ceremony and reception without without a hitch and that they had the very best vendors to make it happen.

Corner House Photography was on hand to make sure and capture every detail of their wedding day. From pictures with their bridal party, to their beautiful lakeside ceremony, and photos well into the night, Corner House got it all.

Bluegrass Chic crafted the beautiful floral designs for Brian and Erin's big day. From the blush and white bouquets to the matching flowers for their beautiful lakeside ceremony, Blue Grass Chic made everything look stunning.

To keep everyone moving and on the dance floor the couple hired The Buzz Cats to perform for their reception. With the reception space surrounded by trees in this beautiful lakeside reception area, the music was fun, beautiful, and made you want to dance.

Erin and Brian asked Rev. Glynn Ferguson, the owner of Sensational Ceremonies and an Orlando Wedding Officiant to work with them to create a custom ceremony for their beautiful lakeside wedding. With words they chose from his ceremony planning kit and the homework that he gave them, it was incredible.

Erin wrote: Why do I love Brian? Brian's ability to turn any day into a good day. Brian's ability to comfort me and notice when I need it most. He accepts me for all my flaws and silly quirks. I admire his love and respect for not only his family, but mine as well. I admire his dedication to his work. Brian always supports me in the decisions that I make. His laughter is contagious. Brian lets me always be myself, even if that means sitting back and watching me break it down on the dance floor. I love his precious smile and his many freckles.

Brian wrote: Erin is the most kind-hearted person I have ever met. She pours her heart and soul into the kids she teaches every day and it is truly special for me to witness first-hand how dedicated she is to making a difference in their lives.
Erin's love for me is my greatest blessing, and her presence in my life makes me strive to be the best person I can be every single day. In her, I've found the most supportive partner there is. I love that Erin never forgets to say "I love you," and that she says it often. She never lets us go to bed angry at each other. And she can make me laugh and smile in even the toughest times.
I love how goofy she is. I love that a lazy day on the couch with Erin is often just as fun as some of the countless adventures we've taken together as a couple.
I love that she is never upset when I want to golf on Saturday's or watch football on Sunday's.I have no idea where life will lead us, but I love and take comfort in the fact that wherever it is, she'll be by my side.
To end the evening Erin and Brian rode away from their beautiful lakeside wedding in a gorgeous car by VIP Transportation.