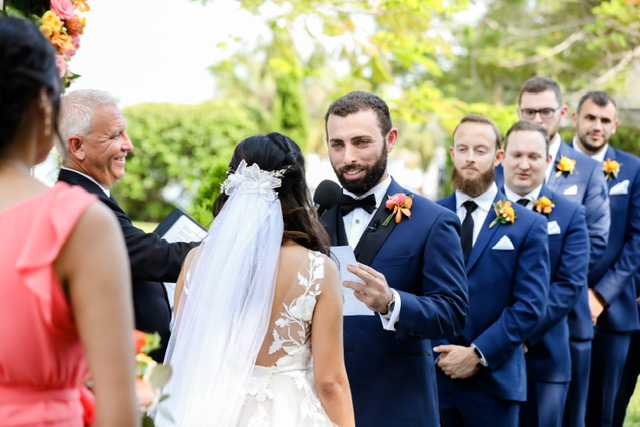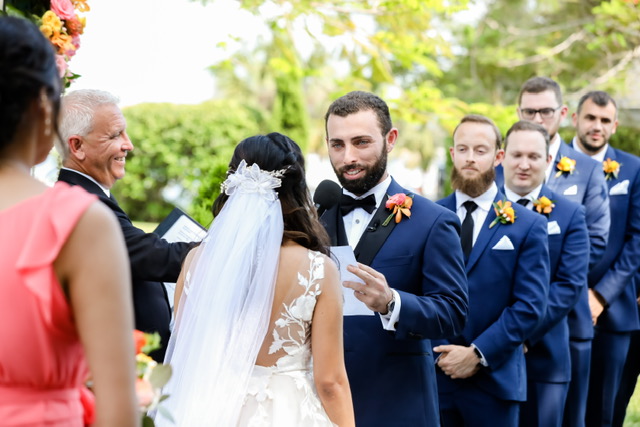 Garden Club
Priya and Daniel chose the Tampa Garden Club as the venue for their wedding celebration and reception in early Summer
Club is located at the edge of the Seddon Channel, where the Hillsborough River flows into Tampa Bay. A large, covered veranda, luscious garden area and gazebo make The Garden Club a beautiful location for Weddings and Special Events.  With its lush tropical and subtropical plants and serene sunsets, the Tampa Garden Club is ideal for a boutique wedding, or as a beautiful blank canvas ready to turn the grounds into a fairytale wedding site. An event held at the garden offers guests a unique experience, as well as a convenient location to hotels, shopping, museums, dining, and entertainment in the Tampa Bay Area.
Priya looked gorgeous in her wedding gown as she made her way down the path of the Garden Club, to join Daniel in front of their wedding gazebo.  The couples' custom designed wedding ceremony included a Thank you to the Parents, The Lord's Prayer, a Scripture Reading from 1 Corinthians 13, and the Art of Marriage.  Then, in front of their family, friends and livestream audience, and with an amazing view Seddon Channel and Downtown Tampa as their backdrop, the couple shared their own personal vows, exchanged rings and were pronounced husband and wife by Rev Rick Lackore of Sensational Ceremonies. 
Ceremony Sound was provided by Eric, with Grant Hemond and Associates; Ceremony Music by guitarist/musician Ben Pila; Florals and Décor by Iza's Flowers; Videography by Ian with Movie Magic Productions; and Event Coordination was provided by Heather and the staff of Blue Skies Weddings and Events. Special thanks to Jorge, with Lifelong Photography Studio for providing this beautiful picture as Daniel shared his personal vows with Priya.
Congratulations to the Doctors Daniel and Priya Leary!