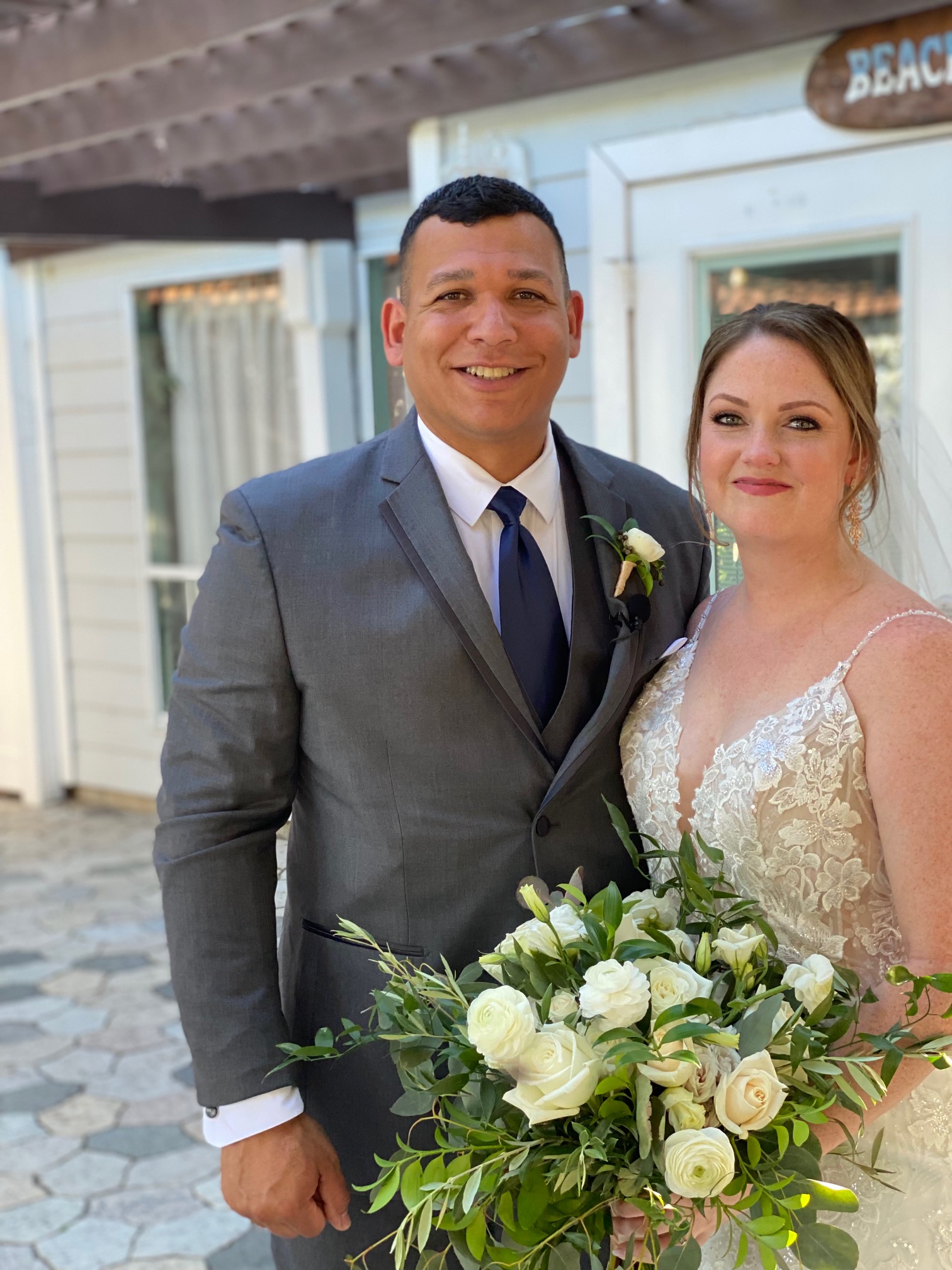 Beautiful Paradise Cove
Austyn and Anthony met while training to be Secret Services agents in New Mexico.  Their quiet friendship blossomed into a love for each other and things have never quite been the same.  The couple chose the beautiful Paradise Cove in Orlando, Florida for their lakeside wedding.  

Beneath the swaying palm trees and along the white sandy beach of Lake Bryan Austyn and Anthony walked the aisle, took their vows, and became husband and wife.  Jasmine with the beautiful Paradise Cove made sure every detail was accounted for and everything came off flawlessly.   She worked with them to pull together an amazing vendor team that really allowed them to enjoy their wedding day.

Castaldo Studios provided both photo and video for this beautiful Paradise Cove event.  From pictures of the bridal party getting ready, the boat entrance of the groom and groomsmen, through their beautiful ceremony, and into the reception, Castaldo Studios captured it all.

Amy with Blossoms Orlando performed her magic again for this beautiful Paradise Cove wedding.  With an octagonal arch, hanging greenery, and the beautiful bride's bouquet, she really made it all look spectacular.

Austyn and Anthony asked Rev. Glynn Ferguson, the owner of Sensational Ceremonies and an official Walt Disney World Wedding Officiant, to work with them to make their personal vows come to life in a custom ceremony  for their beautiful Paradise Cove wedding.  Rev. Glynn asked the two of them to each write to him and tell him why they love each other.

Austyn wrote for her beautiful Paradise Cove ceremony:  I fell in love with Anthony Santana or as I call him AJ, In Artesia New Mexico at our Federal Law Enforcement Training.  At first this love started out as, He is super sweet, very very good looking, he is funny and I love it when he speaks Spanish because its super sexy.  But now after being with him for over two and a half years… all those things still apply, But my love has grown deeper.  Now I love AJ because I see how much of a family guy he is, He loves his family and especially his three kids so deeply that it warms my heart and I see that he has made room to love me just as much.  I love AJ because he provides me a sense of security, not only financially, but emotionally and physically. He holds me close, listens, and lets me have my crazy moments, but just by him holding me in his arms, I feel like I am in the safest place in the world, nothing can harm me. I love that AJ has learned me and what makes me happy, or what makes me tick but most of all how to put a smile on my face and make me laugh in times when I need it the most. I love that AJ hears a song and even if he has never heard it before he will turn it up and attempt to sing all the words in his own version of the song while dancing as if no one was watching.  AJ is one of the most compassionate and genuine men I have ever known and I thank God everyday that he has placed him in my path.

Anthony wrote for his beautiful Paradise Cove Ceremony:  I love her  with ferocity filled with tenderness, she has captured my soul and every bit of me, making me feel like the only man in the world. Life without her is like living without a backbone system. Her raft of love and kindness has held me afloat and will keep on lighting my path.
Watching her walk across a room is the greatest gift. The way she moves is so graceful and easy. The way she smiles makes me feel at peace. It's like coming home, a comfort, only the home is coming to me. I will never know such love, such peace..She is my everything and my best friend. The person I can tell all my secrets to, the first person I want to talk to when I wake up, and the last person I want to talk to before I drift off to sleep. When something good happens to me, she is the first person I want to tell. When I'm troubled by something or if I get bad news, she is the one I go to for comfort and support.
Knowing her has been such an amazing adventure. Ever since I met her, I knew that my life would never ever be the same again and that life has never been sweeter. My life is more exciting and full of happiness. She has helped me open so many doors that I would have left closed and undiscovered if it had not been for her. With her, I am bolder, less afraid, and ready to conquer my next adventure. Knowing her, loving her, and being loved by her in return has been the best adventure of my life and I never want our adventure to come to an end.

Congratulations and thank you for your service to our country!