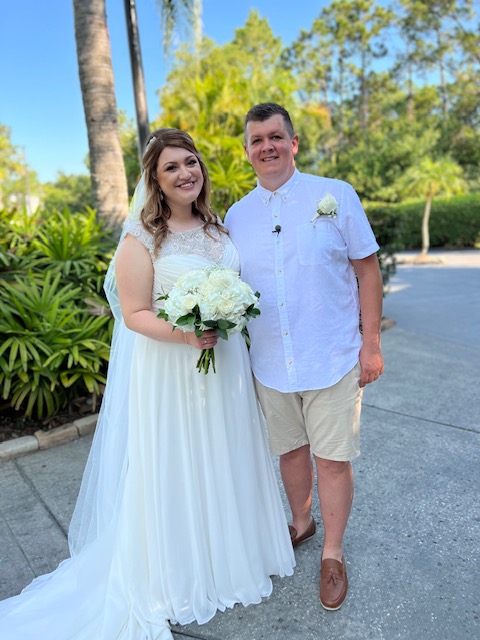 Laura and Craig
Laura and Craig traveled from the United Kingdom for their tropical destination wedding at Paradise Cove in Orlando, Florida. Their coordinators worked with Laura and Craig to make sure the couple's vision for their destination wedding really came together.
Rev. Glynn Ferguson, the owner of Sensational Ceremonies and an Official Walt Disney World Wedding Officiant, worked with Laura and Craig to make sure their custom ceremony fit them like a glove. He gave them a homework assignment to make their ceremony super personal and very touching. Rev. Ferguson asked them to write and tell him why they love each other.
Laura wrote: It's hard to put into words how much I love my future husband.
The kindness he shows to not only his family and friends but to strangers he meets is endearing. The patience he has with both the children and me. There's not many men who would accept a new animal into the house with such short notice (20 minutes). The dedication he shows to us as his family, where he will work a 15 hour day and still make the effort to take Rowan to football or Lylah to dancing. He shows his appreciation for even the smallest of things, never taking me for granted. The love that he shows me every single day, never making me guess, or ever making me wonder how much he is committed to us and our lives together. His sense of humour leaves us laughing uncontrollably and his calmness means whatever the day has thrown at me, I can go home and everything will be ok again. He will always be the one who restored my trust, and always be the one I want to kiss goodnight. He is and always will be my home and my happily ever after.
Craig wrote: Laura Maria Davies, I love you with all I am. I have loved you from early on into our relationship. I love you because you are the most kind, caring person in the world. I love how you always put everyone one else's needs first and that Rowan is first and foremost your main priority. I love how amazing of a job you do at being a mother, not only to Rowan but to Lylah, who you have welcomed into your life as your step daughter. I love your passion, your drive which always see's you succeed in whatever you put your mind into. You are the strongest person I have ever met, with everything you have been through, im so glad that we met because I couldn't think of anyone else I want to spend the rest of my life with, I love you so much, you really are my happily ever after.
Amy with Blossoms Orlando really took the vision that Laura and Craig gave her to create beautiful florals for their bouquet, boutonnieres, and the arch decor.
KMD Photo and Film captured every moment of Laura and Craig's intimate destination wedding. From formal portraits individually through the ceremony photos and on to family shots on the beach. The husband and wife team of KMD took care of it all.
Congratulations Laura and Craig. We are so honored that you chose us to make your wedding dreams come true.