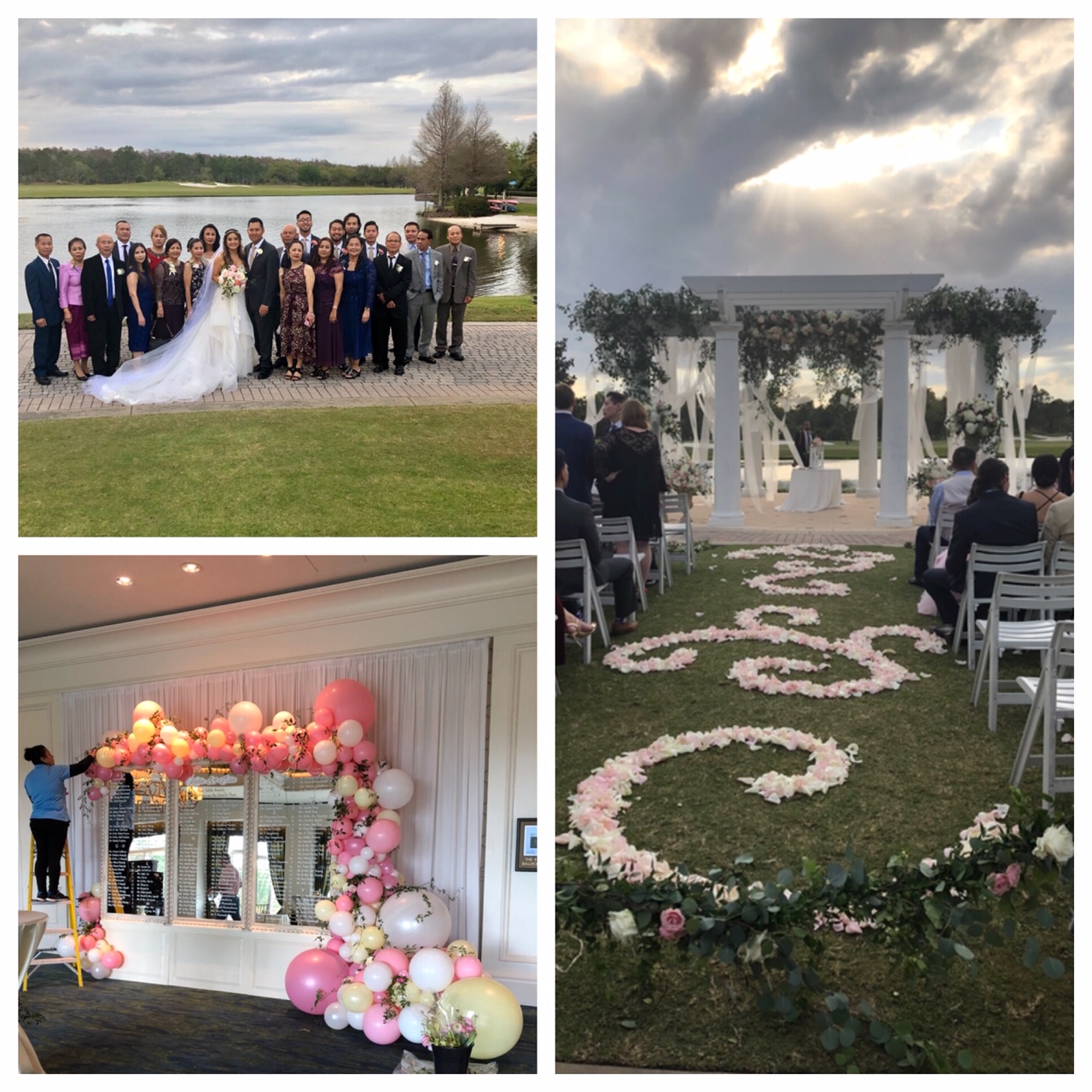 Lavish Wedding
To say that Katie and Eric had a lavish wedding would be an understatement. The wedding vision was in great hands of the talented Whiteny Carillon from Tres Chic Southern Weddings. She worked with them to select the incredible venue of the Ritz Carlton Orlando, Grande Lakes and assembled a fantastic team of vendors to make their dream come to life.
Photography for the day and evening were provided by Justin DeMutiis Photography. He captured every moment of the day, from the getting ready shots with the bride and groom and their bridal party, to the first look, on into the reception and their grand exit. Videography for the day was also provided by Jacob Orlando with Luxecine.
Draping of the Ritz gazebo and ballroom was provided by the talented Tommy Murphy with Swag Decor.
Music for the ceremony and cocktail hour was taken care of by the musically talented team of Classern and Scott Messina with Messina Productions kept the party rockin, late into the night.
Rev.Glynn Ferguson with Sensational Ceremonies was the officiant for the wedding ceremony. Their ceremony was a traditional Christian ceremony with personalized touches, like their unique unity candle lantern. He also gave them a homework assignment to write and tell him why they love each other and he included it in the ceremony. Katie wrote: So many reasons I could write all day. First and foremost, Eric is always kind. The way his genuine kindness exudes makes me want to be a better person. He does everything he can to spend time with me, even if it means driving me to work that's only 8 minutes away. After 10 years you'd think we'd be sick of each other but I really can't get enough of him! There are times where we both have busy schedules but he somehow always finds a way to make it so that we have dinner together or spend at least some part of the day together. He's protective of me and my safety and I can't thank him enough for that. He's constantly working really hard for our future. He'll tell me his goals and it always includes me, us. He loves me no matter how much I bother him (intentionally and unintentionally). He's a true partner in life from sharing experiences to taking care of errands. He's always making sure I'm happy, we're happy, and everyone around us is happy. He is someone I can depend on for advice, inspiration, and support. He just gets more and more incredible as years go by and I can't wait for our tomorrow, our next week, next year, our entire future.
Eric wrote: Reasons why I love Katie
1. Way she keeps cold water for me especially at night
2. The way she keeps an underwear stash when I run out
3. The way she waits for me to eat and we never watch episodes without each other.
4. She doesn't mind my occasional passing of gas.
5. The way she doesn't mind being big spoon.
6. I never feel lost with her. I know she will never mislead me and I trust her to take us the right way.
7. I love that we naturally put each other first without even trying.
8. The way she's more tough than me and inspires me to be stronger.
9. The way she's passionate about everything that she does.
10. I love her attention to detail.
11. The way she asks questions when she already knows the answers.
12. I love the way I catch her staring at me with s cheesy smile.
13. The way she calls me Bugs.
We wish them all the luck in the world and happiness for a lifetime as they journey this road of life together.