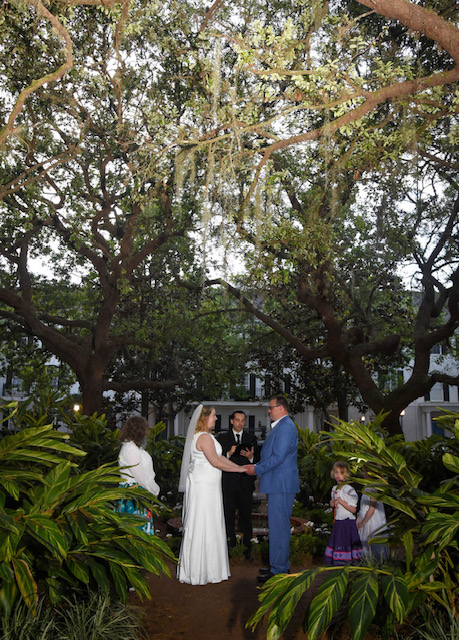 Lindsey and Chris
Lindsey and Chris have known each other for almost 3 years, and they choose to take the next big step. They decided to leave the land of Dorothy (Kansas), and travel to the land of Disney for an elopement. Walt Disney World is one of their favorite places, and getting married there was their dream. However, they wanted a special elopement on a budget, and above all they wanted to share this moment with their kids.
Lindsey and Chris contacted Intimate Weddings of Orlando to make this dream come true. Victoria with Intimate Weddings of Orlando worked with them to bring together the very best vendors for their elopement package, in Celebration (the village that Disney built.)
Pastor Harry Rubi, an Orlando minister and officiant with Sensational Ceremonies, designed a traditional ceremony for Lindsey and Chris that was filled with Disney quotes throughout, and the couple exchanged personal vows in the presence of their kids. They also wrote why they love each other, to make their ceremony very personal.
Lindsey wrote: What I love about Chris is his ability to be present and supportive but not be overbearing. He just looks at me with those eyes and holds me. I love that we always have something to talk about. It's usually me talking but he likes it that way. I love the way we work as a team and support each other. One picks up where the other leaves off. The one thing I love the most about Chris is that he makes me laugh. He is witty and smart. You really have to be listening to get the good ones. I can be sad beyond belief and that man will say something to get me to belly laugh. I have never felt as sure about someone as I do about him. We have worked very hard together in order to build our strong blended family. It has been hard work but I think it has paid off. Our new awesome family has love, support, respect and best of all laughter.
Chris wrote: I knew Lindsey was very special from the first time we met each other. A casual date to have coffee and conversation lasted for hours. Lindsey made me feel comfortable and able to let my guard down with her right away, which is uncommon for me. She probably thinks I don't let it down enough. Early on in our relationship I could just tell by the way she looked at me and how we connected this was my special person. We have had minimal ups and downs in our relationship. It has always seemed that we paired well as a team and met our relationship challenges together. She is a strong, resilient person who has a very soft side that I feel fortunate to see. She has become my rock and best friend during our time together. I look forward to being with her through this next, longer chapter of our lives together.
Christopher Smith with Captured by Chris did an amazing job of framing the perfect shots of  Lindsey and Chris   and capturing every moment of their beautiful elopement.  From shots while the couple took their marriage vows to pictures of the two of them on to family portraits in this beautiful tropical location, Chris captured it all.  
Flowers by Lesley took great care to make a beautiful bouquet and matching boutonniere of red roses and greenery for Lindsey and Chris. It looked Amazing!
Congratulations Lindsey and Chris. We wish you happiness for a lifetime.