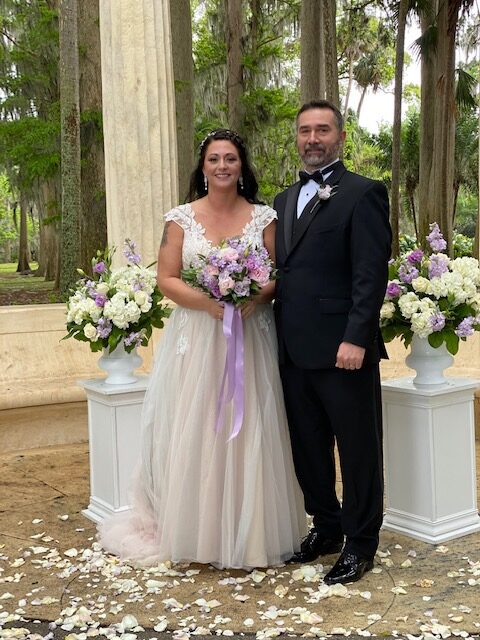 Married in the Shade
Josh and Jennifer traveled from Indianna to come to Orlando for a family trip and to get married in the shade.  The couple chose the beautiful Kraft Azalea Garden for their intimate wedding ceremony.  With tall trees over 300 years old the park is beautifully shaded even in the heat of Summer.When traveling to their destination wedding the couple really didn't even know where to start, so they asked Intimate Weddings of Orlando to work with them on finding the perfect venue.  Their only request was they wanted to get married in the shade.  

Victoria, with Intimate Weddings of Orlando worked with the couple to pull together an award-winning team of wedding vendors. to make their wedding ceremony perfect for the two of them and their guests. To get married in the shade Victoria suggested Kraft Azalea Garden and the vendors that would work great there.

For their ceremony music the couple really loved harp music so Christine MacPhail was asked to make this wedding in the shade sound amazing.  
Flowers by Lesley was tapped to create the beautiful arrangements of flowers that sat atop white columns for the ceremony in the shade.  She also worked to incorporate the beautiful touches of purple in those arrangements in the bride's bouquet as well.  

Sugar Sugar Cake Boutique came to the rescue when the couple wanted a wedding cake on short notice.  With a delicious chocolate center and the traditional classic white on the outside;  this cake was perfect for them to get married in the shade.   

With dappled light streaming down through the towering trees, Rhodes Studios made sure to take advantage of all the light streaming through the branches and the perfect placement of the couple in the shade.  

To make it all legal the couple wanted a personalized custom ceremony that fit the two of them.  Rev. Glynn Ferguson, an Orlando wedding officiant and owner of Sensational Ceremonies  really stepped up to make their wedding in the shade beautiful and fun.  Rev. Glynn gave the two of them a homework assignment to write and tell him why they love each other.

Josh wrote:  Jennifer is one of the sweetest, most kind hearted people I have ever met. She would do almost anything for a stranger. She is the prettiest woman I know. I have thought she was gorgeous from the first time that I laid eyes on her, many many years ago. She is bubbly and fun, yes serious and has a lot of common sense when need be. Even though she doesn't believe so, she is smart and wise. She always tries to make me happy. I love her so very much.

Jennifer:  He is everything that I have ever wanted in a friend and a husband. He loves me for me, he loves my family and he loves my children like his own. Josh makes me a better person. Before I met josh I was going through a really hard time in life. I didn't think I was good enough for anyone, or, good at anything, really. Once he came into my life I realized I was good enough. He showed me not only am I good enough but I have so much more to give. I love Josh more than I have ever loved someone. I feel safe when he is with me, I know he would give his life to protect me and our family. All I know is when Josh is not around me I feel like half of myself is missing.
I love that josh has a stinger bond with his family. Family is one of the most important things we have in life. Also, josh and I were both raised in church and I believe that has helped us grow into the people we are today.
So all in all, I love everything about him. I would be lost without him in my life. I do believe that God brought us together. We many have known each other when we were younger. But it wasn't meant to be then. We weren't ready but now we are. And I am so very thankful he is in my life. I really do believe he saved me.

The couple also used Married by Mail to acquire their Florida Marriage License, long before they ever walked down the aisle. Dianne made sure everything was ready to go before they were married in the shade.
It was such a beautiful day to get married!