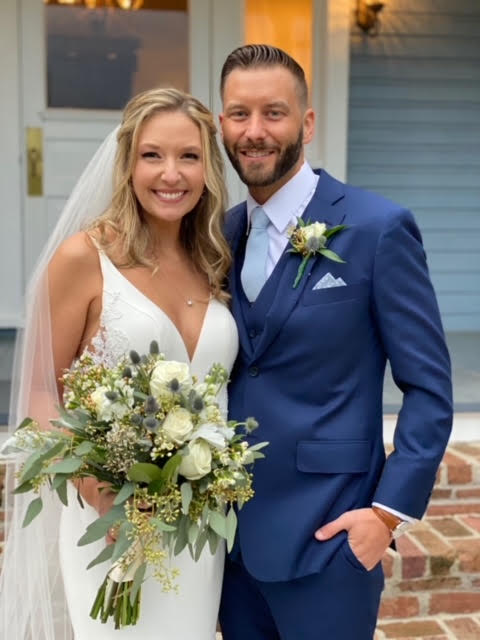 Southern Style
Lori and Mark had a beautiful southern style wedding at the beautiful Highland Manor in Apopka, Florida.  The couple did an outstanding job of putting together a great time of wedding vendors that fit their style perfectly and made the evening feel special.
DJ Cory Barron had the perfect song for every moment.  From the ceremony music under the sprawling oak tree to the cocktail hour and into the reception, he made this southern style wedding come to life.

The Apopka Florist really made everything look Amazing.  The style of the flowers really accentuated the couple and made everything look beautiful.
Anna So Photography captured every moment of this southern style wedding.  From the formal portraits, the ceremony, the pictures in front of the manor house and under the tree, she got it all.

When you think of a southern style wedding one of the things that really comes to mind is Good Food.  It's Tasty Too did a fantastic job with the beautiful cake and Dubsdred Catering had mouths watering even before they sat down to dinner.
Being from Louisiana Rev. Glynn Ferguson, the owner of Sensational Ceremonies and an Orlando Wedding Officiant, was chosen for his southern style and the custom ceremonies he creates.  
Rev. Glynn gave Mark and Lori a homework assignment to write and tell him why they love each other.
Lori wrote:  Mark,
You are the most generous, most thoughtful, funniest, and most creative person I know.
You are my best friend, fitness instructor, personal chef, travel agent, crafting extraordinaire, and one half of a dream team.
You are always thinking of what is best for us, and never just yourself. You are always looking out for me and taking care of me.
I love how well you know me. You know what I'm going to say before I say it…You know when I need tough love or a hug…You know when I need a drink… you know how to play the perfect song at the perfect time… and you know exactly how to turn a bad day around.
I love your insanely good, sometimes scary good memory.
I love how smart and clever you are.
I love your smiles. Mostly the mischievous one you get when you are messing with me and I am falling for it. And your deep belly laughs that usually come after I've done something embarrassing or when you've come up with another weird, random nickname to give me (that I pretend to not like, but deep down think they are hilarious).
I love that when you decide to do something, you commit to it 110%. That's how I know whatever challenges life throws at us, we will get through them together…I trust you completely.
I love our life together and the family and memories we are going to make. I can't wait to see you become the most amazing father.
I love that you never stop trying to make me happy. And I promise that I will never stop trying to do the same.
I knew in my gut there was something special about you when we first met, I felt in my heart on our first date that something amazing was beginning, and this moment, standing up here with you today, is nothing short of magic.
Our life is going to be filled with adventures, cozy nights in, preserving old traditions, making new traditions, lots of laughter, and plenty of Harry Potter… and I can't wait for it to begin.
I am so proud of the person you are and that I get to call you my husband.
I love you with all my heart. Today and always.

Mark wrote:  I feel like the luckiest person in the world today to be marrying my best friend and soul mate.  You are the very best part of my life and you give me so many reasons to love you.
I love you for the amazing person that you are. You bring such beauty to my life every day. Not only the beauty in your eyes or your smile, but also with your kind heart. You are thoughtful, easy going and caring with everyone you know….you're even a great dog-mom. I appreciate how you care for me….you understand me better than anyone and can cheer me up and brighten a bad day with just a touch or a word. When I am stressed or over analyzing something your support and just talking it out brings me peace and clarity. You make every day better and I am a better person with you by my side.
I love our strong relationship and what we have together. Every day I see how smart, confident, dedicated and creative you are at work and at home…. I know that you can do anything you set your mind to. As a team, I know we can face any challenge or reach any goal. Your dreams are my dreams and you are always my biggest inspiration, motivator, and supporter. You even go along with all my crazy plans and projects that I think up no matter how dangerous, expensive or ridiculous they are.
I love that we have so much in common, everything has felt so comfortable and natural with you. We share the same values, priorities, and interests, putting each other and family first.
I love how happy you make me…..every day is surprising, amazing and fun. You make me smile bigger and laugh louder with your great sense of humor and by just being you. You're not afraid to be yourself around me, somehow being both cool and dorky at the same time. We always have such a great time together and I love sharing my life with you. From theme parks to family parties or vacations abroad to just staying at home cooking and watching a movie, wherever we go or whatever we do life will be an adventure because I'll be with you.
But most of all….I love your love…. You are the love of my life and you make me happier than I could have ever imagined and more loved than I ever thought was possible.  Our love has always felt natural and incredible and this day seemed destined from the beginning.  You are my best friend, my inspiration, my love, my everything…..I cannot wait to spend a lifetime loving you. Lori, I love you…..deeply and forever.  Always.

Congratulations to the two of you!