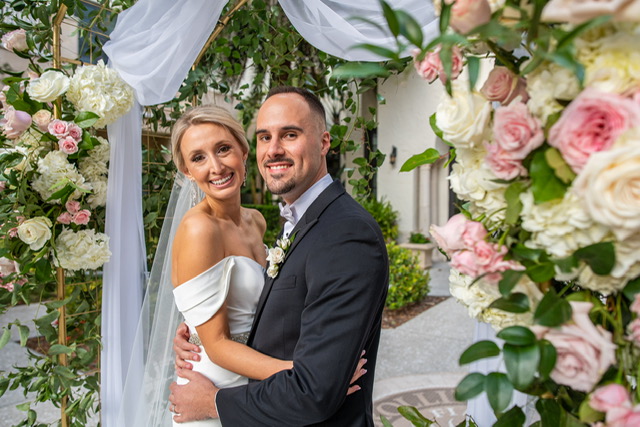 Winter Park Spectacular
The Venue
The Alfond Inn, located in beautiful downtown Winter Park, Florida, features multiple wedding venues. It offers spaces to accommodate a small intimate gathering or a large elaborate affair for 240 people. Most importantly, if features a unique artistic ambience that is both attractive, and calming. It provides the perfect backdrop for a unique and elegant wedding ceremony. That is exactly why Valentina and Ryan chose it for their special coming together as husband and wife.
The Ceremony
Lon Tosi of the Sensational Ceremonies of Orlando, Florida wedding officiants worked with the couple to construct a unique and elegant ceremony that specifically told their story. It featured a reading from the Nightmare Before Christmas that spoke of their desire to be together forever. "My dearest friend, I'd like to join you by your side, where we could gaze into the stars, and sit together now and forever". The couple wrote of their love for one another in the dearest of terms. He wrote in part: "Valentina, you are the Jasmine to my Aladdin, the Anna to my Kristoff the Daisy to my Donald and the Minnie to my Micky! You love me in times when I doubt myself and you dare me to be a better version of myself".
She wrote to him: I traveled across the Atlantic Ocean to meet you. All the paths that I ever took led me to you. My forever love, in just a few minutes you will make me the happiest woman…" You are so kind! You make me laugh! I love you for that little child who lives inside of you". They have a wonderful love!
The Vendors
You cannot have a unique and elegant ceremony and wedding event without a professional group of vendors; vendors who take their commitment to excellence very seriously. That is exactly the type of team that Valentina and Ryan selected. The Alfond Inn provided the excellent backdrop. Their "Grand Lawn" was perfect in every way! Photographer Michael Fried took some of the most gorgeous photos such as the one shown with this blog. Michele Butler Events did a fantastic job in putting the fine touches to the event. Everything started on time with precision. Perfect! LeJeune Artistry provided the hair and makeup to the highest standard. Everyone looked just beautiful! Solutions Bridal provided the elegant dresses worn by the bride and her bride's maids. Sprinkles Cupcakes provided the bakery items. Fairbanks Florist did a fantastic job with the décor. Over the Top Rental Linens did a wonderful job with their coverings. Orlando Wedding and Party Rentals provided the tables and very elegant seating. And of course, Sensational Ceremonies and Lon Tosi provided the officiant services.
And it all happened on a sunny day, on an elegant lawn, in the historic town of Winter Park, Florida.