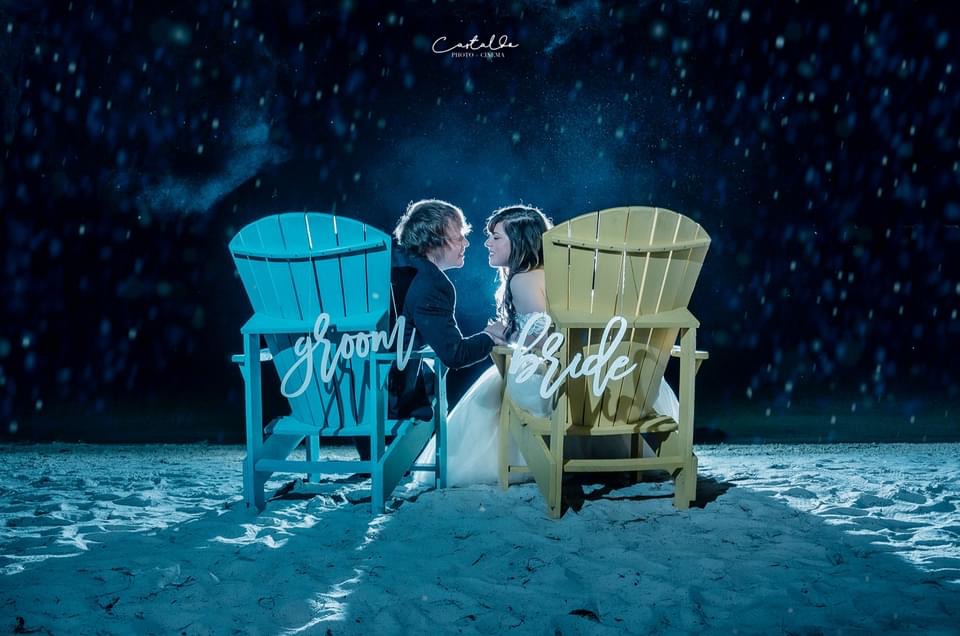 Masterpiece
What started as a friendship when they were teenagers, ended as husband and wife for Matthew and Daniela.  Initially their wedding was scheduled to be in the Spring, but with a pandemic and travel restrictions the couple decided to postpone until the Fall.  Either way, Daniela and Matthew were going to get married at Paradise Cove and their Daniel, their coordinator made sure it was a masterpiece. Paradise Cove is nestled among the towering bald cypress trees that line Lake Bryan in Orlando.  Just across from Walt Disney World it is an ideal location for a wedding that feels like a tropical destination. 
All great weddings have a bride, a groom, and a great vendor team to make it all happen.  Daniel, from Paradise Cove made the magic, by putting together a vendor team that could really make their vision for the wedding become the masterpiece they wanted.   To capture every moment of the couple's wedding day, Castaldo Studios photo and cinema captured every moment.  From formal pictures of the couple with their families, to the intimate moments of a first look and a walk down the aisle, Castaldo's artistry for the lens captured it all and made the masterpiece come to life.
Talk about a masterpiece!  Atmospheres Floral and Decor really hit it out of the ballpark with this one.  From designing the wedding party's bouquets and boutonnieres to decorating the wedding arch with drapes, eucalyptus, greenery, and flowers, to creating a beautiful love of flowers as the couple walked down the aisle.  It was perfect!
Rev. Glynn Ferguson worked with the Matthew and Daniela for more than a year to make sure their wedding ceremony was the masterpiece they envisioned.  Rev. Ferguson is the owner of Sensational Ceremonies, an Orlando and Walt Disney World Wedding officiant.  When talking with the couple he told them his vision to make their ceremony unique, beautiful, and super personal.  He asked them to each write and tell him why they love each other and he would include it in the ceremony.
Daniela wrote:  It's easy to put in words why I love Matthew so much. He's my best friend. He has been since we were just teenagers. There is never a moment, or time that I don't want to spend with him. We could be doing nothing at all or the most mundane and boring activity and have the most fun. From our countless Publix trips to walking our dog, to driving around neighborhoods looking at houses thinking of the future. What started it all was his humor,  he is just so funny. He's really a big kid. He can make me laugh with just about anything, including any of our 1 million inside jokes. He's also so kind, generous and patient. I can tell him absolutely anything, I trust him entirely. I can be my absolute self around him without any fear of being judged or made fun of. He is my rock and my strength. Whenever I'm feeling down or anxious, he always puts my mind at ease and makes me feel completely secure. One of my favorite things about him is how caring he is. With me, our dog Teddy, his family and my family. He's got the biggest heart. Other than my father, he's the best man I've ever known. We've really grown up together and I can't picture living the rest of my life without him. I can't wait to start our lives together. 
Matthew wrote:  Not only do I love her more than anything, I admire her. I could not think of a better person to spend my life with. She is one of the most determined people I have ever met as well as the most loving and caring. I see everyday how wonderful of a mother she is going to be with our dog teddy. She has natural motherly instincts and loves and protects him at all times. I also love the nights that we cook dinner together and try new recipes. I love watching her have a spontaneous dancing party just because she feels like it. She makes everything in life better and is always there for you. After being together for over ten years, there's no doubt in my mind that I want to spend the next hundred years by her side
Congratulations to the happy couple.  May your marriage be a Masterpiece!