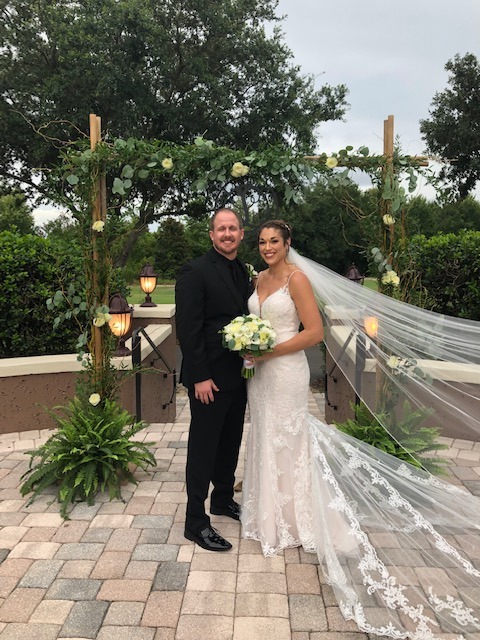 Mystic Dunes Resort Wedding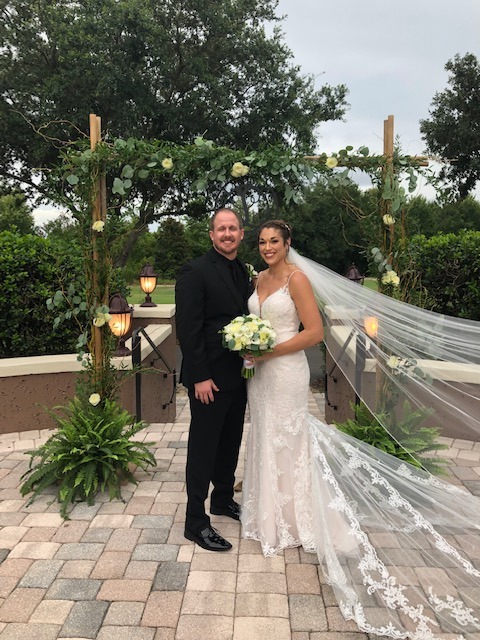 Daniel and Sarah had a beautiful wedding surrounded by family and friends at Mystic Dunes Resort, in Orlando. Tough the weather threatened to rain on the outdoor ceremony, but not a drop fell until after the ceremony ended.The couple chose a beautiful rustic arch with a cut steel "L" for their last name and their wedding date to hang behind them. They also chose an amazing vendor team to help make their vision for their wedding come to life. Nicole from Wings of Glory Photography captured the entire event. From the couple getting ready, the ballroom decor, Sara's walk down the aisle with her father, and the first kiss; she covered every aspect of the wedding day. Trevor with Lucid Productions captured everything on video. Years from now they will be able to sit down, watch their wedding video and be able to relive the entire day.
Kissimmee Florist took care of creating the beautiful floral arrangements for the couples bouquets and boutonnieres. The arrangements of calla lilies, white roses, eucalyptus and ferns worked well with the couples choice of rustic decor.
Rev.Glynn Ferguson with Sensational Ceremonies worked with the couple to create a custom ceremony. At their initial consultation Daniel realized that he knew the Ferguson family, from his time as a teacher in a local school. Rev.Glynn gave the couple a homework assignment to write and say why the love each other.
Sarah wrote: Reasons that I love Daniel are often hard to put into words. Mainly it is a sense of comfort, level of trust and bond and connection I've never felt before. I love Daniel for the way loves me, the he looks at me and always puts me first. How he has taught me to narrow my focus, yet somehow see the bigger picture of life and to take deep breaths (or shallow breaths first) when I get overwhelmed. I love him for the hard working, consistently supportive, passionate man that I know I can count on through every obstacle and I cannot imagine life any other way.
Daniel wrote: Where to begin? Describing how and why I love Sarah is both a simple and complex task. The reasons are countless and easy to identify, but on the other side, there aren't enough ways to positively describe how I see her. Sarah has a way about her that's hard not to admire. She carries herself with such grace and elegance while also being one of the hardest workers I know. Her intelligence is undeniable, even with her amazing decision to marry me. Sarah has a passion inside of her like I've never seen before- she always wants what's best for everyone around her, even if it means a temporary sacrifice on her behalf. Her desire to better everyone around her is infectious and makes me feel like we can take on anything when we are together. Her love and compassion for our kids is beyond anything I could've imagined. Knowing and experiencing the love she has for them is a beautiful thing to witness, and I can't help but look forward to growing our family. I can't imagine a future with anyone else. She selflessly wants what's best for me, often times challenging me to look at obstacles from a different angle and she never lets me settle for anything less than my best. When I attempt to describe how beautiful she is, every adjective falls short. She is without a doubt the most incredible woman I know. She's my Wonder Woman. I'll always tell anyone that I am the luckiest man on Earth because she's with me. How could I not love her with all of my heart?
We wish them happiness for a lifetime.