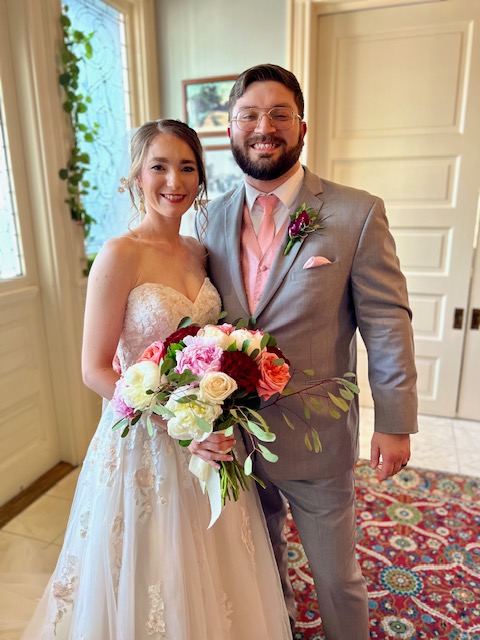 Nick and Mandy
Nick and Mandy 's Wedding at the Dr. Phillips House
Nick and Mandy were married on a beautiful spring day at the Dr. Phillips House in Orlando, Florida. The house is a historic landmark, built in 1893 in the Queen Anne style. It is surrounded by lush gardens and offers stunning views of the city.
The ceremony was officiated by Rev. Glynn Ferguson, of Sensational Ceremonies and an Orlando Wedding Officiant. He created a custom ceremony that was personal and meaningful to Nick and Mandy. The couple exchanged vows and rings, and were pronounced husband and wife.
Rev. Ferguson gave the two of them a homework assignment to write and tell him why they love each other.
Mandy wrote: Why I love Nick. There are so many reasons. He is kind and loving to those around him. He has a way of making everyone feel welcome. He is passionate and dedicated and inspires me to be the best person I can be. He teaches me new things and always encourages me in my endeavors. I can be myself around him and know he's going to love me for me. We always have fun together and enjoy just being around each other. We've been together almost 9 years and I still get excited when he walks in the room. He's the first person I want to tell about my day whether it's been a good one or a bad one. He gives me a sense of warmth and comfort that I can't imagine feeling with anyone else. He makes me feel so unimaginably happy and safe. He is absolutely the partner for me and I can't wait to spend the rest of my life with him!
Nick wrote: Mandy is one of the most unique people that I have ever met. Mandy is not only the love of my life but is also my best friend. Our friendship started at Chick-fil-a when we both started working there and over the course of a year, we grew closer and eventually fell in love. She is incredibly well rounded and her easy-going attitude and willingness to try new hobbies makes her a joy to experience life with. Her intellect is unparalleled, and her sense of humor is unmatched. She has an unwavering compassion for others, and her stunning beauty is only surpassed by her sharp wit. Every time I am around her, I feel inspired to become a better version of myself.
Her self-assured demeanor is contagious, and it motivates me to strive for the same level of confidence that she exudes so effortlessly. Her smile is infectious with the ability to put me at ease immediately. Moreover, Mandy's unconditional love is a rare and precious gift that I feel so fortunate to have. She has been there for me through thick and thin, always providing a listening ear and offering her help when I need it most. Her unwavering support has helped me overcome toughest challenges in my life. She has a way of making me feel like I am the luckiest person in the world just by being with her and my love for her has remained steadfast throughout the nine years of our relationship. Her remarkable intellect, quick wit, kind-hearted nature, unwavering confidence, and stunning beauty are just a few of the many reasons why I feel incredibly blessed to have her as my partner. My love for Mandy grows stronger with each passing day and each moment spent with her is a gift that I cherish deeply. I am eagerly looking forward to our future as husband and wife, knowing that we will have a lifetime of adventure and happiness together. I can hardly wait to discover all the wonderful things that the future holds for us and to create countless memories that we will treasure for a lifetime. With Mandy by my side, I know that our future will be full of love, joy, and endless possibilities.
After the ceremony, guests enjoyed a cocktail hour on the patio. The sun was shining, and the birds were singing. It was a perfect day to celebrate love.
The reception was held in the ballroom of the Dr. Phillips House. The room was decorated with arrangements of white and burgundy flowers and candles. The tables were set with china and crystal.
Millenia Catering brought the most delicious meal for Nick and Mandy and their guests. Not a morsel was left and there were even guests asking for more. From passed hor devours to the main course, everything was perfect.
DJ David, of SoundwaveEntertainment, provided the music for the evening. He played a mix of classic and modern hits, and kept the dance floor packed all night long.
Sherri Rinker Events was the coordinator for Nick and Mandy's's wedding. She made sure to focus on the things that were important to the couple and to keep everything flowing smoothly.
Dawn with Corner HousePhotography really did an excellent job of capturing every moment of Nick and Mandy's wedding day. From the couple getting ready in their respective rooms, to the detail shots of the ballroom, through the ceremony and into the celebration at the reception, Dawn photographed it all.
Nick and Mandy danced the night away with their friends and family. They were surrounded by love and happiness. It was a night they would never forget.
Nick and Mandy 's wedding was a beautiful and memorable event. The Dr. Phillips House was the perfect setting for their special day. The ceremony was personal and meaningful, and the reception was a night of dancing and celebration. Nick and Marcy are now husband and wife, and they are surrounded by love and happiness.
Sensational Ceremonies
Average rating:
0 reviews