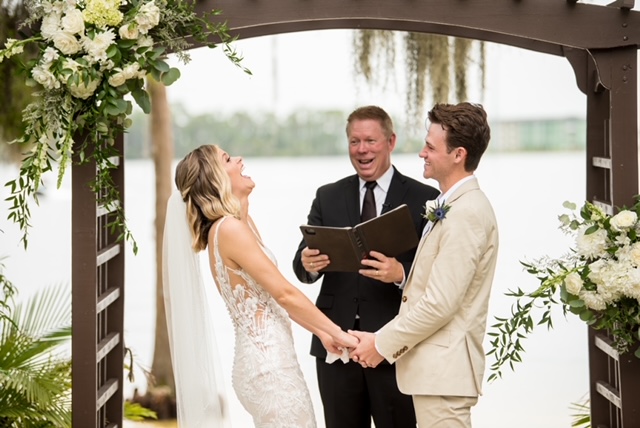 Planned to Perfection
Jared and Emma knew that God planned to perfection their meeting, while working as actors on the set of the movie, Unplanned.  Their love story began there and brought them to Orlando, Florida to be married at the beautiful Paradise Cove.  

Olivia, from Paradise Cove made sure that every aspect of their intimate ceremony was planned to perfection.  She pulled together a great team of vendors that made this couple's wedding day one to remember.

Amy with Blossoms Orlando worked with the couple and planned to perfection the beautiful florals attached to the wedding arch. Likewise, the stunning rose bouquets and boutonnieres were touched with a little color of blue thistle that made them pop.

When you are photographed all the time it is hard to get something fresh, even from your wedding photographer.  Cricket Photography planned to perfection every shot and caught the couple and their guests in the perfect poses.  From dappled light to tropical backgrounds everything was spectacular.

For a custom ceremony the couple chose Rev. Glynn Ferguson, the owner of Sensational Ceremonies and an official Walt Disney World Officiant.  He planned to perfection every last detail of their wedding ceremony, while giving them the option to write their own vows and he even asked them to write and tell him why they love each other.

Emma wrote:  It has been so challenging to write a paragraph containing my favorite things about Jared. I believe the main reason it's so difficult is because he's truly shown me a love that's indescribable.  If I have to pick, Jared never lets me take the easy way out- he is constantly encouraging me to "be better" and I need that. I can be a big baby sometimes and I love that Jared isn't afraid to call me out and is always expecting more from me. Jared brings growth to every aspect of my life. Jared is selfless- he never wants to do things for himself but can always justify doing something for others in need (big or small). Jared never fails to make me smile.  His joy is so genuine, and it doesn't matter what life throws he is steady and content. He's a peacemaker- there's never been a tense mood Jared can't break with laughter. I am very thankful he won't let me take life too seriously. Through everything we've been through I know I've never known a love like this. He is the best thing about me. God has blessed me by allowing me to walk beside him!

Jared wrote:  So the reasons why I love Emma. Wow, where do I begin. I love Emma because I have never met anyone that I actually believe is my soulmate. As a kid or young adult who is falling in love for the first time you have this idea of what your soulmate is and most of the time it doesn't work out because you're young and you probably don't know who you are as a person yet. With Emma when I first met her I felt like I had already known her for years. It wasn't so much getting to know each other for the first time; as reacquainting old friends. She is tenacious in everything that she does and so intelligent. She understands people's emotions better than anyone I know. She works hard at everything that she does. She never takes handouts and is wonderfully self driven. She never takes shortcuts and is my daily inspiration for finding joy. Emma is the bravest person I know. She is never afraid to speak her mind or stand up for herself in confronting scenarios. But somehow still manages to have the greatest smile in the world. Her smile alone can light up any room. Make a person feel warm, loved and safe. She is my sunshine. Emma is everything that I am not and I love her for it. She lifts me up in more ways than I think she even realizes. She cares about everyone and everything so deeply! I once made her watch "Turner and Hooch" the classic Tom Hanks film and she sobbed after the movie not because "Hooch" dies in the movie, but because the actual real life dog "Beasley" died before she was born. I absolutely love that about her. She is my everything and I can't believe how lucky I am to get to spend the rest of my life with her. She has all of the fruits of the spirit except for maybe patience but that's only when she has to deal with me. She is the absolute best in me and brings out the best in me.
We are so glad that your wedding was  planned to perfection.