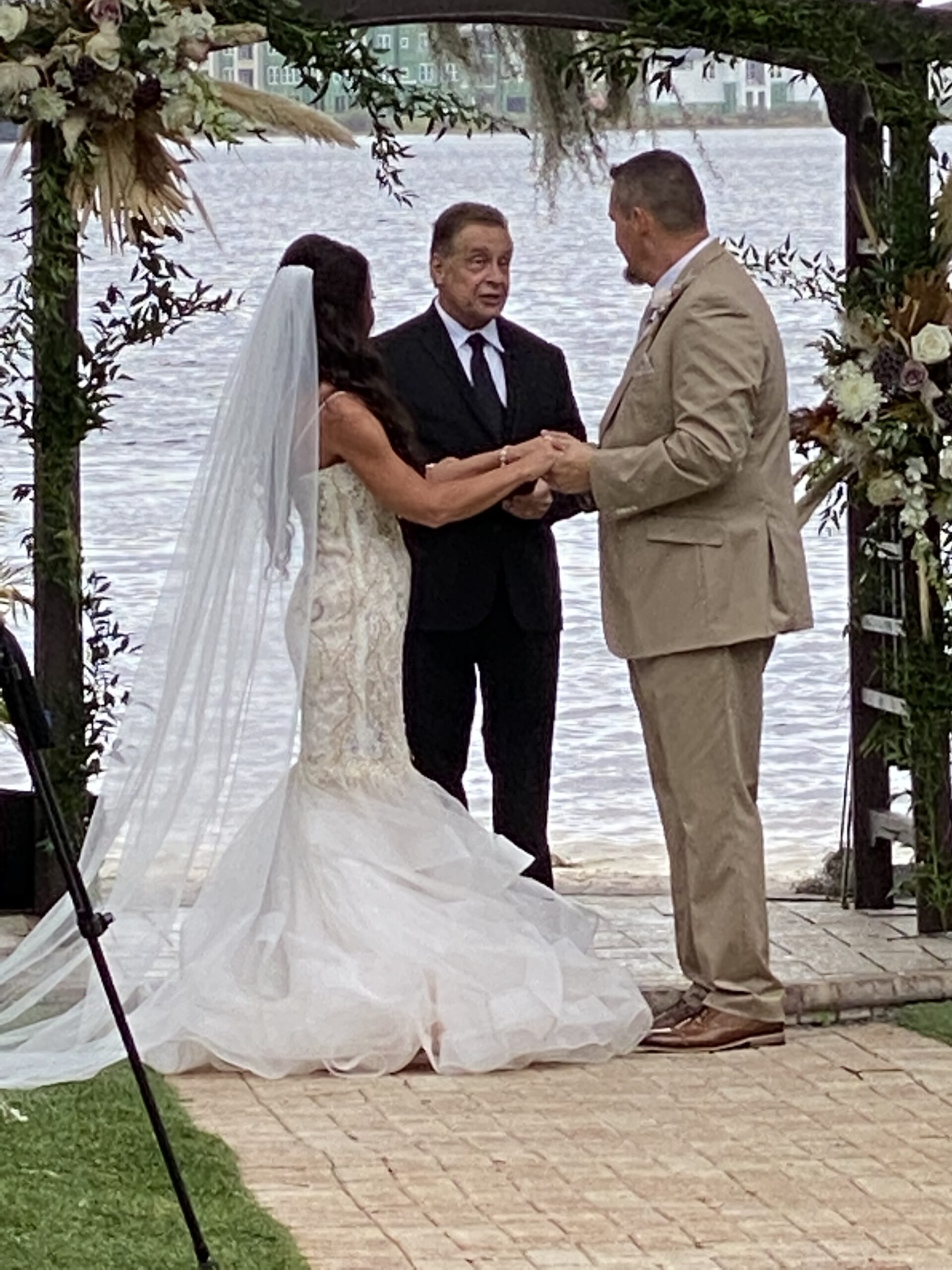 Joy, Happiness, and Beauty
Joy, happiness and beauty are all key components that couples search for when considering a venue for their special wedding. The staff needs to be pleasant, and accommodating. The setting needs to be exactly what the couple is looking for. It should be able to fit the size of the expected audience, and it, if needed, should have a great space for a reception.
Paradise Cove located on Little Lake Bryan just south west of Orlando, Florida has all of those ingredients and more. It is located in the shadow of Walt Disney World which makes it a perfect spot for visitors to the area to vacation. The venue has a lake front gazebo with a beautiful white sand beach. There are tall Cypress trees lining the beach and the lake, with Spanish Moss everywhere. Flowers abound. No wonder Susan and Dennis chose this fantastic location to hold their elopement ceremony!
It was just the two of them with Lon Tosi their wedding officiant, at the gazebo – in front of that gorgeous lake! There was indeed much joy, happiness and beauty present as their exchanged their vows. Lon had worked with them to build an intimate and personal ceremony that spoke to their inner expectations. Lon is part of the officiating team at Sensational Ceremonies. The company is known for its specialized custom wedding ceremonies. They work with a planning kit that had numerous options for the couple to consider.
They also wrote special words. She wrote to him: I find it hard to put such a deep love into a few words…but, the most important being that today I truly marry my best friend, I can't wait to start this chapter of our story… and I love you. He wrote to her: You my love are my partner, best friend, Ying to my yang, but best of all my ride or die…I love you…huge..really really big. Their ceremony spoke to love, friendship fidelity and trust. These were all key to the foundation of their relationship.
Lon Tosi and his wife Dianne live in Celebration, Florida, "the town that Disney built". Talking about joy happiness and beauty! Celebration is a great town and is absolutely one of the most beautiful small cities in America. Dianne is president of Married By Mail the company that provided Dennis and Susan with their Florida Marriage License. Married By Mail is the preferred license provider for Paradise Cove, and is the largest licensing service in Florida. Married By Mail is also the Official Walt Disney World "Disney's Fairy Tale Weddings" License Provider. Both Sensational Ceremonies and Married By Mail are in the Knot Hall of Fame.
And it all happened on a sunny morning in Orlando, Florida.