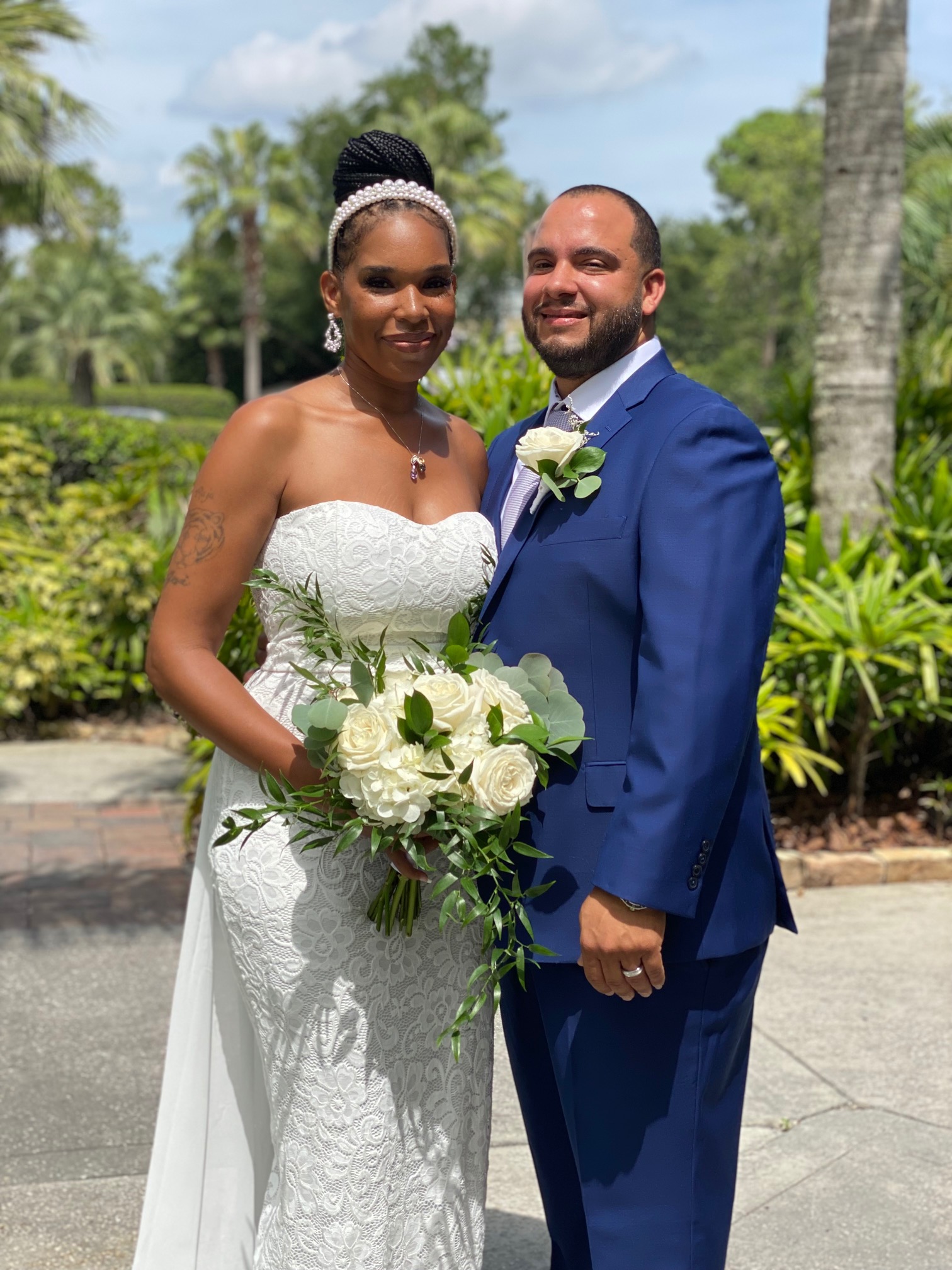 Exotic and Beautiful
The Venue
Raja and Chaz traveled from Ohio to get married at the exotic and beautiful Paradise Cove in Orlando, Florida.  Olivia with Paradise Cove worked with the couple to make sure everything on their wedding day went perfectly.  The Venue is located on the shore of Lake Bryan, just across the interstate from Walt Disney World and it feels like you are in a tropical paradise.

The Vendors
Amy with Blossoms Orlando worked her floral magic to make this exotic and beautiful wedding come to life.  With the white bouquet and matching boutonniere, she added silver dollar eucalyptus to give it a classic touch.

Dominico with Castaldo Studios brought the magic for their exotic and beautiful wedding for Raja and Chaz.  He captured every moment with this artistic style of photography that surprises you with every last detail.

Rev. Glynn Ferguson, an Orlando wedding officiant and owner of Sensational Ceremonies worked along side the Raja and Chaz to make sure the ceremony for their exotic and beautiful wedding absolutely fit the two of them perfectly.

The Ceremony
The couple chose a simple civil ceremony for their exotic and beautiful wedding and added in paragraphs they had written telling of why they love each other.
Raja wrote:  I love how kindhearted he is, not only to me, but to people in general. The joy he brings to my heart every time he enters the room. It's like a feeling of euphoria when we are together. I love that years later I'm still in love, invested, and grateful to have him in my life

Chaz wrote:  She makes me feel important,  and lucky to have a woman who accepts me for who I am, no matter what. Being with her makes me want to be a better person for me, her and our family. She gave me a family of my own and she helped me realize to stop living for the moment and start planning for the future. I couldn't ask for a woman who is so loyal, someone who has my back whether I'm right or wrong with no questions asked. She is patient, compassionate and sensitive and I know she loves me unconditionally. We are opposites in many ways but it definitely brings us together and makes us whole.

Congratulations on your exotic and beautiful wedding.  We wish you a lifetime of happiness.