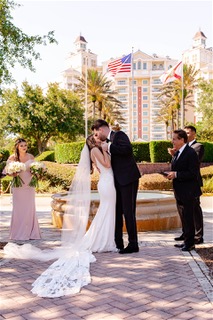 Reunion Resort Garden Wedding
Ballrooms, Grand Vistas, and Garden Locations
Reunion Resort in located just southwest from Orlando, is an amazing community of gorgeous homes and a magnificent golf course. It is popular destination for corporate and wedding events due to its fantastic resort hotel with ballrooms, grand vistas and garden locations for all sorts of events. It is to this wonderful venue that KC and Erica traveled from Rhode Island with their friends and families to celebrate their marriage. They had an elegant event in Linear Park which is just adjacent to the magnificent hotel. Amazing!
Additionally, Lon Tosi
from the
Orlando Team
of
Sensational Ceremonies
worked with the couple for several months to build exactly the ceremony they wanted. It needed to have two ingredients. It need to be relatively short, and it needed to be beautiful. They hit a 'grand slam" on both counts. A highlight of the ceremony centered on the parents of the bride and groom. KC and Erica requested that Lon thank each of them for all the lessons taught to them regarding" love, honor and respect". Truly, the bride and groom respect and cherish the deep love of their parents.
It is notable, that the couple feels that their relationship was "meant to be". In fact, a wonderful reading in the ceremony has the following phrase: "It was love that brought you together to unite your destinies". That says it all. They were meant to be!
Furthermore, a fantastic group of vendors guaranteed that this event went off with great precision.
Runway Events
and the fantastic Shay made certain that each an every detail was attended to.
Kourtney Kaiser Photography
has already sent some of her amazing photos for all to view. Such a great turn-around!
Cut The Cake
ordered up their usual tasty cake.
Runway Botanical
provided the beautiful floral arrangements for this event, and Brian Gilberto as the DJ could not have provided any better sound and music! Let's not forget
A Chair Affair, Inc.
! Finally,
Married By Mail
provided the marriage license for this couple.
We wish you much luck and happiness with your marriage KC and Erica! You are off to a great start!
And it all happened on a sunny day, in a beautiful garden, in Central Florida!