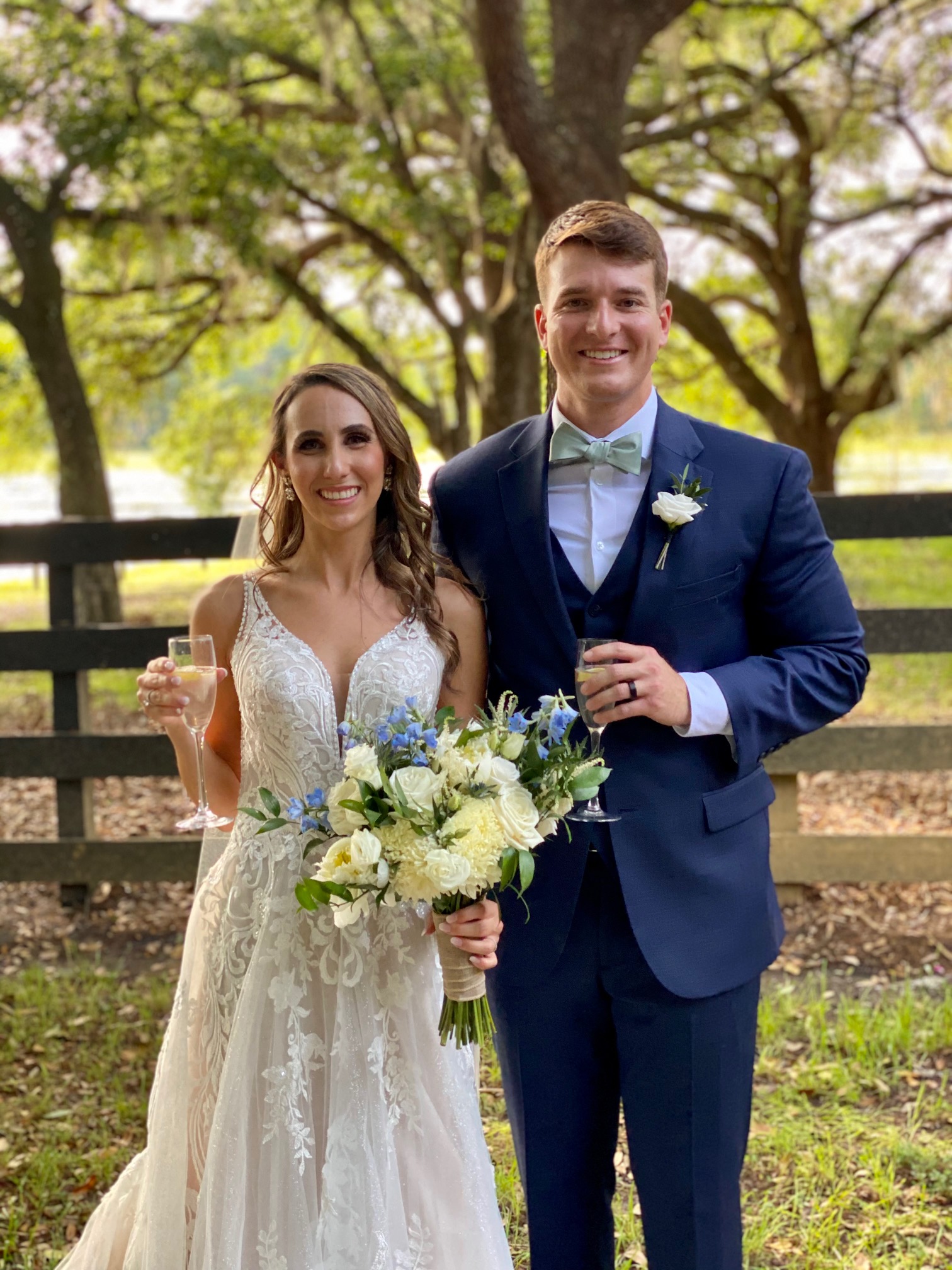 Rustic, but Luxurious
Emily and Conor met more than eight years ago when he was home from Florida State University on a break.  Their connection was almost immediate and the two have been inseparable ever since.  For their wedding the couple wanted a rustic, but luxurious wedding and they chose Club Lake Plantation for their perfect venue.

Natalie with Bella Sposa Events worked with Emily and Conor to make sure every aspect of their rustic, but luxurious wedding was planned to perfection.  From coordinating their rehearsal, making sure every aspect of their ceremony and rehearsal decor was set, Natalie took care of it all.

Kayla Bri Photography was on site for the beautiful photography during the couple's wedding.  Capturing pictures of the bridal party getting ready to the rustic, but luxurious ceremony and reception, she made sure that she recorded everything for the couple.  

In Bloom Florist was the perfect choice for Emily and Conor's rustic, but luxurious wedding.  The team at In Bloom made sure every detail was filled with beautiful flowers.  From the bride's beautiful bouquet and the groom's matching boutonniere, everything was stunning.

Faith with Our DJ Rocks worked her magic with the music and kept everything flowing for this rustic, but luxurious wedding, all through the night. 
 
To make it all official, the couple asked Rev. Glynn Ferguson, the owner of Sensational Ceremonies and an Orlando Wedding Officiant to work with them to create a ceremony that would fit their rustic, but luxurious wedding theme.  From walking them through the process of putting together their ceremony, to asking them to write and tell him why they love each other, it was a great experience for everyone.  And the ceremony was beautiful!

Rustic, but Luxurious
Emily wrote:  It's been almost 8 years, but I still remember the night and how I felt when we first met. Normally so nervous to meet new people, but all I felt was calmness as we laughed sharing jokes and stories. It felt natural and easy to be myself with you. Over the next few remaining weeks before your return to FSU, I quickly fell in love with you during our late-night movie dates and conversations. Though I wasn't able to stay awake through many movies or my 'favorite' episode, I loved our cuddles so much that I was able to fall asleep comfortably with someone I was just getting to know. It seemed as if we'd known each other for our entire lives. Over the years together, we have grown together and deepened our love for each other. Every day I think about how thankful I am to have you as my partner for a lifetime. You are the most compassionate, kind and loving person always putting my happiness first and taking care of our stubborn puppy as if she were our own child. Your affection and humorous nature can take me out of any bad mood that I may be in, which might have been a little more frequent with the recent wedding planning. But you were there to comfort me and help guide me through the stressful times. You are always there ready to protect me – whether it be removing giant cockroaches, punching an attacking seagull or trapping an intruding squirrel. I'm so thankful we got to start our lives together as young adults to be able to share life experiences that lead us into adulthood and the lives we have today. With your patience and positivity, I know we will be able to overcome any difficulty that comes our way. I love you more and more each day. I am so excited to spend the rest of our lives together and honored to be your wife.
Rustic, but Luxurious
Conor wrote:  I love you more than I can express in words. I feel blessed to have spent 7 incredible years with you, and I can't wait to spend a lifetime with you. I love your laugh, smile, the isms that only you and I know. The fact that we went to the same high school but did not meet officially until after we graduated is just one more way of life telling us that timing is everything. And asking our friend to invite you out that night was the most important question up until October 24, 2019 at the Biltmore when I asked you to spend the rest of your life with me. Now here we are, on our special day. There is so much more that I want to say other than I love you. You know I do, and will forever and always. I'm usually the one with something to say at every moment, but this time, I am truly speechless. A flood of emotions has run right thru me as I write this letter because of all the amazing memories crossing my mind I can't help but get choked up and smile. Here we are, right where we are meant to be. You are my best friend, the love of my life, and I can't believe I get to call you my wife. I used to write you letters every time I left from our weekend visits when we lived in separate cities. This is my favorite letter I have written because I'm not leaving, I am not going anywhere. I will always be there for you and love you infinity. I love you Emily, forever and always.

Congratulations on your rustic, but luxurious wedding.  It was absolutely Amazing!