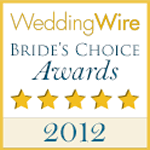 Sago Cay Vow Renewal
In Sickness and in Health
Scott and Kimberly married ten years ago at Walt Disney World in Orlando, Florida and they really took the "in sickness and in health" vows seriously. He was in the military and stationed in New Orleans. She was finishing up her architecture degree there. A couple of years after marrying, he was deployed to Japan and she went with him. Two years later they we transferred back to New Orleans and she was expecting twin girls. Then the best and worst days of their married lives collided with each other. The girls were born, but something was up with Kimberly. Doctors checked her and she had suffered a massive stroke.
Surrounded by a great medical team and family members that supported them with their new daughters, Kimberly was in for the fight of her life. After several series of test they determined that she had a rare birth defect that made the vessels in her brain smaller and more fragile than those of most people. Kimberly was in shock. She had never had any sign of these problems. She ran marathons and was very active, but the doctors told her that at any moments during those strenuous races she could have dropped dead from an aneurysm.
Scott and Kimberly decided that after two years of health scares and trying to raise twin 2 year olds, it was time to renew their vows of commitment and love to each other.
They of course wanted to renew their vows were it all started. That being said, they contacted
Disney Fairytale Weddings
to set it all in motion. They chose Sago Cay behind the
Grand Floridan Resort
so that they could be on the water of the Seven Seas Lagoon and have the backdrop of Cinderella's Castle.
With pink rose petals from the Walt Disney World Florist circling the couple and Frank from
Disney Fine Art Photography
taking pictures, it was a sight to behold.
Kimberly and Scott worked with Rev. Glynn Ferguson of Sensational Ceremonies to create a one-of-a-kind ceremony to fit the two of them. They wanted something personal, but short; as it was a little more warm in Orlando, than it is in their Minnesota.
We wish them good health and happiness for a lifetime!