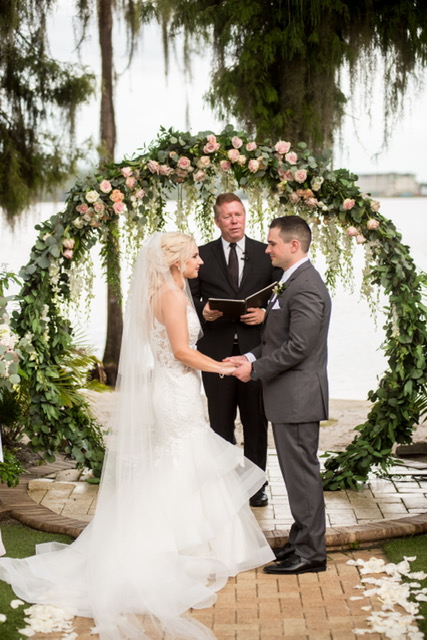 Shine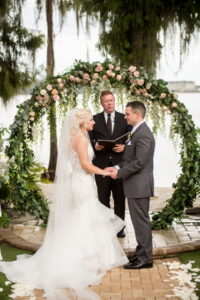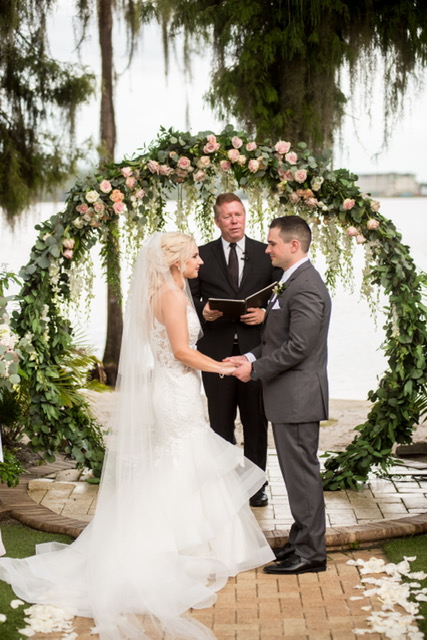 It was a beautiful day for Amber and William to come to Orlando and get married at Paradise Cove.  The couple had rescheduled their wedding twice before and this was their night to shine.With the expert coordination of Jasmine Jill with Paradise Cove Amber and William were able to really enjoy their wedding and it was their night to shine.  
Atmospheres Floral and Decor  did such a great job with the couple's floral arrangements and designs.  From the couple's bouquets and boutonnieres to the incredible infinity arch and on to the reception, Debra with Atmospheres worked her magic.    
Soundwave Entertainment really brought the party to the shores of Lake Bryan.  Les really did a superb job of picking the perfect music for the couple's wedding ceremony and kept the party rockin' well into the night on the dance floor.
Cocktails Catering really did shine for the couple and their guests.  The food was delicious and the wait staff was personable and accommodating.

Amber and William had Rev. Glynn Ferguson, an Orlando wedding minister and owner of Sensational Ceremonies, work with them to create a ceremony that would shine their love for each other.  The couple chose a traditional ceremony  with the added touch of a Wine Box ceremony.
Rev. Ferguson also gave the two of them a homework assignment that would really make their ceremony personal and shine.
Amber wrote:  On the day that started our new beginning, I still remember that big smile on his face when I first met him. He is and always has been my best friend, my soul mate. We do everything together! Side by side ,William is my gym buddy, my concert buddy, and my travel buddy, I simply could not imagine life without him. He is genuinely a caring, helpful, strong man in my life today and an awesome cat father to Onyx and Ozzy. He always finds a way to bring light into my eyes and mend things and of course …sushi.
Because we both know sushi makes everything better! He has motivated me to where I am at in my life today. I always want to be better for him and our future family. As years pass on and we grow old, I feel more connected with him every year. This past year consisted of many ups and downs; we continue to hold each other tight (even the struggle of rescheduling a wedding for the third time). Our love continues to grow. We are growing together from a boyfriend to a fiancé, to my forever husband. I will Netflix and chill with him all day every day. As long as I have him, my life is complete.
To my forever, I am the happiest woman alive because I have you
William wrote: Amber, over the past seven years I have gotten the chance to grow and see my ambitions materialize with my best friend. I always knew that there was something special about Amber ever since I met her in Pittsburgh. Her stunning glow and beauty are something I will never forget on the first night we met. I could feel our connection instantly. After I asked her out our first date, it didn't take long for me to find an apartment closer to where she was living. Amber decided to move in some of her belongings, and little did I know she would eventually make a home out of it. We have been living together for over six years. Now raising two fur babies. I wouldn't trade the past for anything. Ever since both our lives have been a whirlwind of up, downs, twists, and turns, however we always seem to make an adventure out of it. My life has changed for the better and has been a cathartic bliss with her by my side. She is my rock and will always have my back with whatever obstacles we run into. I promise to protect her, motivate her to become the woman she strives to be, and comfort her during sorrow and struggle. I'll be there for her to give my compassionate support to guide her to her goals. When times aren't easy, I'll be there for her to lean on. More importantly I will love her everlasting through the good and bad.
It has been over three years since the time of our engagement. The longer I have waited the more I have appreciated this day finally coming into fruition. I can't wait to finally call you my wife.
Congratulations to the two of you. May you love shine throughout your life together.