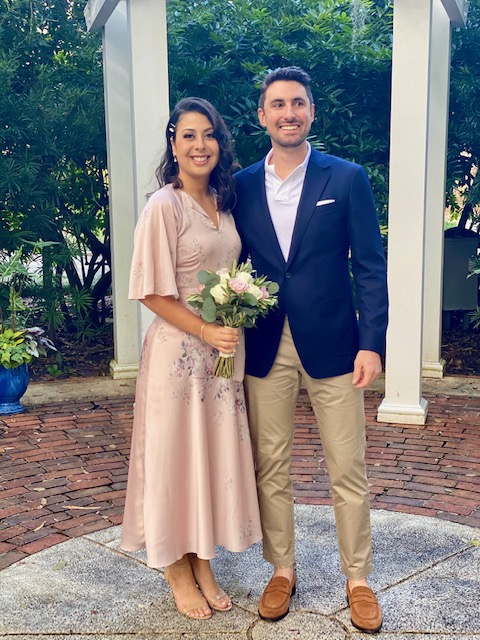 Simple Wedding
Daniel and Evette were looking for a simple wedding; some type of intimate wedding that would fit the two of them and still allow them to have their immediate family and friends with them.
The couple chose the beautiful Harry P. Leu Gardens in Orlando for their simple wedding. With semi-tropical gardens, a rose garden, and even a shade garden, this was the perfect location for their wedding.
To make their simple wedding come to life the couple contacted Rev. Glynn Ferguson, an official Walt Disney World Wedding Officiant and owner of Sensational Ceremonies to help them not only create a custom ceremony, but to also help them pull together a team to bring their wedding vision to life. He also asked them to write and say why they love each other.
Evette wrote of Daniel for their simple wedding: You have shown me that I have the ability to be strong, both mentally and physically. I have learned what love is and what is like to be loved by someone who has been your missing piece your entire life. You always push me to be the best version of myself. You have inspired me to experience things I normally wouldn't do. I love your passion for the endless possibilities of life we can experience together. Thank you for choosing me to be your adventure partner for life.
Daniel wrote of Evette for their simple wedding: I could write a book on why I love her but I will make it short.
Evette has been there for me through so much, she has always supported me and my dreams. I have never seen someone go through so much and still love the way she does. I wake up every day knowing that if I'm lost she will help guide me, I know that she will always tell me when I'm wrong and I know she will always be there no matter what. You are my best friend, my entire world and every day I find more reasons why I love you.
Joshua Englert a super talented guitarist, worked with Evetter and Daniel to make their simple wedding sound absolutely perfect. With classical guitar music wafting through the gardens, it provided a tranquil moment for the couple and their guests.
For the bride's bouquet and groom's boutonniere the couple asked Flowers by Lesley to create a beautiful arrangement of pink and white roses, eucalyptus, and tied in a bow for their simple wedding.
Congratulations to the two of you. May God bless your walk together.
For more packages like this visit our webpage