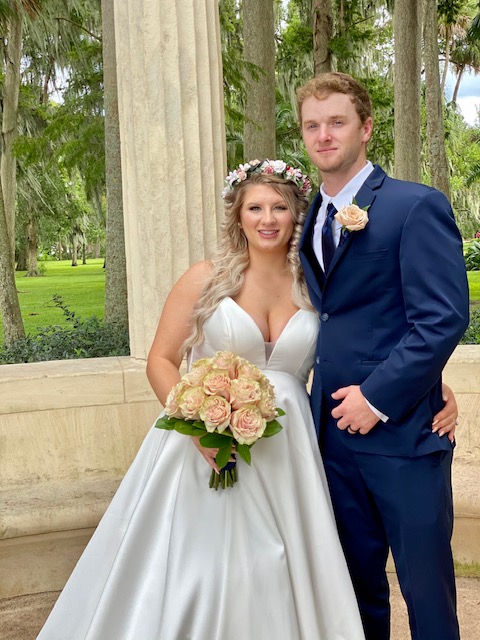 Simple yet Beautiful
Jeff and Tyller wanted a simple, yet beautiful wedding in Central Florida.  When they contacted Victoria with Intimate Weddings of Orlando they knew they had come to the right spot for planning their perfect intimate wedding.  The couple wanted something that was simple yet beautiful and really screamed Florida.  
Victoria pointed them to the tropical gardens of Kraft Azalea Gardens.  There in the heart of Winter Park the couple walked the aisle and took their vows in front of the Exedra.  The park is location for hundreds of weddings, vow renewals, and photo shoots each year.  With towering cypress and banyan trees, the canopy of green is a welcome relief to the Summer temperatures and the perfect location for  their simple yet beautiful ceremony.
Arriving at the ceremony Tyller rode with her father in an elegant Rolls Royce provided by VIP Transportation Group.  The driver, looking dapper in his black suit and cap, made sure they were there in plenty of time and waited through the ceremony so the couple could exit in the car after their simple yet beautiful intimate ceremony.
The couple chose simple yet beautiful flower selections from Flowers by Lesley.  Blush roses filled the bride's bouquet full with blossoms that over-flowed.  The groom's matching boutonniere and the flowers for the ring bearer and the flower girl tied everything together.  
Jennie Rudberg with Orlando Violin Music played a variety of music as the guests gathered by the Exedra.  Ballads from contemporary artists, classical pieces, and even a love some from Star Wars filled the ears of wll who were present for this simple yet beautiful intimate ceremony.
Edmund Rhodes of Rhodes Studios did an excellent job of capturing the afternoon for the couple.  Their simple yet beautiful style was perfect as the park, trees, and weather were picture perfect.  Edmund captured every moment.  From the bride arriving the Roll Royce, their precessions down the aisle, through the custom ceremony, recessional, and family pictures afterward.  He got it all!
Tyller and Jeff worked with Rev. Glynn Ferguson, an Orlando wedding officiant, minister, and owner of Sensational Ceremonies.  They wanted their simple yet beautiful intimate ceremony to be unique, personal, and filled with both laughter and tears.  Rev. Glynn gave the two of them a homework assignment to write and tell him why they love each other.  He then read what they wrote, just before they repeated their vows to each other.
Tyller wrote: I could write a book of all the reasons I love Baker, but I will start with the fact he puts up with me, which is extremely impressive. He came into my life during a time of darkness, when I was trying to find my self worth, and showed me my worth. He is slow to anger, and first to make amends… even when I'm in the wrong. He takes care of me and makes sure I am always provided for. Every time I find myself in conversation with someone I somehow ALWAYS find a way to mention his name, because of some querky, stupid thing he has done, and I always have the biggest smile on my face when I tell them about him. I love him because he still gives me butterflies even when I see him in his dirty shirt, shorts, and high socks and boots from work or from working on something. I love his sense of humor and he is the funniest/quirkiest person I know. I love Baker because he was the calm the good Lord sent me during my storm. God truly blessed me with a once in a life time kind of man, the answer to my years of prayers. I love him for all the he is, and will be, and will always encourage him to be the best he can be. I love him because… my heart belongs wherever he is, and I would walk every narrow and dead end road again to be with him, and I will love him til my very last breath.
Jeff wrote:  From the day I met Tyller, I knew she was like no other. I was captivated by her beauty inside and out. She is perfect for me. I want nothing more than for her to be my wife, mother of my children, my best friend and to share our life together. I will love her forever. Congratulations to the new Mr. and Mrs .Davis.  We wish you happiness for a lifetime.