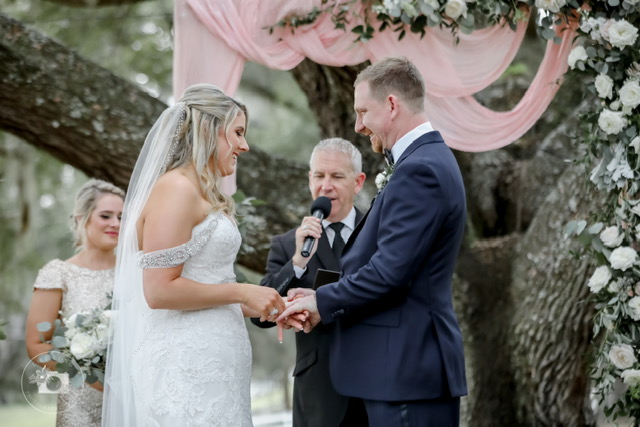 Southern Romance
Lindsey and Kyle chose Stonebridge Weddings and Events as the venue for their wedding ceremony.  Stonebridge, at The Lange Farm, is nestled in just over 80 acres of picturesque Florida acreage near Dade City and offers a blend of old Florida elegance and southern romance.  Under towering live oak trees and Spanish moss there really is a southern feel to this place.
Lindsey's entrance was straight out of a Fairy Tale as she arrived to the wedding site in a horse and carriage provided by Sweet Southern Horse and Carriage.  She looked amazing as she was escorted by her father and stepfather, to join Kyle at the head of the aisle under the sprawling "I Do" Oak Tree.  The couples' custom designed southern romance ceremony included: a Thank You to the Parents, the Blessing of the Hands, The Lord's Prayer, Scripture Readings from the book of Genesis and Ruth, and the Unity Cross.  Then, as their family and friends looked on, the couple shared their vows, exchanged rings and were pronounced husband and wife by Rev Rick Lackore of Sensational Ceremonies. 
Ceremony Music was provided by Beautiful Music; DJ Jason with Grant Hemond and Associates provided the sound; Florals and Décor for this southern romance ceremony were provided by Ever After Vintage Weddings and Floral Design; Venue Coordination provided by Dori and the staff at Stonebridge; and Flawless Wedding Coordination provided by Kara and Samantha with Blue Skies Wedding and Events.  Special thanks to Buffy and her team with Lifelong Photography Studio for providing this beautiful picture as Lindsey shared her ring vows with Kyle.      
Congratulations to the new Mr. and Mrs. Kyle Jimenez!