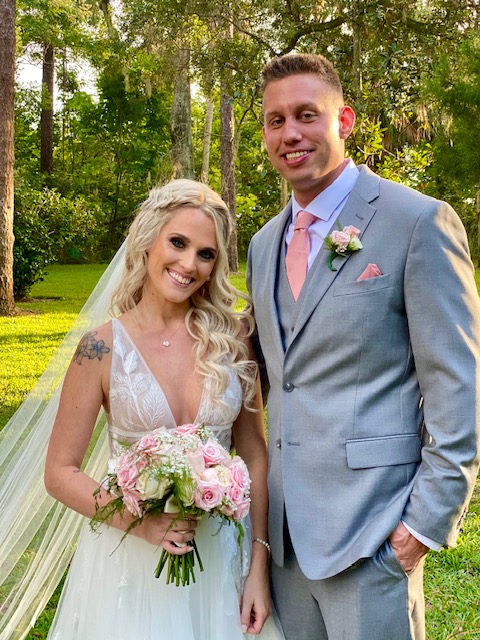 A Garden Villa
Their Venue
A Garden Villa wedding is always a good idea.  Jill and Riley though it was the perfect idea for their wedding.  With beautiful tropical foliage, a beautiful white arch, and classic brick patio, this location is just beautiful.  Located in the garden district of Winter Park, the Garden Villa is the location for dozens of beautiful weddings each year. 
Their Team
Jill and Riley looked hard for the perfect team of vendors for their Garden Villa wedding.  To help them assemble a group of vendors that would work seamlessly with each other, they hired Nicole Pepper from Nicole Squared Events.  Nicole not only helped them to get the A-Team for their wedding, but helped them in planning and preparing for their wedding day.  From start to finish Nicole was there to help guide them all along the way.
Cocktails Catering took the lead with all things food.  From the drink stations that were much appreciated on a warm day to the appetizers and the delicious meal there was not a single person left hungry.   And talk about delicious, Le Petit Sweet took great cake to make the delectable cake and equally scrumptious macaroons.  These sweets were gobbled up as soon as the cake cutting ended.
Apple Blossom Florist stepped up the game and really made Jill's vision for her flowers come to life.  Pink, white, and blush roses were accentuated with delicate ferns and other greenery to make everything look luscious and beautiful.
  DJ Chuck Johnson with Classic Disc Jockeys really took care of the music for the couple.  From the Disney inspired ceremony music, to favorites of the couple the rest of the night, Chuck kept everyone on the dance floor.
Their Ceremony
For their ceremony the couple sought out the services of Rev. Glynn Ferguson, an Orlando wedding officiant, minister, and owner of Sensational Ceremonies.  He worked with Jill and Riley to make sure their Garden Villa wedding was touching, personal, and perfect for the two of them.  Rev. Glynn asked the couple to write and tell him why they love each other.
Jill wrote: The more time passes, the more I realize I love about you. Riley! I love your morning songs rewritten just for me. I love your kisses. I love that we work out together and encourage each other to be better. I love binge eating candy or ice cream after we have eaten healthy all day and always regretting it after. I love that your eyes still light up when I walk into a room and you smile at me. I love that any chance you get to, you spoil me. I love your big heart and willingness to always help someone. I love that we can make sacrifices and accommodations in any situation together, if needed. I love when I say "I love this song" you turn the station and pretend you can't get back to it. I love when you're thinking, you scratch your head. I love your laugh and how much you make me laugh and smile every day. I love your love for children and to have some of our own one day. I love that even if we will see each other again in an hour or so, we always get so disappointed to leave. I love that you tell me I'm beautiful even if I have no makeup on. I love that you talk to yourself when you're nervous. I love that you never know the right words or timing to any song you ever sing. I love that I love you. And I love how much you love me. I have never claimed that we are perfect. Relationships are never perfect. They aren't always easy. We have stories of hard times, and stories of happy times. We have been through a lot. But we have gotten through it together. I will continue loving you, Riley. I will continue choosing you, always… I am so excited to be marrying YOU, my best friend Jill,
Riley wrote: From the moment we talked about what's for dinner while eating breakfast I knew you are my soulmate. I love everything about you from your snorting laughs, trying to give you a heart attack through haunted houses, or being fat kids and watching movies eating ice cream.  But I also love the way you look at me, with you I can be myself, and the fact you are always there for me no matter what.  Together we will conquer the world and accomplish our goals.  No matter what life throws our way we can get through it together. So excited to spend the rest of my life with you. I love you, Riley!
We wish them happiness for a lifetime!