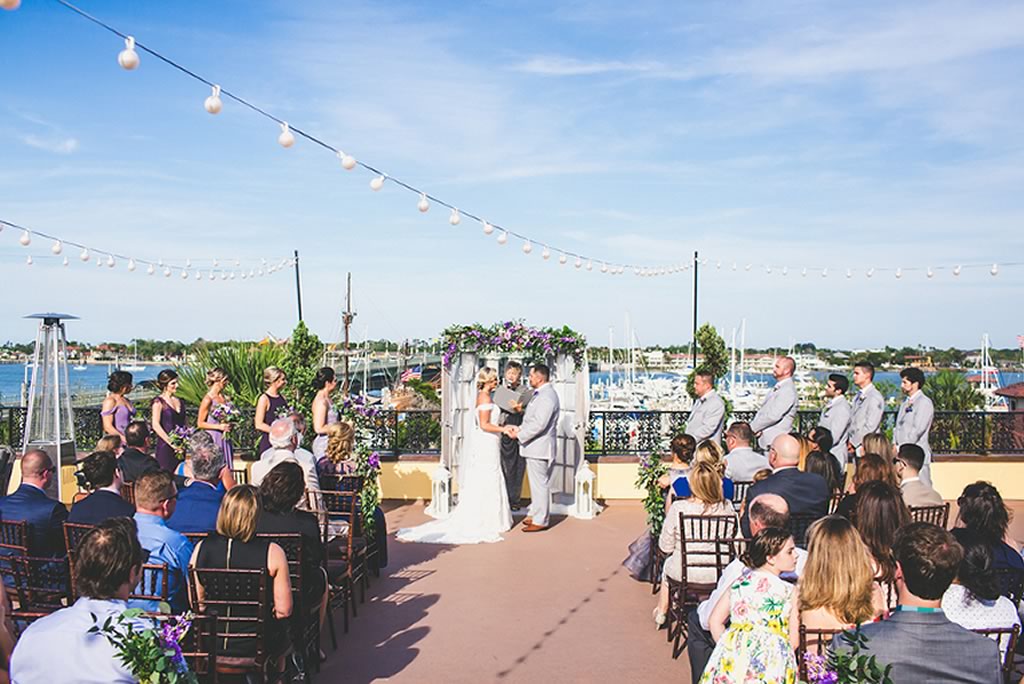 St. Augustine Wedding
History Teachers Make History Together
Molly and Christopher fell in love over their love of history. In fact, both are history teachers! So, when first visiting America's Oldest City, St. Augustine, they were captivated by the historical landmarks and significance of this enchanting city. As they explored the romantic and intriguing sites throughout this place rich in historical delight, they both knew that it was where they wanted to begin their lives as husband and wife.
On the rooftop of The White Room overlooking the majestic bay, on a clear and spectacularly beautiful evening, they stood together under a canopy of twinkly lights. Surrounded by lavender and white flowers, the couple declared their everlasting love for one another. Thus, confirming there is no one either would ever want to share life with more than one another.
Their dearest friends and family traveled from New York and New Jersey, as well as many other distant locations to witness this momentous occasion.
Rev. Joy Blessing
of
Sensational Ceremonies
composed a wedding ceremony with wording that told of their love story . From how they met in college to dating long distance for years and even how the Bride had turned the Groom from a "dog-lover" to a "Catman". They even named their first "cat-child" Sansa after their favorite character in "Game of Thrones."
Within the ceremony, Rev Joy Blessing also told how Molly and Chris shared many travel adventures together. Falling in love over and over during trips throughout Texas, historical sites in Virginia and Washington, and to the "magical" destination of Savannah at Christmas.
Recognizing that they had a lifetime of adventures to share together as husband and wife, they provided an atlas of the World for guests to sign on pages recommending their favorite travel destinations.
Centuries ago, explorers searched for treasures and the "Fountain of Youth" not far from where Molly and Chris confirmed their everlasting love. Rev Joy Blessing mentioned that it was only appropriate that they marry in such a place for their love makes them become more and more beautiful to each other with each passing year.
Congratulations to the lovely couple!