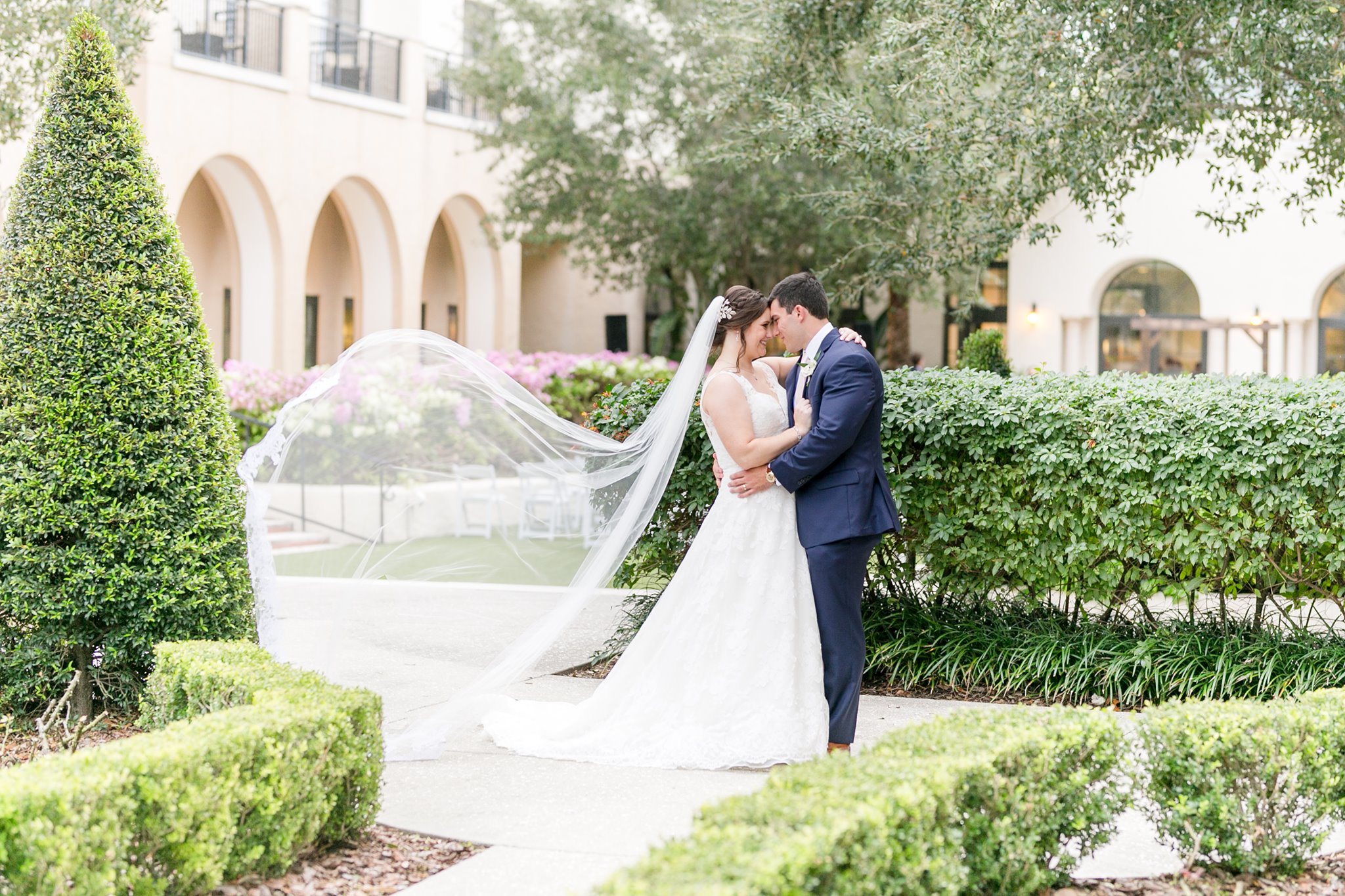 The Alfond Inn
When Hannah and Jason decided to get married in the Orlando area there was no other choice than to get married at the beautiful Alfond Inn in Winter Park.  The private event lawn stretches the length of this boutique hotel and is surrounded by hedges of Bougainvillea in deep purple, white, and pink. 
 Tracy Marini with Eventfully Yours was the coordinator of this amazing wedding.  Tracy took great care to make sure every detail was taken care of and nothing was left to chance.
Amalie Orange Photography captured the very essence of the day with her beautiful photography style.  From getting ready pictures in the suites at the Alfond Inn, on to the ceremony and cocktail hour on the lawn, then ending the night with the beautiful reception, Amalie and her team captured it all.
Corban with Love and Lustre Fine Wedding Films was equally as important in capturing this beautiful wedding at the Alfond Inn. The cinematic genius that he is,  caught every angle and every frame of the couple's big day.
  Sprinkles Custom Cakes wowed the couple and their guests with a beautiful cake that really was as beautiful as it was delicious.
Rev. Glynn Ferguson, an Orlando officiant and owner of Sensational Ceremonies, loved working with Hannah and Jason on their custom wedding ceremony.  Even after the ceremony choices were made he gave them a homework assignment to write and tell him why they love each other.  That extra personal touch knocked it out of the ballpark!
Hannah wrote:  Just about this time 8 years ago, we were hanging out at one of our favorite places in Gettysburg College. Never in my wildest dreams would I have imagined that you were the love of my life or soulmate at that time. I am so beyond thankful that we were brought together, and our relationship was able to grow through the good times and bad times over the last 8 years. There is no doubt in my mind that you are the perfect man for me. Your caring, easy-going nature, your priority for family, and the absolute joy you bring to my life every single day are just a few of the infinite reasons that I will always love you. Words could never describe how much you truly mean to me and I am incredibly grateful that I get to spend the rest of my life loving you! 
Jason wrote:  February 14, 2013 will be a day I will remember and cherish forever. It's the day we first started dating, and it's the date that changed my life forever. Over the years we have certainly had our fair share of ups and downs, however, one thing that never declined was my love for you. Ever since I laid eyes on you I knew you were someone special. As I sit here writing this, there is not a single thing I can think about that I do not love about you. I love the way you look at me, the way you make me feel, I love how much you care about me and want the best for me, I love how we can both be ourselves around each other, and I love how supportive you are of me.
Most importantly, I love the life we have created for ourselves together over the years and I love how much closer we have grown since we first started dating. I cannot wait for this next big step in our lives, and I can't wait for you to finally become not only my wife, but a part of my family.
"Roses are red, violets are blue, life may give you lemons, but I don't care because I have you. "Those are the words I wrote in the card I gave to you the night I asked you out and as silly and corny as they seem they still hold true today.

Congratulations to the happy couple.  May you enjoy happiness for a lifetime!