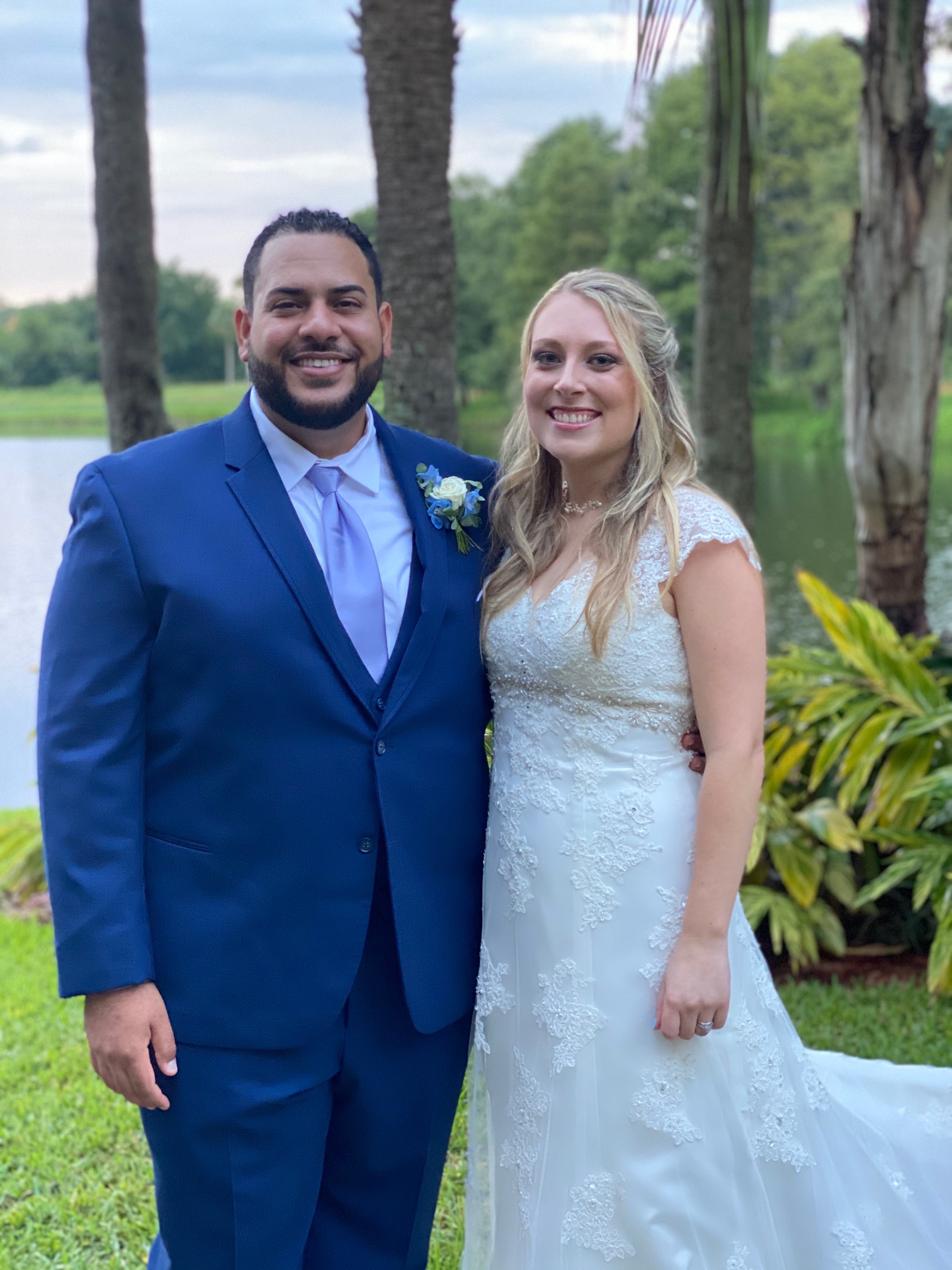 The Last Minute
When the pandemic threatened to put a hold on their wedding Susan and Abner decided at the last minute that enough was enough and they would have the wedding they wanted, with close family and friends.  The couple chose the Hyatt Regency Grand Cypress in Orlando, Florida and very close to the Walt Disney World Resort, for their intimate wedding. 
 Brad with William Arthur Photography was not only a fantastic photographer for the couple, but also the source for much needed referrals.  At the last minute he was able to help the couple steer clear of vendors who would not make their wedding dreams come true and he helped them to find the very best vendors for their wedding..
Pixies and Petals did an amazing job to make this intimate wedding come together at the last minute.  With touches of floral designs on the chairs and down the aisle, these were nothing compared to the beautiful bouquet Jennie made for Susan.
  When the couple found saw Rev. Glynn Ferguson on the Disney Fairytale Weddings TV show, they knew he would be the perfect fit for their wedding.  Rev. Glynn Ferguson is an Orland officiant, owner of Sensational Ceremonies, and an official Walt Disney World Wedding Officiant.  He worked with the couple to create a beautiful ceremony that would capture how they felt for each other and tell a little of their love story.  Even though it was the last minute he gave them a homework assignment to write and tell him why they love each other.
Susan wrote:  I love Abner for many reasons, and if I wrote them all down it would take too long to read, but this is the last minute so here we go.   The best thing I can say for the reason I love him is because he has something different than any man, his heart. His heart is what makes him unique, he truly cares about other people and treats them (and me) with such kindness, love, and respect.  He is supportive me, and although we have our own strengths and weakness, he has truly become my better half.  He is fun, happy, silly, strong, can make me laugh with almost anything. He has been through a lot in his life, and it makes me so proud of who he has become.  He continues to be a man of great kindness and respect.  We were friends from the start, but the moment we started hanging out, just the two of us, I could feel such a strong connection.  It was so easy to talk with him, laugh with him, etc.  He makes me happy when he's around and I feel like I can always myself, I can always find myself laughing and smiling with him.  He's willing to travel and go on adventures with me, something very important to me.  He is a patient person, and does not get angry easily, he cares a lot.  I like how I can tell him something and he might not seem like he's listening, but he always is, and he will work with whatever we talk about.  He loves dogs, he loves God, and he's the one God placed for me. When I hug him, I feel his great warmth, love, and I feel at home. I feel like he is someone I've known my whole life, I feel like I can tell him anything.  I am thankful, and grateful to God to have Abner in my life, and my heart.

Abner wrote:  I love Susan for many reasons she is the happiest most joyful person in the world. Since the first time I saw her at work even before we met she has had this light on her this sunshine that whoever she interacts with can't help but smile back and be nice and in this world we live in that even some nice looking people are not actually nice they are just wearing a mask so that people would like them but with Susan is completely different I can honestly say that she is a legitimate nice and caring person.
Susan is my sunshine my light. After a while when we actually started dating, I noticed that her light got even brighter because of her faith in our Holy Father. She has an unyielding faith that I admire and that I've found myself praying to God to give me some of her strong faith and wisdom in the spiritual. She is a rock, A person who I aspire to be for God.
I love Susan because she has shown me new and better ways to show how much I really care for a loved one. She has shown me the importance of each other's feelings and concerns and every small aspect in life, our hopes, our dreams and how we share things that I never thought were so important. I truly believe that she was sent by God to me as a blessing and I thank God for her in almost every prayer. She has always been there emotionally, something that is new to me and I will always appreciate from her.
I love her clumsiness and her willingness to never give up on anything most importantly on our relationship even if we have a fight, she never sees us apart or even thinks negatively. She actually sets me straight and reminds me that a relationship is never easy is hard work. I believe God used so I could finally understand this bible verses, 1 Corinthians 13:4-5.

We hope they have their happily ever after, for years to come!