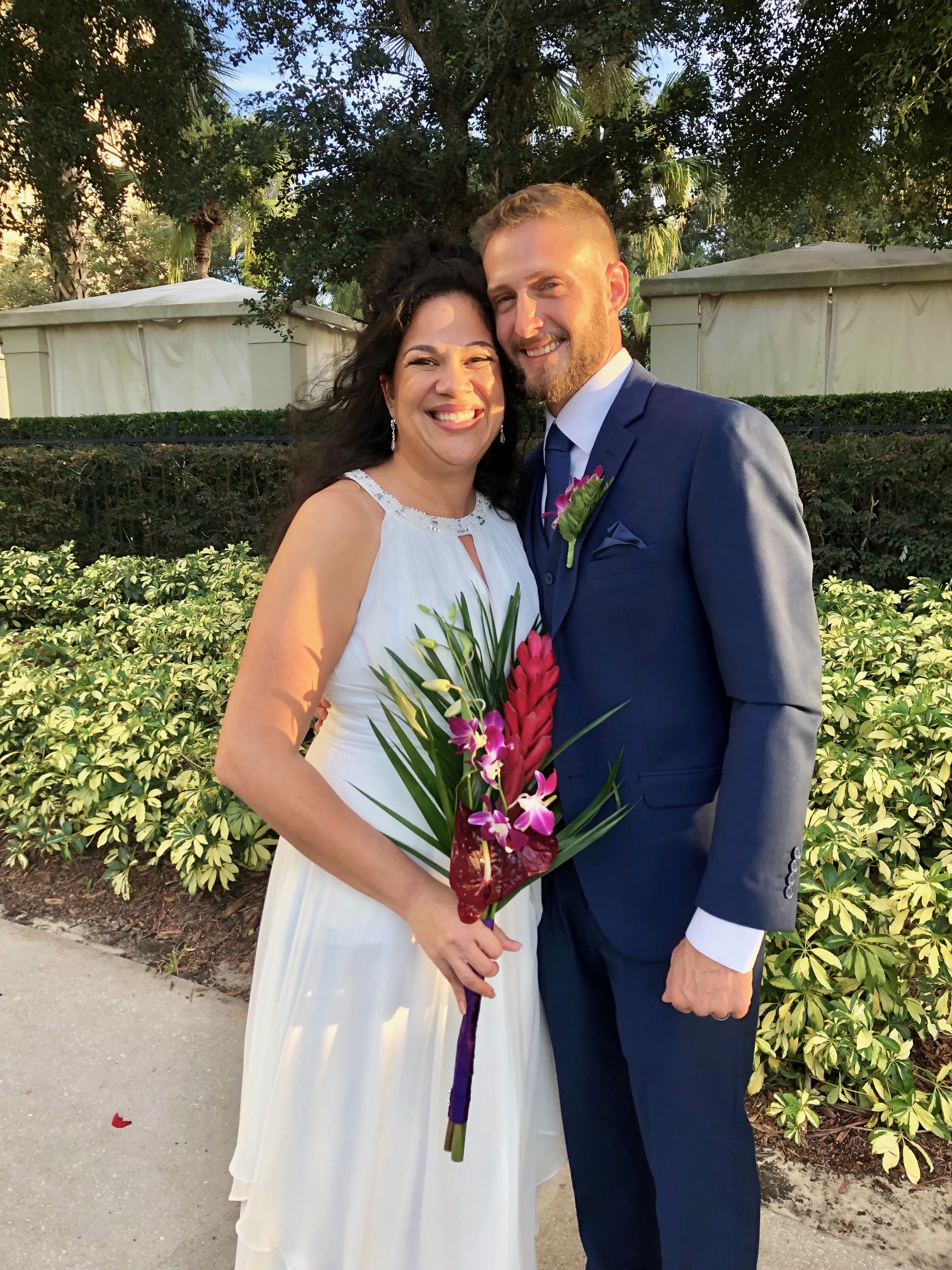 The Omni Orlando at ChampionsGate
Their Story
Patience is something we all strive for, but when your wedding and your life have to be put on hold for a time it can be really stressful.  Dominique and Jacob were scheduled to get married on the white sands of Panama City Beach, but the weather had other plans.  Hurricane Michael struck Panama City Beach as a Category 5 hurricane with winds of over 160 mph and blew away any planned wedding that day.  Dominique was blessed to work for a bank that could transfer her and the two of them decided to move to Central Florida, to be closer to family and friends.Fast forward almost a year and here they were again, planning an intimate wedding with the help of Intimate Weddings of Orlando and Sensational Ceremonies at the Omni Orlando.  As the week of their wedding was moving along another storm, named Dorian, threatened to extinguish their wedding plans again.   This time love prevailed and this propitious couple got to see their wedding dreams come true.
Their Vendors
With a quick call to Rev.Glynn Ferguson with Sensational Ceremonies, Dominique inquired about one of the amazing packages that were on the Intimate Weddings of Orlando website.  She wanted a simple wedding, surrounded by family and friends with no fuss, no extra decorations, and no hassle.  The Omni Orlando at Championsgate fit the bill for the two of them.  With the beautiful black wrought iron gazebo they found the location for which they were looking.  Surrounded by a tall hedge, the gazebo allowed them the private setting of a intimate ceremony, right in the heart of the bustling Omni Orlando hotel grounds.  Rev.Ferguson worked with the couple to create a custom ceremony that really fit the two of them and allowed them to personalize every aspect of that ceremony.  He also gave them a homework assignment to write and tell why they love each other.  
Dominique wrote: Trying to fit all of the things I love about Jacob is impossible to fit into one paragraph. So I wrote a couple more. Everyday even after 15 years, I discover a another detail that makes me love him more. So here goes, a grain of sand in an entire ocean. 
Thank you Jacob for loving my children and making them yours. Raising Megan Kaitlin and Riley with you is the best part of or lives. You have always given 100% of yourself to our family and that needs to be celebrated.
I love that you refuse to give up on me, even when I feel like giving up on myself. I love your the way you are unwavering with positivity, love and humor. The way you take every challenge by the horns. I love the strength you show to pull us all through every storm, figuratively and literally… The willingness to trust US as a team to make the right & sometimes the not so right decisions and knowing when to put your foot down and handle a situation.
When it's quiet, I am always comforted that you are there. When we sleep our dreams align and when we are old I know I will have you, my best friend by my side to share the memories of all of our adventures.
 I will always hear this song in your voice, from the moment you made me fall I love with you with your forehead kisses. Promise.
When I grow too old to dream
I'll have you to remember
When I grow too old to dream
Your love will live in my heart
So kiss me, my sweet
And so let us part
And when I grow too old to dream
That kiss will live in my heartJacob wrote: I love Dominique in so many ways it's difficult to articulate it in such a short way. Over the years she has stood by my side as my adventure buddy, my best friend, my queen and the love of my life. We've been through so much together. Both wonderful and awful. No matter how hard it ever got we always knew it would be okay because we had each other to lean on. We have always been each other's rock when we need support and warmth when we need a hug. I feel blessed to have such a beautiful, strong woman to stand by my side. Dominique is an amazing mother and Grandma. I love that Dominique has always made me want to be the best version of myself possible. I love the little things like the way she hard laughs when she finds something really funny and the way she looks at me when she tells me "I love you". I love her because the first thing I want to see in the morning is her amazing smile. I love her because she believes in me and all of my ideas. I love her because she always has my back and I hers. She is my comfort and my joy. My beautiful Dominique.Sometimes love just blows you away, but this fairytale ending took our breath away.