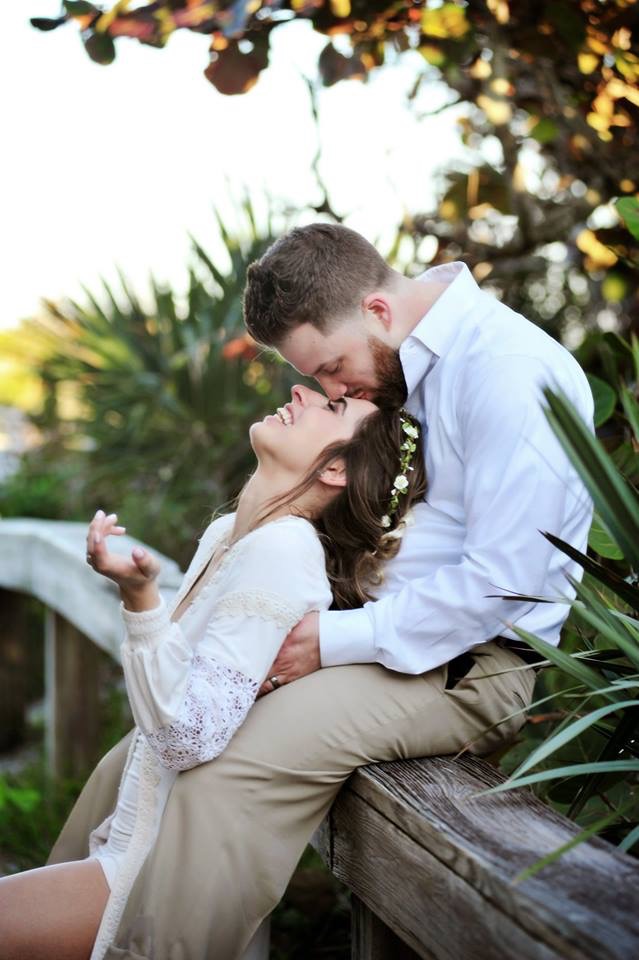 To Get Away
Matthew and Alexandrea contacted Victoria with Intimate Weddings of Orlando because they wanted to get away for a simple elopement in Central Florida. After a couple of back and forth conversations they decided that they really wanted a beach location for their intimate ceremony.
Lori Wilson Park in Cocoa Beach fit the bill for the two of them for their destination wedding. After stepping down the boardwalk in the sand dunes covered in Sea Grapes, they made their way down to a quiet location surrounded by the ocean to their back and sea oats all around.
Christopher Smith with Snap Photography captured every moment of the couple's ceremony and followed it up with some amazing photography on the beach.
Flowers by Lesley crafted a beautiful white rose bouquet for Alexandrea and a matching boutonniere for Matthew.
Rev.Joel Lusz with Sensational Ceremonies was the officiant for very personal and custom ceremony. Joel wrote of the ceremony: I do a lot of beach weddings, and they're awesome, but I don't always get to do one when everything is (almost) perfect. Well this one was! It was sunny and warm but not hot, the water was smooth, there were people around but not too many, and there were even ships cruising out of the port in the background. We could actually enjoy our time together without any distractions. There is just something about a wedding with birds chirping and the waves crashing quietly in the background. I don't wax poetic very often, but it almost feels as if a setting like this is the best way to sense God peering down from the heavens with approval.
You could also see in the couple's eyes their love for one another and their love for all that was happening. Everything was surreal. As I spoke the words to the ceremony, a sense of joy and relief fell upon us all. Time seemed to be suspended as we soaked in the beauty of the moment along with the beauty of our surroundings. When the couple kissed at the end and I pronounced them "husband and wife," there was spontaneous cheering from those around us. And deep inside all of us, there was cheering as well for the moment, the memories and the blessings of a perfect day!
Matthew and Alexandrea we wish you happiness for a lifetime.