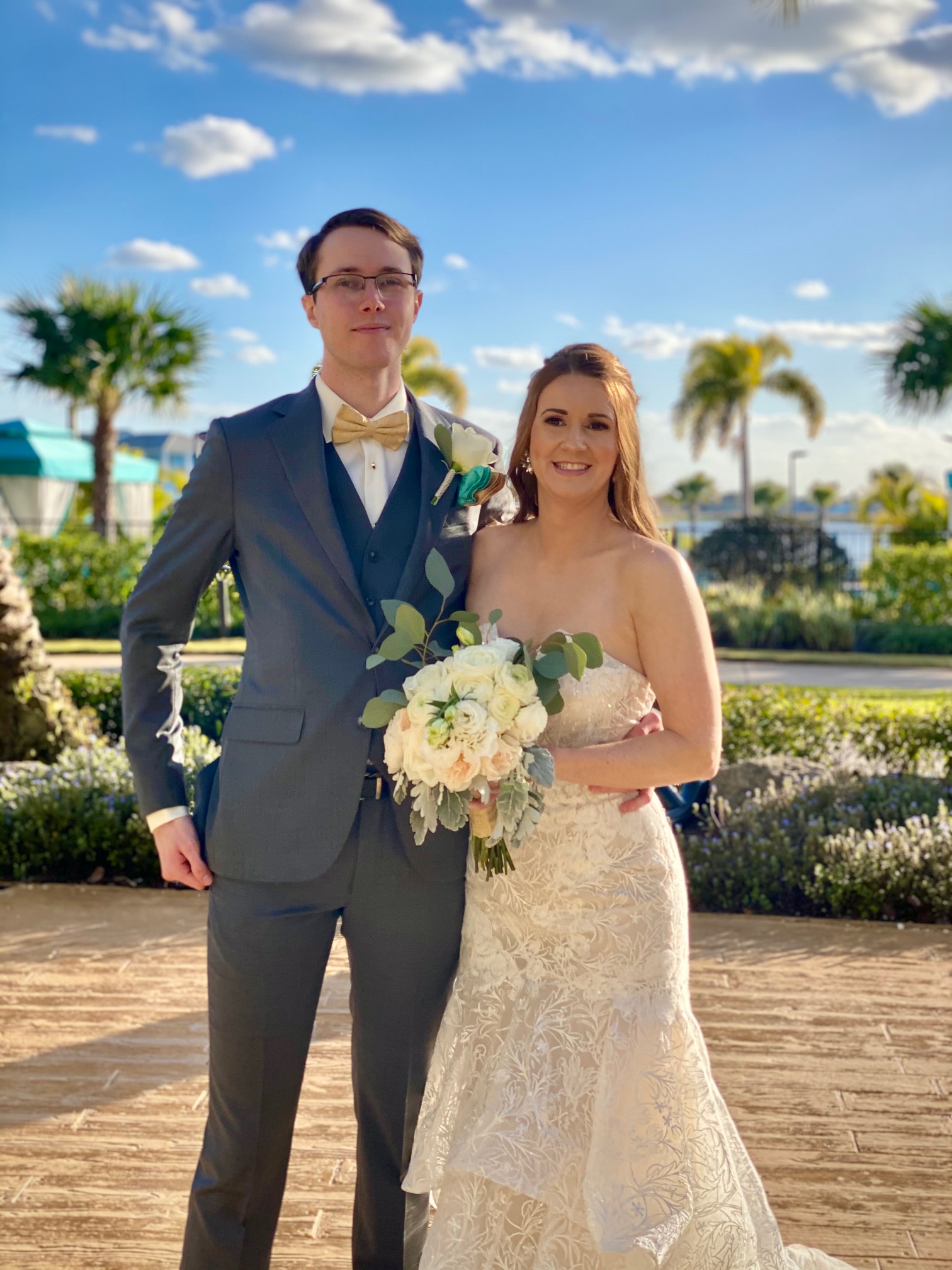 Tropical Getaway
Ashleigh and William traveled from Jacksonville to Orlando to have their tropical getaway wedding experience at Margaritaville Resort Orlando.  There on the Anchor Terrace the couple gathered with their family and friends, recited their vows, exchanged wedding rings and became husband and wife.  
Kasey with Margaritaville worked with the couple to make sure every detail of their wedding day was taken care of.  From the layout of the ceremony to the décor on the tables, she and her team made sure everything was perfect for their tropical getaway.

George Street Photo and Video made sure to capture every aspect of Ashleigh and William's tropical getaway. From photos and video of the couple and their bridal party getting ready, on to the tropical ceremony in front of the beautiful arched palm trees, and on to their ceremony, they recorded it all for the couple to cherish for years to come.

To capture the vibe of their tropical getaway William and Ashleigh asked Complete Weddings and Events to DJ their ceremony and reception at Margaritaville.  The DJ kept the dance floor rockin' into the night and the guests had a blast.

Instead of paying high dollar for florals the ladies of the bridal party decided that they wanted to take a stab at creating their bouquets and the guy's boutonnieres. The arrangements of white roses, ronculus, eucalyptus, and lamb's ear were absolutely perfect for this tropical getaway.  

William and Ashleigh wanted a custom ceremony, filled with personal touches for their tropical get away and looked no further than to call Rev. Glynn Ferguson.  Rev. Ferguson is an Orlando wedding officiant and the owner of Sensational Ceremonies.  He worked with the couple to craft a ceremony that was unique, personal, and heartfelt.  He gave them an assignment to write to him and tell him why they love each other.

William wrote:  I appreciate you more than you will know, for all of the things you do, big and little.  You're stronger than you think, and I love your energy to get things done.  Your sense of humor really keeps me going, and I'm grateful I have someone to laugh at my bad jokes.  The way we support each other in our goals and dreams is going to carry us forward together.  We are truly a team. I look forward to spending the rest of my life with the loving and caring person you are. 

Ashleigh wrote:  Will is wonderful. He is caring and kind. I love his smile and how the sound of his laugh fills a room. Will has an amazing sense of humor; his timing is great.  He is incredibly creative and so much smarter than he gives himself credit for sometimes. I love the person I am when I'm with him and I love how we bring out the best in each other. They say, "When God closes one door, he opens another." I thank God everyday that Will kept his door open for me.

Congratulations to the two of you. 
For your own tropical getaway package, check out Intimate Weddings of Orlando