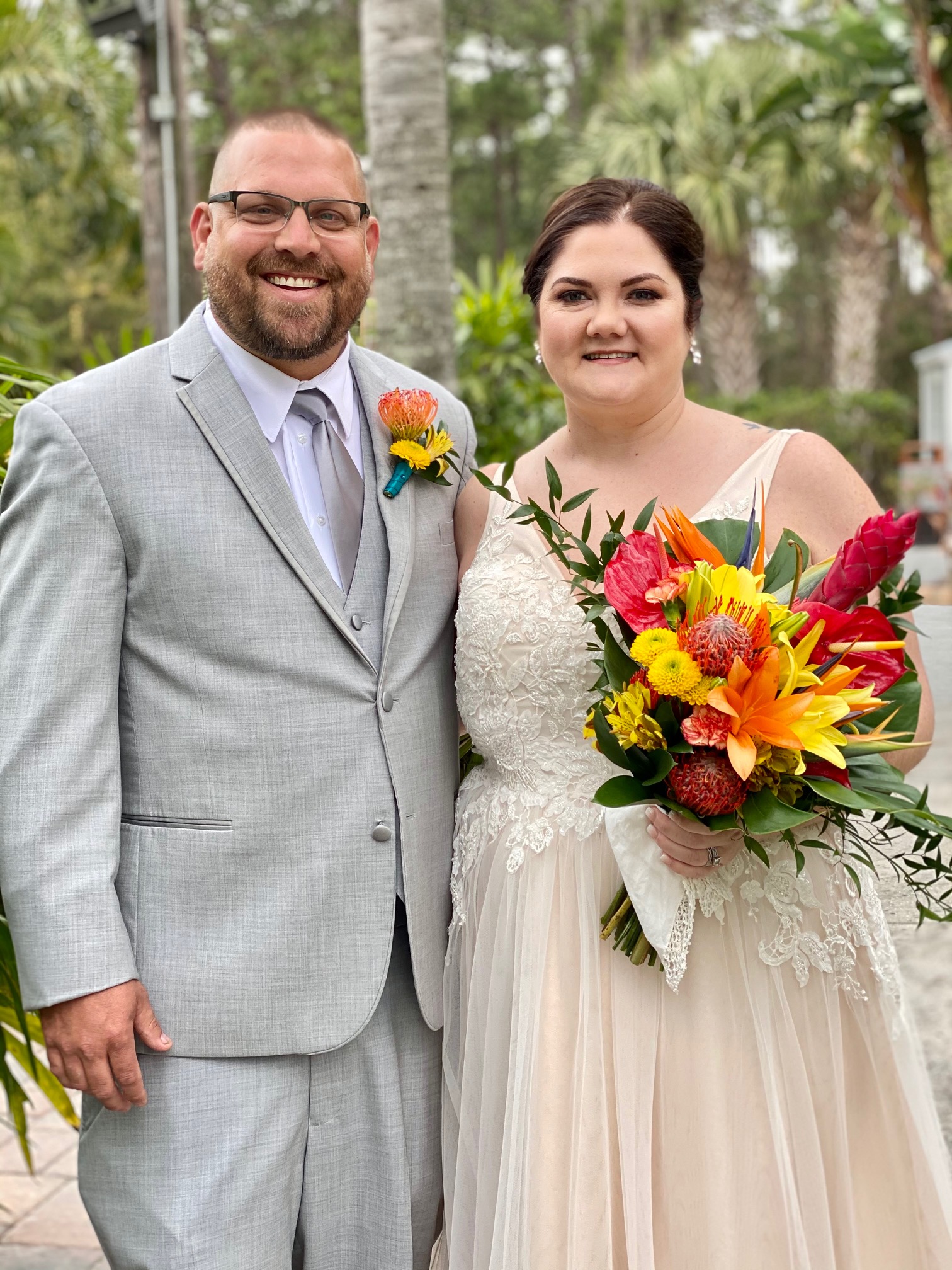 Recipe for Love
When Chris and Ramsey started dating Chris knew he had found the love of his life through this recipe of love. Their ceremony, on the shore of Lake Bryan in Orlando was the perfect reflection of the love they have for one another.
Paradise Cove hosted their beautiful intimate wedding. Jasmine made sure to weave their recipe for love all throughout their wedding day. From helping them pick the right vendors to making sure every detail was handled perfectly, she did it all.
Cocktails Catering really stepped up to plate to fix all the things that Chris and Ramsey would love for their cocktail hour and reception. They wove that recipe for love through every bite that the couple and their guests took, and it was Amazing!
Cricket's Photography made sure to really capture the couples recipe for love. From the first look, the gentle touch, and the raucous laughter, everything went into telling Chris and Ramsey's story through their pictures.
The beautiful bouquet and boutonnieres, the arch decor, and the petals along the aisle really pulled together the recipe of love that they were sharing with their family and friends. Amy, with Blossoms Orlando really went above and beyond to make sure everything looked beautiful!
To really make their recipe of love come to life Ramsey and Chris had Rev. Glynn Ferguson, an official Walt Disney World wedding officiant and owner of Sensational Ceremonies, work with the two of them to create a custom ceremony. Rev. Glynn asked the couple to write and tell him why they love each other.
Ramsey wrote of Chris: Chris is an amazing man. He makes me laugh and puts up with my stubbornness more than anyone should. Sometimes he knows me better than I know myself. He never misses a chance to text or call me during the day just to ask how my day is. He is probably more than I deserve to be honest, but he's always there for me when I need him, unless the Lightning are playing and then I'm on my own. Almost every decision we make as a couple starts with what I want, and he thinks will make me happy and I love that. When Chris and I met and I realized he had a small child, I wasn't sure I wanted to take that on. However, seeing how patient and loving and caring he is with Benson, I can't wait to see what he will one day be like with our child.
Chris wrote of Ramsey:  The reason why I love Ramsey Hill…. we can start by saying she won heart by when we first started dating every night, she cooked me dinner it was so delicious she a amazing cook. I love that she can take care of herself she does not need me she wants me. I love the mother that she is to my son that means more to me than anything. I love her beautiful eyes when I look into them, I can see our happiness. And I love that I chose you to grow old with. I know I can be a bit of a pain in the ass, but you still love me. I will do you anything for you and I will run to the end of the earth to keep you. You are my forever and always…..

What a wonderful recipe for love!